Looking for the best staffing agencies near you in San Antonio, TX?
You've come to the right place.
San Antonio has a population of over 1.5 million and is currently the second-largest city in all of Texas.
With great things to do and see such as the Alamo and the River Walk, it's no surprise San Antonio is home to many job seekers.
But how do you go about finding work in such a competitive job market?
The answer…reach out to the local staffing agencies.
Rather than having to filter through dozens of San Antonio staffing agencies, we've done all the heavy lifting to bring you only the best of the best.
San Antonio Staffing Agency Criteria
Each of the San Antonio Staffing Agencies below was reviewed by a Certified Professional Resume Writer (CPRW) taking into consideration the following:
Credentials: Overall experience, awards, and certifications.
Opportunities: Number and variety of jobs available.
Customer Service: Guarantees and reviews.
This List Serves The Following Areas Near San Antonio, Texas:
New Braunfels, Seguin, La Vernia, Elmendorf, Floresville, Pleasanton, Stockdale, Universal City, Boerne, Kerrville, Castroville, Devine, Gonzales, Karnes City, Uvalde, Crystal City, San Marcos, and more.
Best San Antonio Staffing Agencies
Before reaching out to any companies on this list, we recommend that you review your resume to make sure it is in tip-top shape. If you'd like professional help with your resume, contact the pros at Find My Profession.
And now for the detailed reviews…
1. FirstOption Workforce Solutions
FirstOption Workforce Solutions is a top local San Antonio staffing agency with expertise in temporary positions all the way to full time placement and so much more. The company gives you access to a broad range of positions where your skills can be put to their best use. They are one of the highest rated staffing agencies in San Antonio.
Job Types: FirstOption Workforce Solutions primarily staffs for administration, customer service, engineering, finance, healthcare, industrial, information technology, legal support, professional roles, and more.
Pros: FirstOption Workforce Solutions helps everyone, but they offer a great program for veterans in the San Antonio area. If you were honorably discharged, FirstOption focuses their efforts on finding you a job within 14 days of applying.
Reviews: 4.9/5 based on 529 Google reviews, 4.8/5 based on 32 Facebook reviews, 3/5 based on 2 Yelp reviews
Local Office: 8918 Tesoro Drive, Suite 500, San Antonio, 78217
Contact: (210) 733-3700 or excellence@firstoptionws.com
Visit FirstOption Workforce Solutions
2. Trinity Staffing Services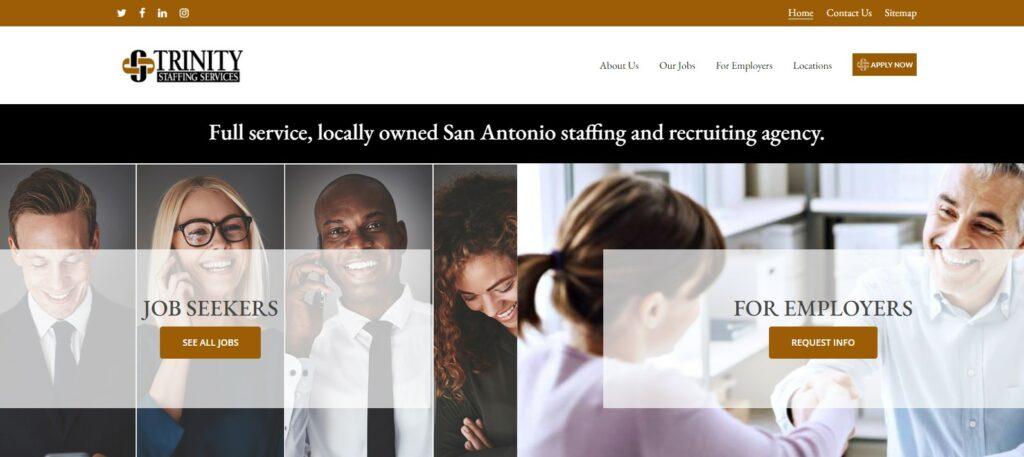 Trinity Staffing Services has been helping job seekers and companies throughout San Antonio since 1996. They have helped more than 8,000 local candidates find temporary and full-time placements with 500 local companies. This staffing firm offers direct-hire, temporary staffing, and temp-to-hire opportunities.
Job Types: Trinity Staffing Services works in numerous industries, including accounting & finance, administration & office, aircraft maintenance, auto parts manufacturing, call centers, human resources, legal, management, manufacturing & skilled trades, operations & materials management, sales & marketing, and transportation.
Pros: Trinity Staffing Services recently opened up offices in Seguin due to their partnership with Continental Automotive Systems. If your goal is to work for one of the world's leading automotive industry suppliers, they can help open up some doors. What is more, this company has more than 150 5-star reviews on Google alone.
Reviews: 5/5 based on 116 Bark reviews, 4.6/5 based on 212 Google reviews, 3/5 based on 2 Yelp reviews
Local Office: 13750 San Pedro Avenue, Suite 540, San Antonio, 78232
Contact: (210) 805-9920
Visit Trinity Staffing Services
3. Tri-Starr Group
Tri-Starr Group has been a premier employment agency in San Antonio since 1985. Their CEO and COO have over 20 years of professional experience, enabling them to make the hiring process as simple as possible. The agency has developed a methodology called Performance Recruiting, leveraging data and AI technology.
Job Types: Tri-Starr Group has a few different divisions allowing them to specialize in a handful of areas. These specialties include administrative/office (admin support, customer service, data entry, etc.), technology (software development, PMO, security, etc.), skilled labor (manufacturing, warehouse, assembly, etc.), financial (accountant, analyst, controller, etc.), and HR.
Pros: Tri-Starr Group employees give back to the community through volunteering, financial contributions, and awareness campaigns. They regularly contribute to organizations such as Big Brothers and Big Sisters, San Antonio Food Bank, San Antonio Lighthouse for the Blind, Wounded Warriors, and more.
Reviews: 5/5 based on 10 Facebook reviews, 4.3/5 based on 131 Google reviews, 3/5 based on 2 Yelp reviews
Local Office: 121 Interpark Blvd, Ste. 108, San Antonio, TX 78216
Contact: (210) 308-9911
Visit Tri-Starr Group
4. Reliable Staffing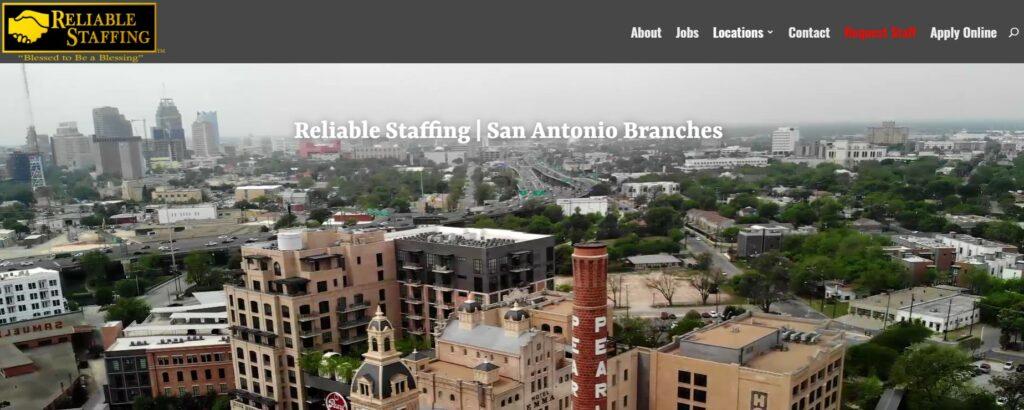 Reliable Staffing was not founded in San Antonio, but they have had offices in San Antonio since 1999. While Reliable Staffing has offices across the U.S., with six offices in San Antonio alone, they are a major resource for local San Antonio job seekers. They have been in business for over 30 years.
Job Types: Reliable Staffing considers themselves a "one-stop shopping" experience with specialized divisions, including accounting, medical, education, executive, hospitality, IT, manufacturing, marketing, shipping, clerical, skilled trades, oil, gas, and more.
Pros: Reliable Staffing has a national presence, which could be beneficial if you are open to work outside of the San Antonio area. Additionally, Reliable Staffing is a minority-owned staffing agency in Texas. This allows clients to take advantage of the benefits of doing business with a minority-certified company.
Reviews: 3.4/5 based on 18 Facebook reviews, 5/5 based on 1 BBB review, 4.5/5 based on 1 G2 review, 4.4/5 based on 79 Google reviews, 1/5 based on 1 Yelp review
Local Office: 6 locations to serve you
Contact: (866) 205-2787
5. Ōnin Staffing
Ōnin Staffing is the industrial and light clerical division of The Ōnin Group. While not originally founded in San Antonio, Ōnin Staffing has more than 20 offices in Texas, one of them located in San Antonio. They are among the top two percent of domestic staffing companies in sales volume.
Job Types: Ōnin Staffing focuses on assembly, manufacturing, customer service, call centers, food processing, healthcare & medical services, hospitality, IT, engineering, management & professional, office & administration, skilled labor, and warehousing distribution.
Pros: Ōnin Staffing is a national staffing agency offering opportunities in all 50 states. If you'd like to get connected with a San Antonio local staffing agency that also has a national presence, Ōnin Staffing is an excellent option. The agency is a SIA 2021 Best Staffing Firm to Work For award winner.
Reviews: 4.7/5 based on 29 Facebook reviews, 4.9/5 based on 338 Google reviews, 1/5 based on 2 BBB reviews
Local Office: 3700 Fredericksburg Road, Suite 105, San Antonio, 78201
Contact: (210) 888-9395
6. Malone Workforce Solutions
Malone Workforce Solutions is the 47th largest U.S. staffing firm. It's one of the most experienced staffing agencies in the country. The company was founded in 1969 by Joe Malone. Since then, they have expanded to over 75 U.S. locations, including San Antonio. They are a Best of Staffing Talent Satisfaction award winner agency.
Job Types: Malone Workforce Solutions specializes in IT, engineering, accounting, finance, light industrial, manufacturing, warehouse, logistics, general labor, hospitality, office administrative, nursing, allied health, mental health, social work, and education.
Pros: Malone puts 11,000 people to work each week. This is a very impressive number. They promise to handle every detail and answer every one of your questions – from application to placement.
Reviews: 5/5 based on 2 ClearlyRated reviews, 4.1/5 based on 27 Google reviews, 2/5 based on 16 Facebook reviews
Local Office: 1231 SW Military Dr. San Antonio, TX 78221
Contact: (210) 569-0382 or sanantonio@malonesolutions.com
Visit Malone Workforce Solutions
Bonus: Top San Antonio Staffing Agency Winners (2021)
FirstOption Workforce Solutions, Trinity Staffing Services, Tri-Starr Group, Reliable Staffing, Ōnin Staffing, Malone Workforce Solutions.
How Do Staffing Agencies Work?
Staffing, or employment, agencies fill open positions for the employers they contract with. The agency is paid by the hiring company, so it's a free service for the job seeker.
Staffing agencies can hire for temporary, temp-to-hire, and permanent positions.
If you are hired for a temporary job, you are usually employed and paid by the staffing agency. Some agencies offer benefits to their employees, including health insurance and retirement plans.
For permanent roles, the staffing agency essentially acts as a recruiter and will refer you to the hiring company.
Here's what we recommend when working with a staffing agency:
Browse the website to see if you find any jobs you are interested in.
Whether you find an ideal job or not, contact the staffing agency.
Provide information about yourself and the type of work you are looking for.
If you found a relevant job on their website, mention it.
The agency will take down your information and reach out if they find a relevant position.
Make as many staffing agencies as possible aware of your search. It's simply more eyes and ears out there helping with your job search.
Before you reach out to these staffing agencies, make sure you have a great resume – both in look and content. The worst thing you can do is provide a resume that won't get results to a bunch of staffing agencies.
Check out some professional resume services on our list of the Best Resume Services in San Antonio.
Need more than resume assistance?
At Find My Profession, we also offer career coaching services and Career Finder, a professional job search service that manages every part of the job search, from searching for jobs for you to networking on your behalf.