The Melbourne job market is massively competitive.
But there are also heaps of fantastic opportunities out there.
Luckily, there is a surefire way to showcase your skills so you can gain a competitive edge and land your dream job.
Hire a professional resume or CV writer.
A professional writer will create an effective marketing tool for your job search.
However, finding a great resume writer can be hard yakka.
That's where we come in!
We have narrowed down the top resume and CV writing services in Melbourne.
---
Note: For the sake of this article, we will be using "Resume" and "CV" interchangeably. Each of the companies below offers elite resume/cv writing services to fit any job seekers' needs.
---
Melbourne Resume Service Criteria
Each of the Melbourne resume services below was reviewed by a Certified Professional Resume Writer (CPRW) taking into consideration the following:
Cost: The cost of the service compared to other Melbourne resume writers.
Turnaround: The speed at which the resume is completed.
Credentials: Overall experience, awards, and certifications.
Resume Design: The design, style, and overall look of the resume.
Customer Service: Guarantees, number of edits, and reviews.
This list was hand-curated to serve all industries, professions, and career levels. While many of the writers on this list are from Melbourne, these services are virtually available whether you are in Melbourne, Canberra, Adelaide, Brisbane, Mackay, Darwin, Perth, or any other Australian city.
Best Resume Services in Melbourne
1. Find My Profession
Find My Profession is much more than a Melbourne resume writing service. We are a global company whose work has been featured on sites like Forbes, Inc., Zety, Fast Company, and more.
Our elite resume writing team has experience in 85+ industries/professions. This allows us to assign you a professional writer based on your unique background and experience.
We have successfully landed our clients positions at companies like Apple, Amazon, EA, Oracle, GM, Facebook, DoJ, Morgan Stanley, Gap, and 2U just to name a few.
Find My Profession has 650+ 5-star reviews and offers a 60-day interview guarantee. Every resume created is Applicant Tracking System (ATS) compatible and highly customized to meet your specific needs.
Pros: You will work one-on-one with an expert resume writer. Find My Profession commits to working with each client until they are 100% satisfied. Don't worry about having a limited number of edits or a set amount of time with your writer.
Cons: Find My Profession is a virtual company. While we provide services in Melbourne, we don't have a physical office for in-person visits. You'll communicate directly with your writer via email and phone calls.
Reviews: 5/5 based on 124 Google reviews, 5/5 based on 8 BBB reviews, 5/5 based on 35 Facebook reviews, 4.9/5 based on 304 Trustpilot reviews, 4.7/5 based on 255 Sitejabber reviews
Turnaround: 3 – 5 business days (can expedite to 2 business days)
Cost: $395 – $995 USD
Contact: (831) 888-0967 or help@findmyprofession.com
Check out some of our 5-star reviews.
2. Arielle Executive
Arielle Executive has a massive reputation throughout Australia. They have been serving mid-level to executive professionals for 8 years with offices in Melbourne and Sydney. Their clients have landed jobs in reputed companies including Deloitte, LinkedIn, and Macquarie.
Pros: To ensure higher standards, the company works on a limited number of resumes a year. Their resume writing team comprises executive recruiters and HR managers. They have experience on both sides of the hiring equation.
Cons: The service only works with senior leadership positions. So, the cost is a bit higher compared to other services. The website lacks details about the resume writing and revision process.
Reviews: 5/5 based on 128 Google reviews, 5/5 based on 2 Facebook reviews, 3.8/10 based on ResumeHelpAustralia review
Turnaround: Not found
Cost: $2500+
Contact: (03) 8658 2244 or steven.mcconnell@arielle.com.au
3. CV People Australia
CV People has a team of 100+ professional resume writers covering 40+ different industries. All of the writers have a recruitment background. Combinedly the team has over 400 years of resume writing experience. You will work with a resume writer most experienced in your career field.
Pros: The company offers a free resume review service. You have the option to choose the design of your resume from their design gallery. The finished product is backed by a 90-day interview guarantee.
Cons: Although they have an office in Melbourne, there's no option for having a face-to-face meeting with your writer. Also, a few more resume samples on the site would have been nice.
Reviews: 4.7/5 based on 242 Google reviews, 4.7/5 based on 167 ProductReview reviews
Turnaround: 2 business days
Cost: $449 – $649
Contact: 1800 965 171 or ausupport@careersexpert.com
4. itouch Professional Solutions
itouch Professional Solutions has won a number of awards for resume and CV writing, including an award of Lifetime Excellence from Australian Employment Guide. As a former recruiter, founder Roland Coombes can give you a targeted resume with rich content and the right keywords to get you straight onto your target company's shortlist.
Pros: itouch Professional Solutions is one of the more affordable services on this list. It's unclear if the founder Roland Coombes is personally writing each and every resume but if he is, you will be in good hands. In total this company has helped upwards of 7,500 clients.
Cons: The resume samples on the website did not appear to be Applicant Tracking System (ATS) compliant. Make sure before signing up with itouch that the resume will make it through the ATS.
Reviews: 5/5 based on 138 Google reviews, 5/5 based on 104 WordofMouth reviews, 3.8/5 based on 2 Trustpilot reviews
Turnaround: 6 – 9 business days
Cost: $195 – $480
Contact: admin@resume-solutions.com.au
Visit itouch Professional Solutions
5. CV Writers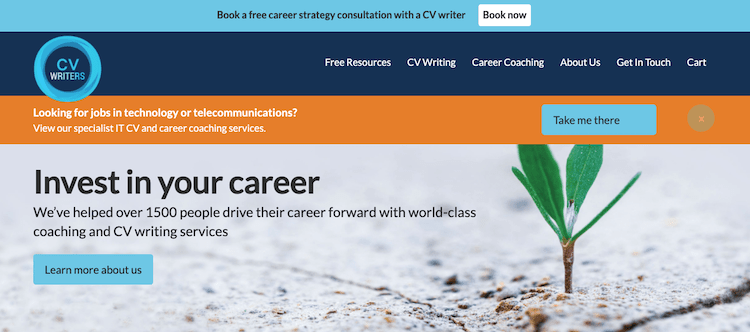 CV Writers once specialized in resumes for IT and telecommunications, but have expanded to cover most industries. The founder, Sean Croon, has nine years of IT recruitment experience. His team has written thousands of career-positioning documents so far. They have been in business since 2013.
Pros: Reviewers are overwhelmingly positive about the personal care they receive from the service. Also, all of CV Writer's services are 100% satisfaction guaranteed. The service boasts a 99% satisfaction rate.
Cons: The regular turnaround time can be a bit long for many job seekers. You will need to contact the service to see if their priority service upgrade is available to expedite the process.
Reviews: 5/5 based on 38 Google reviews
Turnaround: 8 – 12 business days (can expedite to 2 – 3 business days)
Cost: $295 – $895 AUD
Contact: +61 3 9005 8025 or info@cvwriters.com.au
Visit CV Writers
6. Alpha Resumes
Alpha Resumes is run by Jon Gorgioski. Jon has over a decade's worth of experience as a coach and trainer in the corporate world. He has been in the resume writing business since 2012 and keeps abreast of all the latest resume writing trends. To boot, Alpha Resumes has helped 2000+ job seekers with their resumes. 
Pros: You can view resume samples on the Alpha Resumes website. They will rewrite your resume if you don't receive interviews. In-person appointments with your writer are available. 
Cons: The turnaround time for the service is dependent on their workflow. Expedited services may or not be available dependent on work flow as well.
Reviews: 5/5 based on 10 Facebook reviews, 5/5 based on 9 Yellow Pages reviews, 4.9/5 based on 133 Google reviews
Turnaround: 5 – 7 days (can expedite)
Cost: $299 – $499+
Contact: 0430 195 859 or info@alpharesumes.com.au
7. 1300 Resume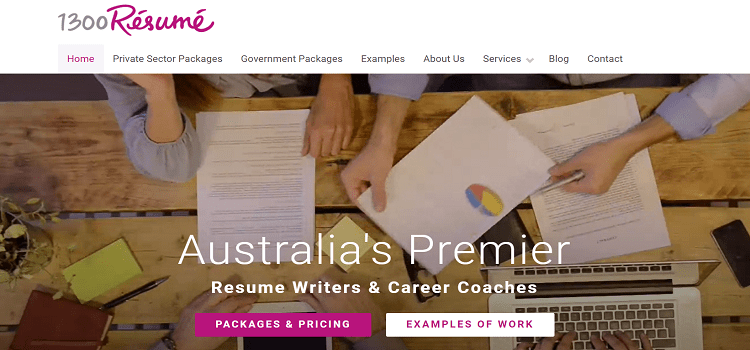 1300 Resume is Australia's premier resume writing and career coaching company. They are a team of accredited writers and career coaches with over 24 years of combined experience. Monique Thompson, the director of 1300 Resume, and her team of professionals specialize in creating winning resumes for the private sector and Australian government.
Pros: They provide several resume writing packages to choose from, based on your level of experience and the service you are looking for. Each package includes unlimited revisions to documents for two weeks from the date of completion.
Cons: There is no information about the individual resume writers on the website. They do not offer any interview or satisfaction guarantees.
Reviews: 4.8/5 based on 135 Google reviews , 4.2/5 based on 8 Trustpilot reviews
Turnaround: 7 – 10 days (can expedite to 3 working days)
Cost: $395 – $995
Contact: 1300 737 863 or info@1300resume.com.au
Visit 1300 Resume
8. Melbourne Resume
Melbourne Resume is situated on Queen Street. The company has a well-rounded team of HR professionals, recruiters, resume writers, and graphic designers. Having recruiters means that they have the insider knowledge of what hiring managers really want to see on a resume.
Pros: Their resume packages are backed by a satisfaction guarantee. That means they will work on your resume until you are 100% satisfied. You can also review a lot of their resume samples on the website.
Cons: A few details about the individual resume writers and the founder o9f the company would have been great. The turnaround time is unclear as it is stated 3 different ways on the website.
Reviews: 4.9/5 based on 38 Google reviews, 5/5 based on 7 Facebook reviews
Turnaround: 1 – 4 business days
Cost: $169 – $189
Contact: 1300 174 435 or info@melbourne-resume.com.au
9. Wordsmith Consultants
Wordsmith Consultants is located on Riverside Quay and has many thrilled customers. Wordsmith writers have written over 8000 resumes. This company can handle all your application documents. They can consult with you about your personal branding as well.
Pros: They have a myriad of design samples for you to check out on their website. You can even kick the process off with a free, no-obligation call and resume review.
Cons: You can't click on the resume samples and actually read them. You may need to get in touch with the service for a price quote for certain types of resumes.
Reviews: 4.6/5 based on 52 Google reviews
Turnaround: 4 business days (can expedite to 24 hours)
Cost: $199 – $499
Contact: 1300 799 213 or send@sendresu.me
10. Aspiring Resumes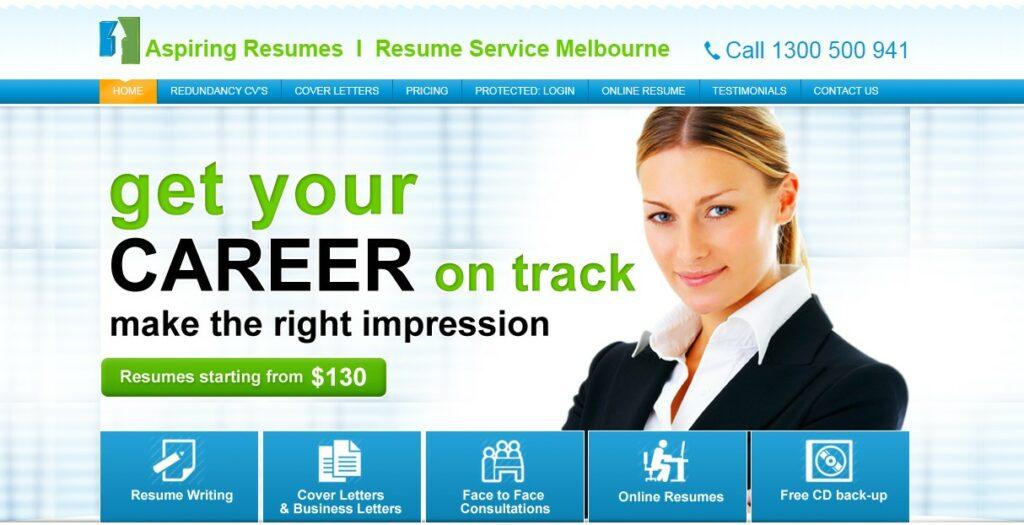 Aspiring Resumes is a specialized resume service for Melbourne job seekers. The company offers mobile consultants who will come directly to you by appointment to prepare your resume on the same day in the comfort of your own home. You can also get the online resume creation service if you like.
Pros: The most useful feature of Aspiring Resumes is surely the personalized home resume service that they offer. Also, the resume services are very affordable.
Cons: The website doesn't disclose any information about the resume writers working at Aspiring Resumes. Also, there are no resume samples for you to review on the website.
Reviews: 5/5 based on 1 Yellow Pages review, 4.5/5 based on 6 Google reviews
Turnaround: 1 – 5 business days
Cost: $130 – $180
Contact: 1300 500 941 or admin@aspiringresumes.com.au
Visit Aspiring Resumes
Bonus: Top Melbourne Resume Winners (2021)
Find My Profession, Arielle Executive, CV People Australia, Itouch Professional Solutions, ITCV Writers, Alpha Resumes, Government Resumes, Resume Right, Melbourne Resume, Wordsmith Consultants