If you are in the biotech industry, you value precision, innovation, and being on the cutting edge.
In the last decade, almost everything about resume writing has changed. Your resume must be a marketing tool that highlights your skills at a glance. It also has to be keyword optimized to make it through the Applicant Tracking Systems (ATS).
What can you do about it?
You can hire a professional biotech resume writer.
There are tons of general resume writers but very few with a focus on biotech.
We've sifted through hundreds of writers to come up with this list of the top 5.
Biotech Resume Service Criteria
Each of the biotech resume services below was reviewed by a Certified Professional Resume Writer (CPRW) taking into consideration the following:
Cost: The cost of the service compared to other biotech resume writers.
Turnaround: The speed at which the resume is completed.
Credentials: Overall experience, awards, and certifications.
Resume Design: The design, style, and overall look of the resume.
Customer Service: Guarantees, number of edits, and reviews.
This list was hand-curated to serve all biomedical professions. These jobs include biomedical engineers, biomedical scientists, microbiologists, epidemiologists, biochemists, and more.
Best Resume Services for Biotech
1. Find My Profession
Find My Profession is much more than a biotech resume writing service. We are a global company whose work has been featured on sites like Forbes, Inc., Zety, Fast Company, and more.
Our elite resume writing team has experience in 85+ industries/professions. This allows us to assign you a professional writer based on your unique background and experience.
We have successfully landed our clients positions at companies like Apple, Amazon, EA, Oracle, GM, Facebook, DoJ, Morgan Stanley, Gap, and 2U just to name a few.
Find My Profession has 650+ 5-star reviews and offers a 60-day interview guarantee. Every resume created is Applicant Tracking System (ATS) compatible and highly customized to meet your specific needs. We've included a sample biotech resume below.
Pros: We have written resumes for nearly every biotech career. Find My Profession commits to working with each client until they are 100% satisfied. Don't worry about having a limited number of edits or a set amount of time with your writer.
Cons: Find My Profession is a virtual company. While we provide services in your city, we don't have a physical office for in-person visits. You'll communicate directly with your writer via email and phone calls.
Reviews: 5/5 based on 124 Google reviews, 5/5 based on 8 BBB reviews, 5/5 based on 35 Facebook reviews, 4.9/5 based on 304 Trustpilot reviews, 4.7/5 based on 255 Sitejabber reviews
Turnaround: 3 – 5 business days (can expedite to 2 business days)
Cost: $395 – $995
Contact: (831) 888-0967 or help@findmyprofession.com
Check out some of our 5-star reviews.
2. ResumeZest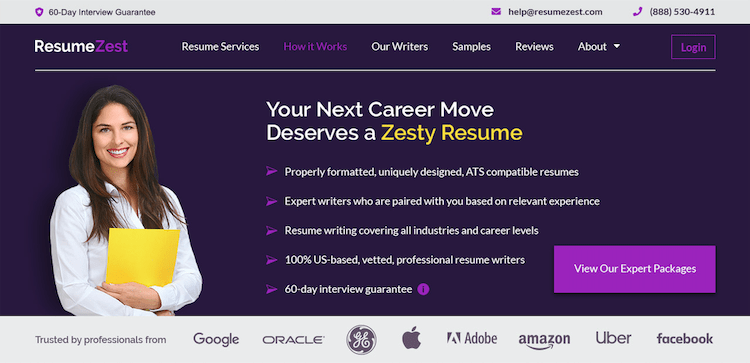 ResumeZest is trusted by professionals from companies like Google, Amazon, Apple, Oracle, GE, Adobe, Uber, and Facebook. Their resume writing team has written resumes for more than 75 industries. A 60-day interview guarantee backs up every resume they write. Each resume is also ATS compliant and keyword-optimized.
Pros: ResumeZest is a very well-rounded company. They offer affordable pricing and quick turnaround times. You will work with a high-quality, certified writer and receive excellent customer service. They are also members of the Professional Association of Resume Writers and Career Coaches (PARW/CC).
Cons: ResumeZest is one of the newer companies on this list. While they do a great job and their writers have many years of experience, the company was only founded in 2020.
Reviews: 5/5 based on 9 Facebook reviews, 5/5 based on 50 Google reviews, 5/5 based on 3 Yelp reviews, 4.8/5 based on 56 Sitejabber reviews, 4.8/5 based on 52 Trustpilot reviews
Turnaround: 3 – 5 business days (can expedite to 2 business days)
Cost: $179 – $379
Contact: (888) 530-4911 or help@resumezest.com
Visit ResumeZest
3. The Essential Resume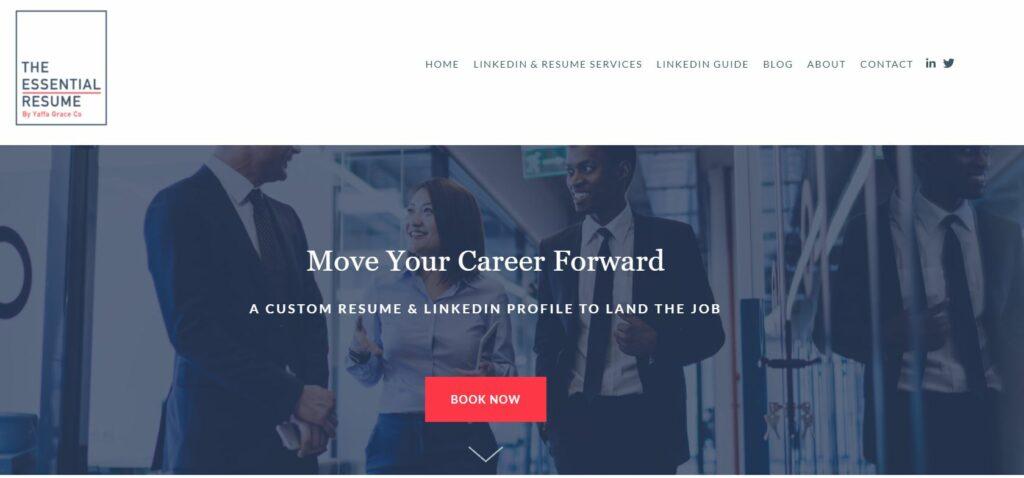 The Essential Resume is a highly specialized biotech recruiting and resume service. The founder Yaffa Grace has over 20 years of experience as a biopharma recruiter and career strategist. She has recruited 100's of biotech candidates. Matching biotech candidates with the best companies is her passion.
Pros: The biotech recruiting maestro Yaffa Grace writes all the resumes herself. Each package includes a 30-min strategy call to discuss your career situation. You can also schedule a 15-min free phone call with Yaffa before placing an order.
Cons: No sample resumes to review. No interview guarantees and the website states the service is non-refundable. The services may also be a bit pricey for lower level job seekers.
Reviews: Not found
Turnaround: 5 business days (can expedite to 2 business days)
Cost: $499
Contact: hello@yaffagraceco.com
4. Resumes by Allan Brown
Resumes By Allan Brown is a Bay Area local company founded in 2004 by Allan Brown. Allan specializes in biotech and healthcare career fields among others. His services are completely customized to the individual allowing him to get to know each client's unique needs.
Pros: You can meet your writer face-to-face in San Francisco. You can also give him a call directly for a free resume critique and a quote. Also, there are many high quality resume samples covering 15 different career fields on Allan's site.
Cons: The website lacks detail about the working process. For any information, you have to call Allan directly. Also, he doesn't provide any interview guarantees.
Reviews: 4.5/5 based on 185 Yelp reviews
Turnaround: Based on consultation
Cost: Based on consultation
Contact: (415) 346-6737 or resumes@allan-brown.com
5. Resume Karma
Resume Karma is located in Florida, where biotechnology is booming. They specialize in biotech resumes, particularly pharmaceutical and medical device resumes. Resume Karma focuses on creating customized resumes. They are "highly allergic to templates!"
Pros: You can request a free resume review before you commit to an investment. In-person consultations are available. You may edit your resume with your writer until you are completely satisfied. Resume Karma's on-line reviews are flawless.
Cons: There are no resume samples on the website. From our research, there is one writer for Resume Karma. This may affect the turnaround time of your resume.
Reviews: 5/5 based on 71 Google reviews, 4.5/5 based on 8 Yelp reviews
Turnaround: ~7 business days
Cost: $449 – $699
Contact: (954) 918-2421 or info@resumekarma.com
6. Resume Guru
The Resume Guru specializes in the biotechnology industry. The guru in question is Robert Dagnall. He's been a featured career expert on CNN, CNBC, MSN, CareerBuilder, and local networks. His resumes have appeared in various best-in-class publications.
Pros: Robert has written more than 8,000 resumes in his 27 years of resume writing. He is a Certified Advanced Resume Writer (CARW). He was a 2016 Toast of the Resume Industry (TORI) finalist.
Cons: There are some negative reviews on Google and Yelp that haven't been addressed. We also were not able to find resume samples on the website.
Reviews: 4/5 based on 8 Google reviews, 3/5 based on 31 Yelp reviews
Turnaround: Not found
Cost: $250 – $950
Contact: (619) 316-3439 or info@ResumeGuru.com
Bonus: Top Biotech Resume Winners (2021)
Find My Profession, Yaffa Grace & Co. (now The Essential Resume), Resumes by Allan Brown, Resume Karma, Resume Guru
Biotech Resume Example
Wondering what a keyword-optimized biotech resume written by a professional writer looks like?
As you can see, writing a great biotech resume is a bit of an art. You need to combine strong marketing language, smart keywords, and an elegant layout.
Here is an example of a senior biotech executive resume. It is from the #1 pick on our list, Find My Profession. Click on the resume below to view the full resume.
Visit Find My Profession