There's no sugar-coating it: The Australian job market is insanely competitive. But there's no sense whining about it. Instead, crush your job search by doing just one critical thing.
Go hire a professional resume writer.
CVs and resumes aren't what they were in the past. A resume is your envoy in the professional world. To beat the competition, it has to be a laser-focused and keyword-rich marketing tool. If you think your resume already has what it takes to do you justice, good on ya! But chances are you could use a little help from someone who knows exactly what hiring managers want.
An experienced resume writer will make you look great on paper and give you peace of mind. To help you find one, here is our list of the top resume writing services in Australia.
---
Note: For the sake of this article, we will be using "Resume" and "CV" interchangeably. Each of the companies below offers elite resume/cv writing services to fit any job seekers' needs.
---
Australia Resume Service Criteria
Each of the Australian resume services below was reviewed by a Certified Professional Resume Writer (CPRW) taking into consideration the following:
Cost: The cost of the service compared to other Australia resume writers.
Turnaround: The speed at which the resume is completed.
Credentials: Overall experience, awards, and certifications.
Resume Design: The design, style, and overall look of the resume.
Customer Service: Guarantees, number of edits, and reviews.
This list was hand-curated to serve all industries, professions, and career levels. While many of the writers on this list are from Sydney, these services are virtually available whether you are in Sydney, Melbourne, Brisbane, Perth, Adelaide, Gold Coast, Newcastle, or any other great Australia towns.
Best Resume Writing Services in Australia
Find My Profession is not just a top-notch resume and CV writing service available in Australia. We are a global company whose work has been featured on sites like Forbes, Inc., Zety, Fast Company, and more.
Our elite resume writing team has experience in 85+ industries/professions. This allows us to assign you a professional writer based on your unique background and experience.
We have successfully landed our clients positions at companies like Apple, Amazon, EA, Oracle, GM, Facebook, DoJ, Morgan Stanley, Gap, and 2U just to name a few.
Find My Profession has 650+ 5-star reviews and offers a 60-day interview guarantee. Every resume created is Applicant Tracking System (ATS) compatible and highly customized to meet your specific needs.
Pros: You will work one-on-one with an expert resume writer. Find My Profession commits to working with each client until they are 100% satisfied. Don't worry about having a limited number of edits or a set amount of time with your writer.
Cons: Find My Profession is a virtual company. While we provide services in your city, we don't have a physical office for in-person visits. You'll communicate directly with your writer via email and phone calls.
Reviews: 5/5 based on 124 Google reviews, 5/5 based on 8 BBB reviews, 5/5 based on 35 Facebook reviews, 4.9/5 based on 304 Trustpilot reviews, 4.7/5 based on 255 Sitejabber reviews
Turnaround: 3 – 5 business days (can expedite to 2 business days)
Cost: $395 – $995 USD
Contact: help@findmyprofession.com
Check out some of our 5-star reviews:
2. ResumeZest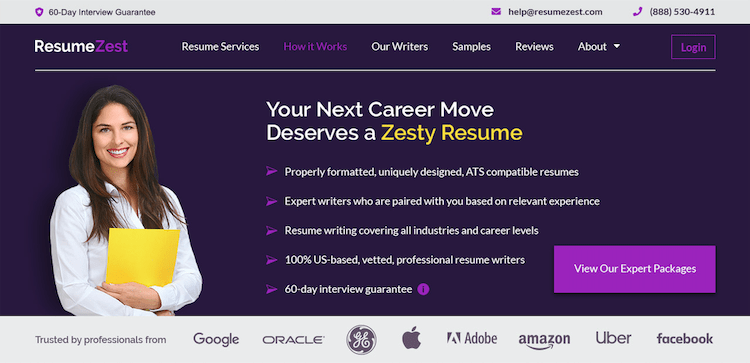 ResumeZest is trusted by professionals from companies like Google, Amazon, Apple, Oracle, GE, Adobe, Uber, and Facebook. Their resume writing team has written resumes for more than 75 industries. A 60-day interview guarantee backs up every resume they write. Each resume is also ATS compliant and keyword-optimized.
Pros: ResumeZest is a very well-rounded company. They offer affordable pricing and quick turnaround times. You will work with a high-quality, certified writer and receive excellent customer service. They are also members of the Professional Association of Resume Writers and Career Coaches (PARW/CC).
Cons: ResumeZest is one of the newer companies on this list. While they do a great job and their writers have many years of experience, the company was only founded in 2020.
Reviews: 5/5 based on 9 Facebook reviews, 5/5 based on 50 Google reviews, 5/5 based on 3 Yelp reviews, 4.8/5 based on 56 Sitejabber reviews, 4.8/5 based on 52 Trustpilot reviews
Turnaround: 3 – 5 business days (can expedite to 2 business days)
Cost: $179 – $379
Contact: (888) 530-4911 or help@resumezest.com
Visit ResumeZest
Arielle Executive is run by Managing Director Irene McConnell and Director of Sales & Marketing Steven McConnell. They serve clients at the director/senior manager-level and above. Services offer include strategic career coaching, executive resume writing, LinkedIn profile writing, headshot photography, and job interview coaching.
Pros: Arielle Executive has a clean and easy to navigate website. They also have some great reviews listed on Google. With a focus on executive-level resumes, this company has helped land their client's leadership roles at companies like LinkedIn, Apple, KPMG, Google, UPS, and more.
Cons: The service might be a bit expensive for most job seekers. While the focus is on quality over quantity, Arielle Executive is quite a bit more expensive than even some of the best executive resume writing services. We also could not find much information about their resume writers.
Reviews: 5/5 based on 127 Google reviews, 5/5 based on 2 Facebook reviews, 3.8/10 based on ResumeHelpAustralia review
Turnaround: Not found
Cost: $2,500+
Contact: (03) 8658 2244 or steven.mcconnell@arielle.com.au
CV Saviour promises you a resume that "rises above the rest". Reviewers say that they barely recognised themselves on paper after getting a CV Saviour resume makeover. This company will optimise your CV or resume to pass the scrutiny of three different gatekeepers: the high-volume 'skim' reader manager, the next-level-up, detailed reader, and Application Tracking Software.
Pros: CV Saviour employs two Certified Advanced Resume Writer's and collectively their team has 23 years of experience as professional CV writers. Their resumes are also optimized to make it through Applicant Tracking Systems.
Cons: There really is not much that we can say here about CV Saviour. The prices are a little bit on the high-end but from what we can tell they seem to do a great job.
Reviews: 5/5 based on 20 Google reviews, 7.4/10 based on ProperResumes review, 5.5/10 based on ResumeHelpAustralia review, 5/5 based on 2 Facebook reviews
Turnaround: 5 – 7 business days
Cost: $499 – $1,997
Contact: info@cvsaviour.com.au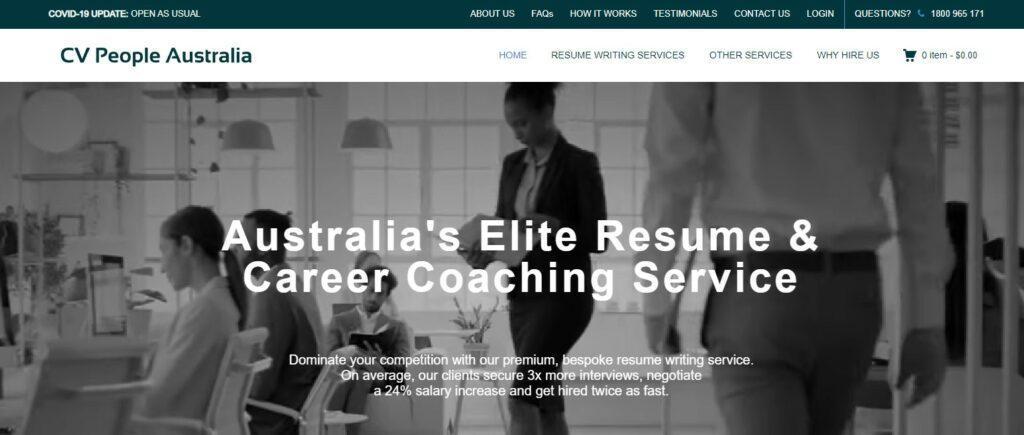 CV People was incorporated in 2011 by Joan Jack and Ian Jenkins. Fast forward seven years, the CV People team has grown to more than 50 professional resume writers across eighteen offices worldwide with personal experience in more than 40 industries. Each writer holds English writing qualifications and CV People boasts a nearly 99% customer satisfaction rate.
CV People Australia recently did a client survey that produced stunning results. According to CV People, their average client using their CV/resume service had 3.4 times more interviews, 2.6 times more job offers, and a 24% salary increase. Reviewers by and large were thrilled with their CVs and many of them report having landed jobs they felt they would not otherwise have been offered. This resume service has offices in Sydney, Melbourne, Brisbane, and Adelaide.
Pros: The writing process includes a one-on-one consultation with your writer and the finished product is backed by a 90-day interview guarantee. CV People also offers one of the fastest turnaround times in the industry, only 2 days.
Cons: Some reviewers mention breakdowns in communication or the need to switch writers after starting the process. Additionally, we were unable to find any resume samples on this company's website.
Reviews: 4.9/5 based on 577 Google reviews, 2.7/5 based on 14 ProductReview reviews
Turnaround: 2 business days
Cost: $399 – $999
Contact: 1800 965 171 or ausupport@careersexpert.com
itouch Professional Solutions has won a number of awards for resume and CV writing, including an award of Lifetime Excellence from Australian Employment Guide. As a former recruiter, founder Roland Coombes can give you a targeted resume with rich content and the right keywords to get you straight onto your target company's shortlist.
Pros: itouch Professional Solutions is one of the more affordable services on this list. It's unclear if the founder Roland Coombes is personally writing each and every resume but if he is, you will be in good hands. In total this company has helped upwards of 7,500 clients.
Cons: The resume samples on the website did not appear to be Applicant Tracking System (ATS) compliant. Make sure before signing up with itouch that the resume will make it through the ATS.
Reviews: 5/5 based on 139 Google reviews, 5/5 based on 99 WordofMouth reviews
Turnaround: 6 – 9 business days
Cost: $195 – $480
Contact: admin@resume-solutions.com.au
Visit itouch Professional Solutions
My CV Consultant was founded by Lena Kueskens in 2004. Since then, this company has received nearly perfect reviews from an array of satisfied customers. Their resumes have landed clients' jobs at organizations like Qantas, Australian Government, Commonwealth Bank, Telstra, Channel 7, IBM, and Fortescue Metals Group. In addition to resumes, they write elegant cover letters and LinkedIn profiles.
Pros: My CV Consultant is based in Australia and provides resume writing services worldwide. They assist clients in nearly every industry except legal and medical resumes.
Cons: The website does not provide a lot of information about the writers, their credentials, or pricing. We also could not find any resume samples on this website.
Reviews: 4.9/5 based on 166 Google reviews, 6/10 based on ResumeHelpAustralia review
Turnaround: 4 business days
Cost: Not stated
Contact: lena@mycvconsultant.com.au
Resumes To You was founded by Matt Tutty in 2008. Collectively they have more than 100 five-star reviews and are one of the more affordable options on this list. In addition to resume services, they can help you with government selection criteria. If you are applying to government jobs, that is a must.
Pros: The packages are very affordable and the turnaround time is reasonable. The company has positive reviews online and seems to be a great fit for entry-level job seekers.
Cons: There were no resume samples on the website. It also looks like the packages do not come standard with a phone consultation.
Reviews: 4.9/5 based on 316 Google reviews
Turnaround: 3 – 7 business days
Cost: $130 – $339
Contact: admin@resumestoyou.com.au
Katie Roberts Career Consulting was founded in 2002 by none other than Katie Roberts. Their professional career advisors and resume writers have provided services to more than 10,000 clients. Katie Roberts Career Consulting team is spread out around Australia in areas such as Sydney, Melbourne, Brisbane, Adelaide, Perth, and Canberra.
Pros: Katie Roberts Career Consulting offers a variety of career services beyond resume writing. Their team also offers career counseling and coaching, LinkedIn profile writing, interview training, and more. Their prices are also fairly affordable compared to some other services on this list.
Cons: Katie Roberts Career Consulting does not have many reviews to give an idea of their client's experiences. Also, you are only allowed up to 2 revisions and 2 weeks to request those revisions. Anything after the second revision will cost more.
Reviews: Not found
Turnaround: 5 – 7 business days
Cost: $295 – $495
Contact: admin@katieroberts.com.au
Visit Katie Roberts Career Consulting
10. Exceptional Resume Writers
Exceptional Resume Writers is a small, close-knit team of mature, seasoned career professionals who are experts in most career fields and industries. Steven McConnell is the Managing Director of Exceptional Resume Writers. Steven also co-founded Arielle Executive, a personal branding company that provides branding services to C-level executives and senior managers.
Pros: Exceptional Resume Writers provides high-quality professional resume writing services with a one-on-one approach. They have a team of highly-skilled professionals with at least 10 years of industry experience.
Cons: The website looks professional, but it lacks some useful information. They claim to offer a variety of services yet there is no information on any types of services on the site. There are no resume samples on the site either.
Reviews: 4.9/5 based on 97 Google reviews
Turnaround: 8 – 11 business days (can expedite)
Cost: $597 – $897
Contact: (02) 5504-5433 or contact@exceptionalresumes.com.au
Visit Exceptional Resume Writers
Bonus: Top Australia Resume Winners (2021)
Find My Profession, Arielle Executive, CV Saviour, CV People Australia, itouch Professional Solutions, My CV Consultant, Resumes To You, Katie Roberts Career Consulting