A personal statement, or statement of purpose, contains fundamental information about you.
Although it's sometimes referred to as an admissions essay, a personal statement is different from an essay written on a general topic to assess your writing skills.
A personal statement lets the hiring manager or selection board read about who you are, what you excel at, and what your educational and professional goals are.
It's perfectly fine to get some help with this.
Hire a professional personal statement writing service!
Of course, there are plenty of personal statement writing services out there and it can be difficult to know which one to choose.
We have done the heavy lifting for you and devoted countless hours to research.
Finally, we have come up with a list of the best personal statement writing services.
Personal Statement Service Criteria 
Each of the personal statement writing services below was reviewed by a Certified Professional Resume Writer (CPRW) taking into consideration the following:
Cost: The cost of the service compared to other personal statement writers.
Turnaround: The speed at which the personal statement is completed.
Credentials: Overall experience, awards, and certifications of the writers.
Personal Statement Design: The design, style, and overall look of the personal statement.
Customer Service: Guarantees, number of edits, and reviews.
This list was hand-curated to serve all industries, professions, and career levels. Whether you are in finance, sales, HR, engineering, or any other role, these companies will provide excellent personal statement writing services.
Best Personal Statement Writing Services

1. Find My Profession

Find My Profession is much more than a personal statement writing service. We are a global company whose work has been featured on sites such as Forbes, Inc., Zety, Fast Company, and more.
Our elite team of writers has experience in 85+ industries/professions. This allows us to assign you a personal statement writer based on your unique background and experience.
We have successfully landed our clients senior-level leadership positions at companies including Apple, Amazon, EA, Oracle, GM, Facebook, DoJ, Morgan Stanley, Gap, and 2U just to name a few.
Find My Profession has 650+ 5-star reviews and offers a 60-day interview guarantee. Every resume created is Applicant Tracking System (ATS) compatible and highly customized to meet your specific needs.
Pros: We have written personal statements for nearly every industry. Find My Profession commits to working with each client until they are 100% satisfied. Don't worry about having a limited number of edits or a set amount of time with your writer.
Cons: Find My Profession is a virtual company. While we provide services in your city, we don't have a physical office for in-person visits. You'll communicate directly with your writer via email and phone calls.
Reviews: 5/5 based on 124 Google reviews, 5/5 based on 8 BBB reviews, 5/5 based on 35 Facebook reviews, 4.9/5 based on 304 Trustpilot reviews, 4.7/5 based on 255 Sitejabber reviews
Turnaround: 3 – 5 business days with resume (can expedite to 2 business days)
Cost: $199 – $299 (as an add-on to a resume package)
Contact: (831) 888-0967 or help@findmyprofession.com
Visit Find My Profession

2. Channel Resume

Channel Resume is a Vancouver-based executive resume writing service founded by Milton Kiang. Milton is a writing expert with 15+ years of experience. He single-handedly manages the company. To fulfill orders, he helps identify your strengths and uses them to craft you an effective personal statement.
Pros: Milton is a member of the Professional Association of Resume Writers & Career Coaches, National Resume Writers' Association, and Professional Writers Association of Canada. He has amassed enough training and experience to help meet his clients' unique writing needs. 
Cons: This company appears to be run by just one person. This could be a problem, as it may hinder the possibility for diverse input and even lead to a slow turnaround time.
Reviews: 5/5 based on 30 Google reviews, 5/5 based on 2 Facebook reviews, 4.9/5 based on 10 YellowPages reviews
Turnaround: Not found
Cost: $495
Contact: (604) 251-3203 or milton.kiang@gmail.com
Visit Channel Resume

3. The Resume Center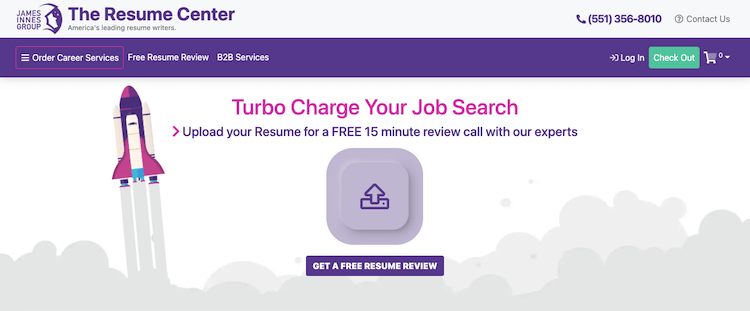 The Resume Center is a virtual personal statement writing service with 24+ years of service delivery. The company was founded by James Innes and has been rendering writing services worldwide since 1998. It is made up of over 100 writers, who have written a combined 36,300+ papers since its inception.
Pros: The company sports over 100 qualified writers. So, there'd definitely be one who can attend to your unique needs. In addition, details of their personal statement writers can be found on their website.
Cons: The company's website doesn't explain what the differences in their personal statement packages are. You'll need to contact the service for more information.
Reviews: 4.8/5 based on 36 Google reviews, 3.05/10 based on 1 Resumehelps review, 2.5/5 based on 3 Yelp reviews
Turnaround: Not found
Cost: $120 – $275
Contact: (551) 356-8010 or customerservices@theresumecenter.com
Visit The Resume Center

4. Personal Statement Service
Personal Statement Service is based in the United Kingdom, but renders services globally. In fact, they have a physical office in the United States. The company is made up of graduates from the UK's top universities, and their services support undergraduates, post-graduates, Master's and PhD applicants.
Pros: Depending on your package, you get one-on-one video consultations with your personal statement writer. These video consultations allow you to discuss the requirements of your personal statement.
Cons: If you purchase their standard Gold package, you only have a one-time review option. Also, the details of their personal statement writers are nowhere to be found on their site.
Reviews: 4.7/5 based on 29 TrustPilot reviews
Turnaround: 1 – 5 business days (can expedite to 12 hours)
Cost: $79 – $169
Contact: (646) 568-9741 or info@personalstatementservice.com
Visit Personal Statement Service

5. Residency Statement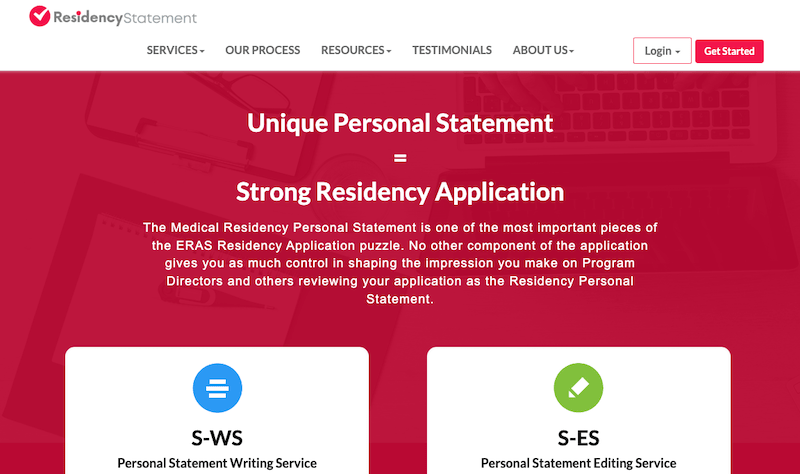 Residency Statement is a personal statement service created by Dr. Musa in 2008. The company specializes in helping medical students craft personal statements for their medical residency application. Since its inception, they have crafted personal statements for over 20,000 medical residency applicants.
Pros: You can contact your writer personally through an established communication platform. They do not only craft compelling personal statements, but they also brush up your existing ones.
Cons: They only write personal statements for medical statements who are applying for medical residency. Also, details of their personal statement writers are not available on their website.
Reviews: 4.5/5 based on 12 TrustPilot reviews
Turnaround: 7 – 10 business days (can expedite to 3 – 5 days)
Cost: $549
Contact: (858) 221-8590 or contact@residencystatement.com
Visit Residency Statement