As a nurse, you know how hard it is to find a resume writer who can properly highlight your skills and experience.
You need to work with someone who takes care of you the same way you take care of your patients.
Your writer also needs to know medical terms and how to use them throughout your resume.
You can't rely on anyone who isn't an expert.
No one wants a botched resume.
To help you find a writer, we have researched resume writers in the medical niche.
Here are our findings for the top nursing resume writers.
Nursing Resume Service Criteria
Each of the nursing resume services below was reviewed by a Certified Professional Resume Writer (CPRW) taking into consideration the following:
Cost: The cost of the service compared to other nurse resume writers.
Turnaround: The speed at which the resume is completed.
Credentials: Overall experience, awards, and certifications.
Resume Design: The design, style, and overall look of the resume.
Customer Service: Guarantees, number of edits, and reviews.
This list was hand-curated to serve all nursing professionals. These jobs include chief nursing officer, registered nurse, nurse consultant, hospice nurse, home health aide, and more.
Best Resume Services for Nurses
1. Find My Profession
Find My Profession is much more than a nursing resume writing service. We are a global company whose work has been featured on sites like Forbes, Inc., Zety, Fast Company, and more.
Our elite resume writing team has experience in 85+ industries/professions. This allows us to assign you a professional writer based on your unique background and experience.
We have successfully landed our clients positions at companies like Apple, Amazon, EA, Oracle, GM, Facebook, DoJ, Morgan Stanley, Gap, and 2U just to name a few.
Find My Profession has 650+ 5-star reviews and offers a 60-day interview guarantee. Every resume created is Applicant Tracking System (ATS) compatible and highly customized to meet your specific needs. We've included a sample nursing resume below.
Pros: We have written resumes for nearly every nursing career. Find My Profession commits to working with each client until they are 100% satisfied. Don't worry about having a limited number of edits or a set amount of time with your writer.
Cons: Find My Profession is a virtual company. While we provide services in your city, we don't have a physical office for in-person visits. You'll communicate directly with your writer via email and phone calls.
Reviews: 5/5 based on 124 Google reviews, 5/5 based on 8 BBB reviews, 5/5 based on 35 Facebook reviews, 4.9/5 based on 304 Trustpilot reviews, 4.7/5 based on 255 Sitejabber reviews
Turnaround: 3 – 5 business days (can expedite to 2 business days)
Cost: $395 – $995
Contact: (831) 888-0967 or help@findmyprofession.com
Check out some of our 5-star reviews.
2. ResumeZest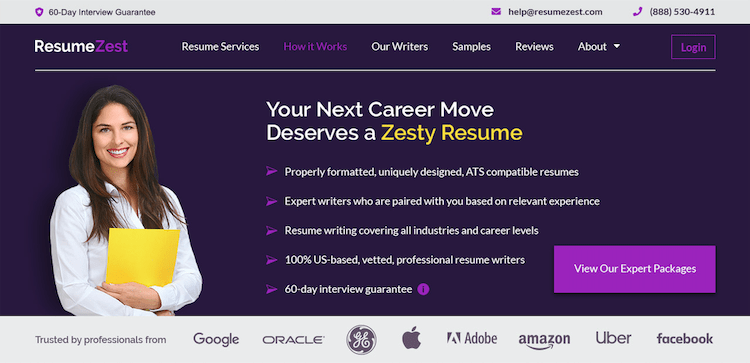 ResumeZest is trusted by professionals from companies like Google, Amazon, Apple, Oracle, GE, Adobe, Uber, and Facebook. Their resume writing team has written resumes for more than 75 industries. A 60-day interview guarantee backs up every resume they write. Each resume is also ATS compliant and keyword-optimized.
Pros: ResumeZest is a very well-rounded company. They offer affordable pricing and quick turnaround times. You will work with a high-quality, certified writer and receive excellent customer service. They are also members of the Professional Association of Resume Writers and Career Coaches (PARW/CC).
Cons: ResumeZest is one of the newer companies on this list. While they do a great job and their writers have many years of experience, the company was only founded in 2020.
Reviews: 5/5 based on 9 Facebook reviews, 5/5 based on 50 Google reviews, 5/5 based on 3 Yelp reviews, 4.8/5 based on 56 Sitejabber reviews, 4.8/5 based on 52 Trustpilot reviews
Turnaround: 3 – 5 business days (can expedite to 2 business days)
Cost: $179 – $379
Contact: (888) 530-4911 or help@resumezest.com
Visit ResumeZest
3. Nurse Resume Writing Service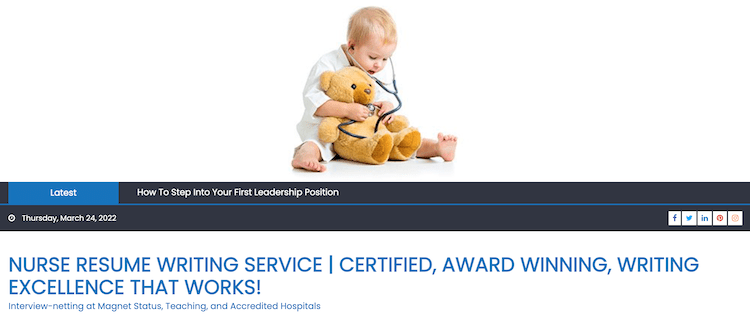 Nurse Resume Writing Service is run by Rosa Elizabeth Vargas. Rosa is a highly credentialed career expert with over 15 years of experience in nurse resume writing. She has a background in nursing. This gives her relevant practical experience for crafting a nursing resume. She is also a certified resume writer. 
Pros: This resume writing firm focuses on writing nursing resumes for all career levels. The service has received 24 Toast of the Resume Industry (TORI) honors between 2013 and 2017. Each and every resume is overseen by Rosa herself.
Cons: The website doesn't provide any details about the revision policy. The number of revisions you will get with the resume packages is not mentioned. Also, they do not provide any satisfaction guarantees.
Reviews: Not found
Turnaround: 7 – 10 business days
Cost: $385 – $1095
Contact: (321) 704-7209 or rosa@nurseresumewritingservice.com
Visit Nurse Resume Writing Service
4. iHire Nursing
iHire Nursing is a niche job board dedicated to the healthcare industry. They offer nursing resume writing services as well as resume formatting. Their resume writers are Certified Advanced Resume Writers (CARW) and Certified Master Resume Writers (CMRW).
Pros: This company offers to work with you until you are 100% satisfied with your nursing resume. They have award-winning professional resume writers on staff. You can find before and after samples of their nursing resumes on the site.
Cons: You will fill out a questionnaire instead of having a phone consultation with your writer. The reviews of the service are for the iHire parent company and are not specific to their nursing resumes.
Reviews: 4.2/5 based on 527 Trustpilot reviews, 4/5 based on 192 Sitejabber reviews, 3.6/5 based on 16 Google reviews, 1.1/5 based on 7 BBB reviews
Turnaround: 5 – 7 business days
Cost: $395
Contact: (877) 316-3118
5. Nurse Prose
Nurse Prose was created by Mary Wagoner in 2000. Mary has been writing resumes since 1992. She specializes in nursing and healthcare resumes. Each writer for this company covers a unique area of nursing expertise. They understand the trends, keywords, and concepts of the medical field.
Pros: Nurse Prose writes all resumes from scratch to maximize impact. You will get unlimited resume revisions until you are satisfied. This budget-friendly service is great for entry-level nurses.
Cons: There aren't too many details about the writers on the team. The service has no customer reviews on trusted review platforms. You must provide your contact information to review their resume samples.
Reviews: Not found
Turnaround: 3 business days (can expedite)
Cost: $199.95 – $299.95
Contact: (800) 719-3459
6. Inspire Careers
Inspire Careers is run by Cathy Lanzalaco, a Certified Professional Resume Writer (CPRW). She has won a Recognizing Outstanding Achievement in Resumes (ROAR) Award. Cathy was a registered nurse and also has a background in HR leadership.
Pros: You can see quite a few resume samples on the website. The company offers a variety of services that can help you take your career to the next level. Also, you will get to work with Cathy herself.
Cons: The resume service is a bit more costly than other services on our list. Also, they do not offer any interview or satisfaction guarantees.
Reviews: 5/5 based on 1 Yelp review, 5/5 based on 1 Facebook review, 4.2/5 based on 9 Google reviews
Turnaround: Not found
Cost: $850 – $2000+
Contact: (716) 481-7662 or cathy@inspirecareers.com

Bonus: Top Nursing Resume Winners (2021)
Find My Profession, Nurse Resume Writing Service, iHire Nursing, Nurse Prose, Inspire Careers
Nursing Resume Example
We've included a nurse resume sample so you can get a better idea of what makes a healthcare resume great.
As you can see, nursing resumes need to grab your attention with their appearance. They also need easy-to-read language that describes high-level skills.
Here is an example of a Family Nurse Practitioner resume. It is from the #1 pick on our list, Find My Profession. Click on the resume below to view the full resume.
Visit Find My Profession