Mike Podesto is the CEO & Founder of Find My Profession, Inc.
Mike spent his early career in sales and marketing roles for companies like Sunrun, DirecTV, UPS, and Nitro Software.
After trying his hand in agency recruiting, Mike learned that the industry was broken and desperately needed to be fixed.
Job seekers weren't receiving proper support from recruiters. Instead, recruiters focused solely on the hiring companies, neglecting the average job seeker.
Find My Profession was created to change that by offering services 100% catered toward job seekers.
Mike's career advice and unique approach to job searching has been featured on sites like Forbes, Inc., Fast Company, Bloomberg, Zety, and 100s more.
Mike was born and raised in Lodi, CA – a mid sized city known mostly for their wine. After moving around Northern California and living in such places as Fresno, San Jose, San Francisco, and Roseville, Mike decided to relocate to Colorado.
Since moving to Golden, CO Mike has not looked back. You'll find him regularly enjoying the many outdoor activities Colorado has to offer including snowboarding, hiking 14ers, mountain biking, rock climbing, and more.
We took this summary section directly from Mike Podesto's LinkedIn profile:
Hi! My name is Mike Podesto. Below, I will share a bit about my interests, accomplishments, and of course a couple of my favorite quotes!
Interests: Family, Church, Snowboarding, Rock Climbing, Traveling, Craft Beer, Food, Hiking, Biking, Marketing, Entrepreneurship, Investing, Volunteering, and others.
Accomplishments: In 2018 I was invited into Forbes Young Entrepreneurs Council (YEC). I have contributed my writing to Forbes, Inc., Fast Company, Zety, Thrive, and various other publications. I am lucky enough to employ the best humans on this planet.
Quotes: "I'm a great believer in luck, & I find the harder I work the more I have of it."– Thomas Jefferson, "Do, or do not. There is no try." – Yoda
Now let's see what others have to say about Mike Podesto.
Mike Podesto Reviews & Endorsements
There are a few places you can go to find good reviews and endorsements on individuals. First, we turned to LinkedIn.
Overall, we found 54 unique endorsements that Mike Podesto has received over the years.
A few years ago, Mike used to be a major contributor on LinkedIn with posts reaching 180,000+ likes, 10,000+ comments, and 8,500+ reposts!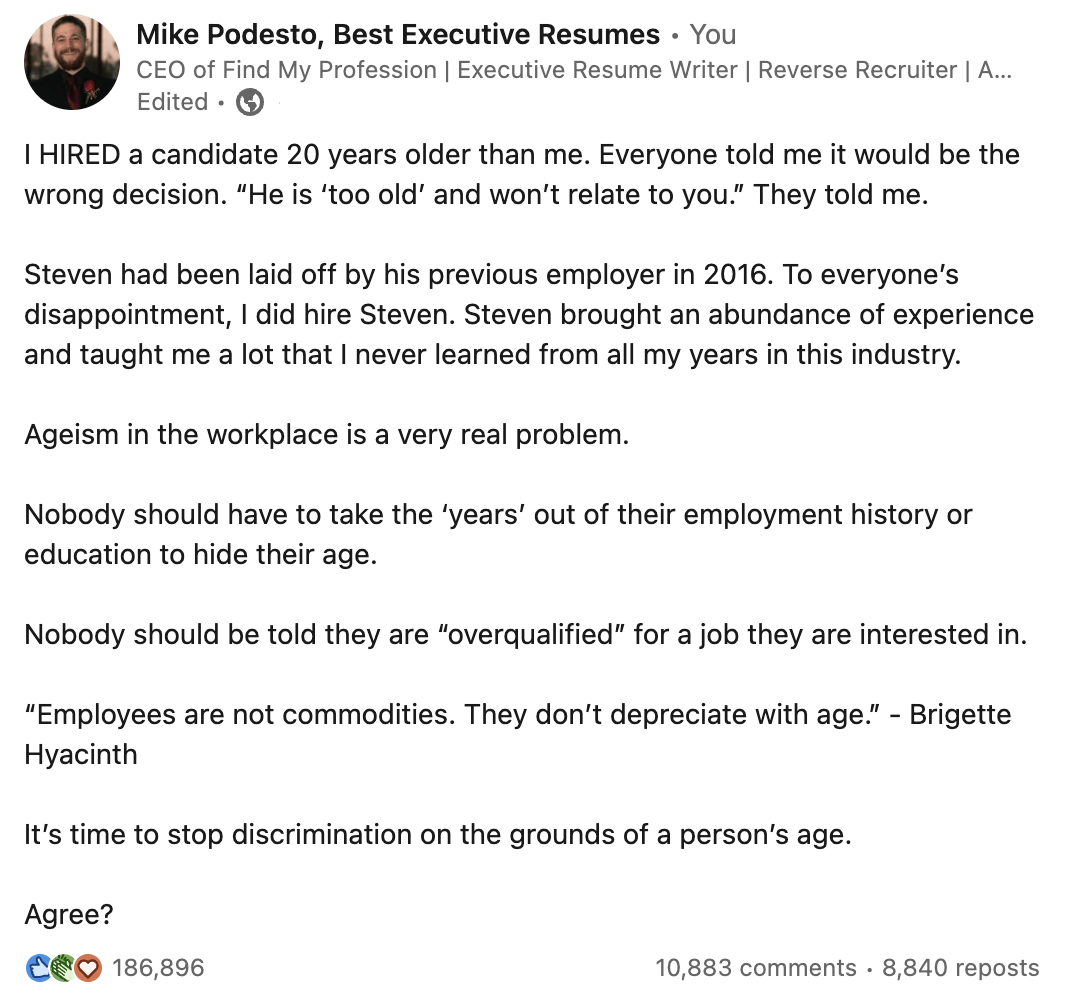 He has also accumulated over 45,000 followers on LinkedIn alone.
There is no question that Mike Podesto has a voice that wants to be heard.
In addition to the reviews Mike has received on LinkedIn, various reviews on third-party sites have endorsements of Mike Podesto sprinkled within.
We took a look at the company Glassdoor profile in order to check out the CEO reviews of Mike Podesto. We were not surprised to see dozens of positive reviews and a CEO approval rating of 92%.

No matter where you look, it seems that people have great things to say about Mike Podesto and his team at Find My Profession.
If you're interested in learning more about Find My Profession, check out their detailed reviews here.