Looking for the best staffing agencies near you in Indianapolis, IN?
You've come to the right place.
Whether you reside in Indianapolis out of loyalty to the Pacers or Colts (or you want to be close to the Motor Speedway), there is no doubt this city has a lot to offer.
But how do you go about finding work in such a competitive job market?
Here's the answer: reach out to the local staffing agencies in Indianapolis.
But don't worry. You don't have to filter through dozens of Indianapolis staffing agencies.
We've done all the heavy lifting to bring you only the best of the best.
Indianapolis Staffing Agency Criteria
Each of the Indianapolis Staffing Agencies below was reviewed by a Certified Professional Resume Writer (CPRW) taking into consideration the following:
Credentials: Overall experience, awards, and certifications.
Opportunities: Number and variety of jobs available.
Customer Service: Guarantees and reviews.
This List Serves The Following Areas Near Indianapolis, Indiana:
Greenwood, Fishers, Anderson, Shelbyville, Columbus, Bloomington, Greensburg, Terra Haute, Lafayette, Anderson, Muncie, Fort Wayne, New Castle, Richmond, Connersville, Greensburg, Kokomo, and more.
Best Indianapolis Staffing Agencies
Before reaching out to any companies on this list, we recommend that you review your resume to make sure it is in tip-top shape. If you'd like professional help with your resume, contact the pros at Find My Profession.
And now for the detailed reviews…
1. Pro Resources Staffing Services

Pro Resources Staffing Services has been locally owned and independently operated since 1986. Their founders have more than 30 years of combined human resources experience, which puts them in a great position to run a successful staffing agency and help you find the ideal position. Pro Resources provides services all over Indiana.
Job Types: Pro Resources Staffing Services focuses on manufacturing & distribution, clerical, and professional staffing. The jobs posted on their website include warehouse packing, CNC Programmer, machine operator, truck driver, supply chain project manager, marketing coordinator, production supervisor, and more.
Pros: Pro Resources has a lot of jobs listed on its website. We appreciate that it is transparent with the pay listed on the site. It is always a good sign when we see a staffing agency listing the hourly/salary rate directly on the job posting. Additionally, there were diverse roles ranging from entry-level warehouse jobs to six-figure jobs.
Reviews: 5/5 based on 1 Yelp review, 4.1/5 based on 123 Facebook reviews, 4.6/5 based on 509 Facebook reviews
Local Office: 7870 N Michigan Road, Indianapolis, 46268
Contact: (317)222-6466 or all_indianapolis@proresources.com
Visit Pro Resources Staffing Services
2. That's Good HR
That's Good HR was founded out of a desire to make staffing better. For nearly 20 years, they have paired employers to job seekers in the Indianapolis area. That's Good HR prides themselves on being truth-tellers, not smooth talkers. They offer a promise to stay in touch in order to make sure your placement is going smoothly.
Job Types: That's Good HR focuses on various roles spanning HR, administrative, customer service, healthcare admin, and accounting. Some of their featured job listings include admin assistant, human resources generalist, medical front desk, accounting associate, and more.
Pros: That's Good HR is a true Indianapolis staffing agency founded in (and loyal to) Indiana. In 2019, they were among the "Best Places to Work in Indiana" and also received the "Best of Staffing Client Satisfaction" award. They know the city inside and out, and are equipped to match you with the right employer.
Reviews: 5/5 based on 36 Facebook reviews, 4.9/5 based on 39 ClearlyRated reviews, 4.6/5 based on 124 Google reviews, 4/5 based on 1 G2 review, 3.5/5 based on 6 Yelp reviews
Local Office: 8440 Woodfield Crossing Blvd #370, Indianapolis, 46240
Contact: (317) 469-4141
3. Vaco
Vaco means "to free oneself from a master." With the mission of liberating talents from dissatisfying jobs, Vaco was established in 2002. Their clients range from high-growth startups to Fortune 500 companies. Vaco is also on Forbes' 2018 and 2019 List of America's Best Professional Recruiting Firms.
Job Types: Vaco covers a large range of jobs including technology, financial services, logistics, supply chain, healthcare, life sciences, manufacturing, retail consumer, public sector, energy & utilities, media, entertainment, and more.
Pros: Vaco is a national staffing agency with offices in 40 locations across the globe. While they do have an office in Indianapolis, IN, they also have offices in nearly every major city in the U.S. So far, the agency has placed over 73,000 candidates and consultants successfully.
Reviews: 4.7/5 based on 15 Facebook reviews, 4.8/5 based on 102 Google reviews
Local Office: 5875 Castle Creek Parkway N. Drive, Suite 100, Indianapolis, 46250
Contact: (317) 284-1604 or indyoperations@vaco.com
4. Forge Industrial Staffing
Forge Industrial Staffing was founded over 25 years ago by Richard DeTamble and John Janisch who envisioned a different kind of staffing agency – one that was built on relationships. Since opening their first office in Elkhart, Indiana, Forge has grown to operate 13 offices throughout Indiana and Michigan.
Job Types: Forge focuses on industrial jobs such as shift supervisor, machine operator, stacker, metal finishing, packager, laser operator, forklift operator, painter, welder, and more.
Pros: With over 18 years of experience in each of their markets, Forge knows the intricacies of the industrial landscape. This staffing agency may have a larger presence in Indianapolis than many other companies on this list.
Reviews: 3.7/5 based on 60 Facebook reviews, 4.9/5 based on 512 Google reviews
Local Office: 7437 W 10th Street, Indianapolis, 46214
Contact: (317) 856-4400 or indy@forgestaff.com
Visit Forge Industrial Staffing
5. Milliner & Associates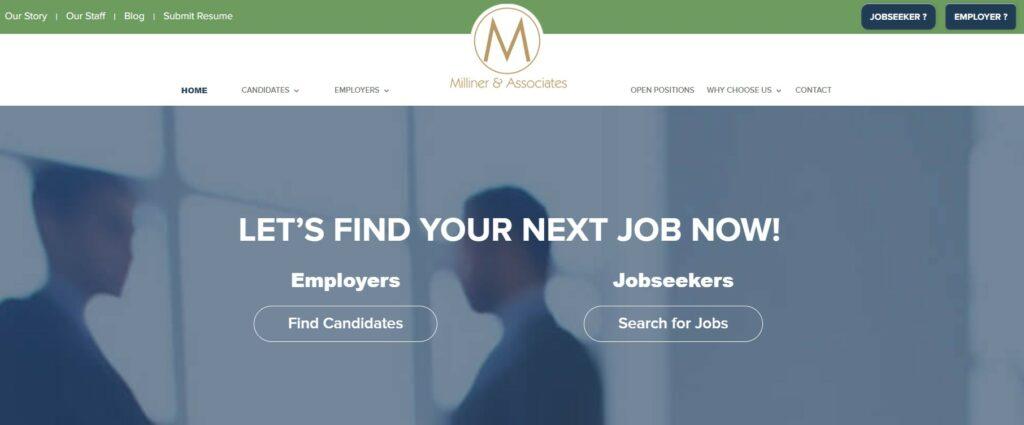 Millner & Associates opened its doors in Greensburg, Indiana, as a very optimistic one-person, direct-hire recruiting firm in 2007. The original focus of the company was to establish itself as a niche resource for accounting and finance recruiting. Millner & Associates has since grown to serve other areas such as admin and human resources.
Job Types: Millner & Associates focuses on accounting, finance, HR, and administrative positions. We found a few open positions on their website including customer service representative, staff accountant, human resource professional, legal assistant, and more.
Pros: Millner & Associates is a boutique and highly personalized search firm. If you are looking for a finance or accounting job, they surely will be the top agency for you in Indianapolis. They also transparently list the salary range next to each job on the site.
Reviews: 5/5 based on 3 Yelp reviews, 4.5/5 based on 28 Google reviews
Local Office: 4181 E 96th Street, Suite 120, Indianapolis, 46240
Contact: (317) 218-1195
6. Diverse Staffing
Diverse Staffing supports all business types, from small offices to multi-state Fortune 500 manufacturing facilities. They help applicants find temporary, temp-to-hire, and direct hire opportunities with companies across a variety of industries. Headquartered in Indianapolis, they serve around the United States.
Job Types: Diverse Staffing specializes in industrial, manufacturing, office & administrative, call centre, and information technology. Available jobs on the website include senior financial analyst, application systems analyst, forklift operator, senior data architect, production associate, and more.
Pros: The agency has posted quite a few recent job posts on their website for Indianapolis job seekers. The process of joining their talent network and the online application process is smooth and hassle free.
Reviews: 4.7/5 based on 19 Facebook reviews, 4.8/5 based on 2170 Google reviews, 4/5 based on 3 Yelp reviews
Local Office: 7135 Waldemar Drive, Indianapolis, IN 46268
Contact: (317) 813-8000
7. On Demand Staffing
On Demand Staffing has been serving Indianapolis job seekers for over 10 years. No staffing agency handles more sporting events, venues, and auto auctions in Indianapolis than On Demand Staffing. They also staff for hotels, caterers, convention centers, and other large-scale food service providers.
Job Types: On Demand Staffing focus on heavy industrial staffing, machine operators, manufacturing & logistics, construction & demolition, light industrial staffing, auto auction staffing, entertainment & venues, event staffing, government, hospitality, labor, outsourcing & consulting, and warehouse staffing.
Pros: If you are looking to work at one of the large sporting venues in Indianapolis and automotive auctions with ADESA and Manheim, On Demand Staffing would be your agency. On Demand also pays most of the workers the same day they work. They can staff jobs needing from one to several hundred people.
Reviews: 5/5 based on 2 Facebook reviews, 4.1/5 based on 90 Google reviews, 1/5 based on 1 Yelp review
Local Office: 2821 West Washington Street, Indianapolis, IN 46222
Contact: (317) 635-7736
Bonus: Top Indianapolis Staffing Agency Winners (2021)
Pro Resources Staffing Services, That's Good HR, Vaco, Forge Industrial Staffing, Millner & Associates, Diverse Staffing, On Demand Staffing.
How Do Staffing Agencies Work?
Staffing, or employment, agencies fill open positions for the employers they contract with. The agency is paid by the hiring company, so it's a free service for the job seeker.
Staffing agencies can hire for temporary, temp-to-hire, and permanent positions.
If you are hired for a temporary job, you are usually employed and paid by the staffing agency. Some agencies offer benefits to their employees, including health insurance and retirement plans.
For permanent roles, the staffing agency essentially acts as a recruiter and will refer you to the hiring company.
Here's what we recommend when working with a staffing agency:
Browse the website to see if you find any jobs you are interested in.
Whether you find an ideal job or not, contact the staffing agency.
Provide information about yourself and the type of work you are looking for.
If you found a relevant job on their website, mention it.
The agency will take down your information and reach out if they find a relevant position.
Make as many staffing agencies as possible aware of your search. It's simply more eyes and ears out there helping with your job search.
Before you reach out to these staffing agencies, make sure you have a great resume – both in look and content. The worst thing you can do is provide a resume that won't get results to a bunch of staffing agencies.
Check out some professional resume services on our list of the Best Resume Services in Indianapolis.
Need more than resume assistance?
At Find My Profession, we also offer career coaching services and Career Finder, a professional job search service that manages every part of the job search, from searching for jobs for you to networking on your behalf.