Looking for the best headhunter and staffing agencies near you in DFW, TX?
You've come to the right place.
Dallas/Fort Worth is an amazing area and modern metropolis in northern Texas. With so much to do and so much to see, there's a reason why so many people choose to live in the Big D.
But how do you go about finding work in such a competitive job market?
The answer… reach out to the local staffing agencies.
Rather than having you filter through dozens of Dallas-Fort Worth staffing agencies, we've done all the heavy lifting to bring you only the best of the best.
Dallas-Fort Worth Staffing Agency Criteria
Each of the Dallas City Staffing Agencies below was reviewed by a Certified Professional Resume Writer (CPRW) taking into consideration the following:
Credentials: Overall experience, awards, and certifications.
Opportunities: Number and variety of jobs available.
Customer Service: Guarantees and reviews.
This List Serves The Following Areas Near Dallas-Fort Worth, Texas:
Arlington, Plano, Irving, Garland, Grand Prairie, McKinney, Frisco, Mesquite, Carrollton, Denton, Richardson, Lewisville, and more.
Best Dallas-Fort Worth Staffing Agencies
Before reaching out to any companies on this list, we recommend that you review your resume to make sure it is in tip-top shape. If you'd like professional help with your resume, contact the pros at Find My Profession.
And now for the detailed reviews…
1. CornerStone Staffing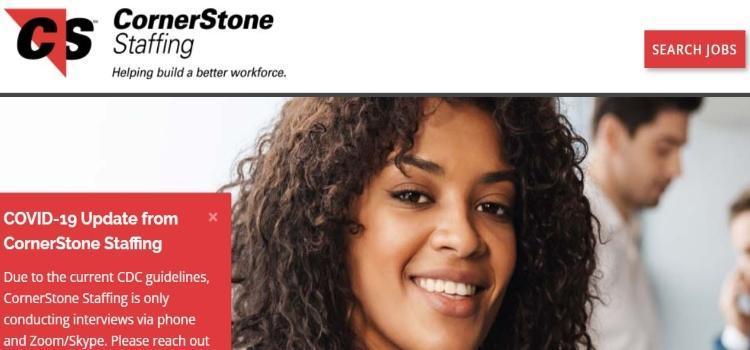 CornerStone Staffing has been making an impact in the Dallas-Fort Worth metroplex since 1991. Whether you are looking for short-term supplemental income or a full-time position, they have the jobs you need. The agency is also the winner of ClearlyRated's Best of Staffing Talent Satisfaction Award 2021. 
Job Types: CornerStone Staffing specializes in accounting, administrative, call center & customer service, engineering, finance, government, human resources, information technology, medical & clinical, mortgage, sales & marketing, and more.
Pros: CornerStone Staffing has operated from the same Fort Worth location for over 20 years. They have developed long-lasting relationships with some of the biggest names in the business in the Fort Worth Area. Their team of 50+ professionals collectively has 300+ years of staffing experience.
Reviews: 4.3/5 based on 526 Google reviews, 4.4/5 based on 133 ClearlyRated reviews, 3.7/5 based on 55 Facebook reviews, 1.6/5 based on 7 BestCompany reviews, 1/5 based on 1 Yelp review
Local Office: 10 locations to serve you
Contact: (214) 785-6700
2. Resource Personnel Consultants
Resource Personnel Consultants (RPC) was founded in 2002 as a firm that combines a hands-on approach with industry expertise and national reach. RPC is one of Dallas Business Journal's Top Hispanic Owned Companies and a four-time winner of the ClearlyRated Best of Staffing award. 
Job Types: RPC focuses on a handful of specialties including accounting & finance, administrative support, medical & healthcare, banking & mortgage, light industrial, customer service & call center, government services, information technology, and services for veterans.
Pros: RPC boasts a variety of awards. The company is also on Forbes' list of America's Best Professional Recruiting Firms. Additionally, RPC has posted plenty of recent jobs on their website for DFW job seekers. Lastly, RPC has a regularly updated blog with excellent resources for job seekers.
Reviews: 4.8/5 based on 17 ClearlyRated reviews, 4.5/5 based on 262 Google reviews, 4.3/5 based on 31 Facebook reviews, 2/5 based on 5 Yelp reviews
Local Office: 2 locations to serve you
Contact: (972) 371-2920
Visit Resource Personnel Consultants
3. Choice Specialists
Choice Specialists is an award-winning recruiting, temporary staffing, and headhunting agency based in Dallas, Texas. Since 1999, Choice Specialists has been a nationally certified woman-owned business, and since 2010, this agency has been completely owned by its employees.
Job Types: Choice Specialists works to fill roles in accounting, clerical, engineering, IT, supply chain, human resources, legal, sales, marketing, light industrial, call center, customer service, convention & events, healthcare, and more.
Pros: Choice Specialists is the largest employee-owned staffing agency in Dallas. They provided over 14,000 new-start jobs in Texas last year. Choice Specialists, as a company, also takes their social responsibility seriously, working on a variety of projects with Junior Achievement, Child Advocates, Inspire Women, and more.
Reviews: 5/5 based on 1 Facebook review, 5/5 based on 6 Yelp reviews, 4.7/5 based on 32 Google reviews
Local Office: 10 locations to serve you
Contact: (214) 823-5057 or dallas@choicespecialists.com
4. High Profile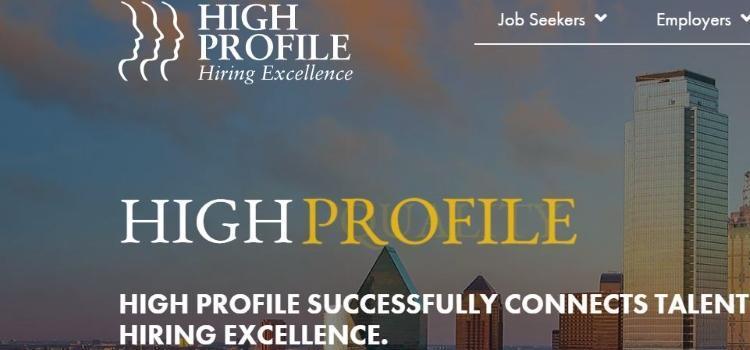 High Profile has been helping people reach their true potential since 1987. Their recruiters are trained and certified in staffing and recruitment laws and best practices, holding CSP/PHR/SPHR, and/or SHRM designations. The agency serves job seekers across Dallas, Fort Worth, and Irving. 
Job Types: High Profile focuses on administrative & personal executive assistant, accounting & finance, and HR jobs such as admin assistant, receptionist, senior auditor, wire department specialist, staff accountant, financial reporting analyst, human resources manager, and more.
Pros: High Profile boasts more than a dozen awards including "Best Places to Work" five years in a row from the Dallas Business Journal and "Best of Staffing Talent" from CareerBuilder. The agency also provides candidates with career counseling.
Reviews: 5/5 based on 19 Yelp reviews, 4.9/5 based on 34 Facebook reviews, 4.8/5 based on 80 Google reviews
Local Office: 17250 Dallas Pkwy, Dallas, TX 75248
Contact: (972) 991-7900
5. Delta Dallas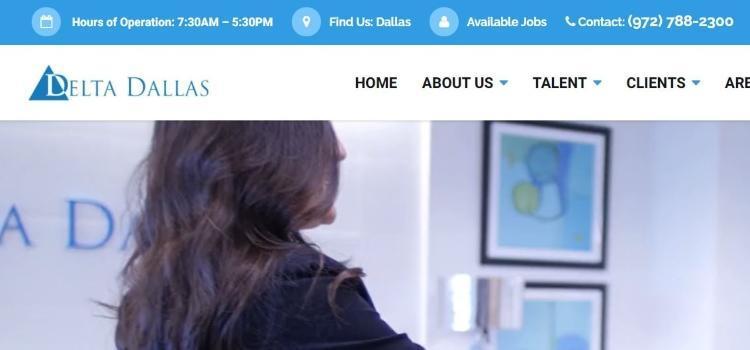 Delta Dallas began in 1983 in the kitchen of founder Linda Crawford. Today, this staffing agency serves hundreds of companies ranging from start-ups to Fortune 500s. Delta Dallas is a certified woman-owned company that helps clients meet their corporate diversity initiatives with special programs.
Job Types: Delta Dallas specializes in admin, finance, HR, professional services, and information technology. Some of the jobs posted for Dallas job seekers include receptionist, legal administrative assistant, billing clerk, HR coordinator, executive assistant, and a few more.
Pros: Delta Dallas has a variety of excellent testimonials on their website ranging from written testimonials to video testimonials. It's clear from their testimonials that Delta takes the time to prepare their job-seeking candidates as well as understand the needs of the hiring company.
Reviews: 3.7/5 based on 56 Google reviews, 3.5/5 based on 15 Yelp reviews
Local Office: 16000 Dallas Pkwy, Suite 150, Dallas, 75248
Contact: (972) 788-2300 or info@deltadallas.com
6. Staff Force
Staff Force provides temporary, direct-hire, and light industrial staffing solutions to Texas employers. With more than 30 years of experience serving Dallas-Fort Worth and other parts of Texas, Staff Force aspires to build long-lasting relationships by finding the right match for both companies and job seekers alike.
Job Types: Staff Force focuses on a variety of jobs within the light industrial, administrative, clerical, and skilled trade sectors. Unfortunately, we couldn't find any available jobs posted on the website.
Pros: Staff Force is a Texas-loyal staffing agency with 23 offices across the nation, seven of which are located in Dallas. Staff Force has built a massive network across Texas, making them one of the most well-connected staffing agencies in Texas.
Reviews: 5/5 based on 4 Facebook reviews, 4.4/5 based on 442 Google reviews, 1/5 based on 1 Yellow Pages review, 1/5 based on 1 Yelp reviews
Local Office: 7 locations to serve you
Contact: (281) 492-6044
7. Burnett's Staffing

Burnett's Staffing was founded by Paul W. and Joyce Burnett in 1966. Since then, the agency has grown into multiple offices across Dallas, Plano, Las Colinas, Fort Worth, and Arlington. They have served thousands of job seekers and employers including Fortune 500 companies. 
Job Types: The company focuses on office administration, customer service, and call center professionals for companies in Dallas-Fort Worth. Some of the job posts include scheduling admin, dispatcher, receptionist, development coordinator, administrative assistant, and more.
Pros: According to their website, most of the available job opportunities are full-time positions. We found quite a few open positions on the website. The job posts transparently include the pay rate/salary, which is a good thing.
Reviews: 4.8/5 based on 8 Yelp reviews, 5/5 based on 3 BBB reviews, 4.5/5 based on 807 Google reviews
Local Office: 7 locations to serve you
Contact: (972) 385-7600 or dallas@burnetts.com
8. Trinity Event Staffing
Trinity Event Staffing is the go-to provider for event staffing within the foodservice and promotions industries. Trinity Event Staffing was nominated as one of the top 20 staffing agencies in Dallas. The agency also serves other Texas cities such as Austin and Houston.
Job Types: Trinity Event Staffing regularly helps fill roles in bartending services, waitstaff, kitchen staff, personal chefs, brand ambassadors, event security, and other event staff. Venues range from weddings, hotel pools & bars, museums, school cafeterias, stadiums, fairgrounds, showrooms, and more.
Pros: Trinity Event Staffing has carved out a real niche in the event staffing space in Dallas-Fort Worth and other parts of Texas. For anyone in the events space looking for temporary work assignments, there are going to be few (if any) better companies to contact than Trinity Event Staffing.
Reviews: 4.9/5 based on 27 Facebook reviews, 4.9/5 based on 26 Google reviews, 3.5/5 based on 6 Yelp reviews
Local Office: Not found
Contact: (972) 898-2806
9. SuperiorHire
SuperiorHire is a Dallas-Fort Worth staffing agency with more than 16 years of recruiting experience in their local market. Their website has much to say about customer service, indicating that their goal is to have superior customer service compared to other DFW staffing companies.
Job Types: SuperiorHire doesn't have any jobs posted on their actual website. Instead, you'll be directed to their LinkedIn page. SuperiorHire focuses on specialties such as administrative & clerical, human resources, accounting, finance, information technology, and marketing.
Pros: SuperiorHire offers a handful of useful tips for job seekers on its website. The agency received ClearlyRated's "Best of Staffing Talent Diamond Award" in 2018. They are also recognized as one of the Largest North Texas Staffing Firms by Dallas Business Journal.
Reviews: 5/5 based on 8 Facebook reviews, 5/5 based on 1 Yelp review, 4/5 based on 57 Google reviews
Local Office: 5001 Spring Valley Road, Suite 260W, Dallas, 75244
Contact: (972) 248-4422
10. The InSource Group
The InSource Group is a leader in the Texas Information Technology staffing market. Since 1992, The InSource Group has fulfilled IT staffing needs for companies of all sizes and has delivered a 97% satisfaction rating. They also offer monthly training courses for IT job seekers. 
Job Types: The InSource Group fills a variety of positions in application development, software development lifecycle, security, big data, and infrastructure. Some of the specific jobs they have worked to fill include automation architect, angular developer, business analyst, cybersecurity solutions architect, DevOps engineer, and more.
Pros: While many other staffing companies might include IT jobs, The InSource Group focuses exclusively on them, allowing their staff to become experts in this particular field. So, if you are looking for IT jobs in Dallas, this agency should be at the top of your list.
Reviews: 5/5 based on 1 Yelp review, 3.3/5 based on 7 Facebook reviews, 4.5/5 based on 34 Google reviews
Local Office: 12221 Merit Drive, Suite 1000, Dallas, 75251
Contact: (972) 455-1000 or info@insourcegroup.com
Bonus: Top Dallas Staffing Agency Winners (2021)
CornerStone Staffing, Resource Personnel Consultants, Choice Specialists, High Profile, Delta Dallas, Staff Force, Burnett's Staffing, Trinity Event Staffing, SuperiorHire, The InSource Group.
How Do Staffing Agencies Work?
Staffing, or employment, agencies fill open positions for the employers they contract with. The agency is paid by the hiring company, so it's a free service for the job seeker.
Staffing agencies can hire for temporary, temp-to-hire, and permanent positions.
If you are hired for a temporary job, you are usually employed and paid by the staffing agency. Some agencies offer benefits to their employees, including health insurance and retirement plans.
For permanent roles, the staffing agency essentially acts as a recruiter and will refer you to the hiring company.
Here's what we recommend when working with a staffing agency:
Browse the website to see if you find any jobs you are interested in.
Whether you find an ideal job or not, contact the staffing agency.
Provide information about yourself and the type of work you are looking for.
If you found a relevant job on their website, mention it.
The agency will take down your information and reach out if they find a relevant position.
Make as many staffing agencies as possible aware of your search. It's simply more eyes and ears out there helping with your job search.
Before you reach out to these staffing agencies, make sure you have a great resume – both in look and content. The worst thing you can do is provide a resume that won't get results to a bunch of staffing agencies.
Check out some professional resume services on our lists of the Best Resume Services in Dallas and the Best Resume Services in Fort Worth.
Need more than resume assistance?
At Find My Profession, we also offer career coaching services and Career Finder, a professional job search service that manages every part of the job search, from searching for jobs for you to networking on your behalf.