You may have heard that an amazing cover letter can set you apart from your competition.
It's true!
According to a survey from OfficeTeam, 86% of executives polled said cover letters are valuable when evaluating job candidates.
Individuals who take the time to craft custom cover letters stand out and get hired faster.
But be careful. A poorly written cover letter can sometimes do more harm than good.
Our list of the 7 best cover letter writing services will help you find a writer that knows how to impress hiring managers.
---
Note: Most cover letter services are provided by professional resume writers. These services go hand in hand. It's common to receive discount deals when bundling both resume and cover letter writing services.
---
Cover Letter Service Criteria
Each of the cover letter writing services below was reviewed by a Certified Professional Resume Writer (CPRW) taking into consideration the following:
Cost: The cost of the service compared to other cover letter writers.
Turnaround: The speed at which the cover letter is completed.
Credentials: Overall experience, awards, and certifications.
Cover Letter Design: The design, style, and overall look of the cover letter.
Customer Service: Guarantees, number of edits, and reviews.
This list was hand-curated to serve all industries, professions, and career levels. Whether you are in finance, sales, HR, engineering, or any other role, these companies will provide excellent cover letter services.
Best Cover Letter Writing Services
1. Find My Profession
Find My Profession is not your typical cover letter writing service. We are a global company on a mission to provide effective and keyword-optimized cover letters that convert into offers.
Our elite cover letter writing team has experience in 85+ industries/professions. This allows us to assign you a professional writer based on your unique background and experience.
We have successfully landed our clients positions at companies like Apple, Amazon, EA, Oracle, GM, Facebook, DoJ, Morgan Stanley, Gap, and 2U just to name a few.
Find My Profession has 400+ 5-star reviews and offers a 60-day interview guarantee. Every cover letter created is keyword optimized for recruiters and highly customized to meet your specific needs.
Pros: You will work one-on-one with a cover letter writer in the United States. Each cover letter is custom written for a specific job. Find My Profession also commits to working with each client until they are 100% satisfied.
Cons: Find My Profession is a virtual company. While we provide services in your city, we don't have a physical office for in-person visits. You'll communicate directly with your writer via email and phone calls.
Reviews: 5/5 based on 124 Google reviews, 5/5 based on 8 BBB reviews, 5/5 based on 35 Facebook reviews, 4.9/5 based on 304 Trustpilot reviews, 4.7/5 based on 255 Sitejabber reviews
Turnaround: 1 – 2 business days
Cost: $100 – $149
Contact: (831) 888-0967 or help@findmyprofession.com
Check out some of our 5-star reviews.
2. The Resume & Interview Coach
Melodie Power has plenty of sales experience to craft an outstanding professional cover letter, particularly if you're in the sales industry. This Louisville-based resume and cover letter writing service has over 20 years of industry experience. Melodie is a Certified Professional Resume Writer and career coach. She has hosted workshops and presentations for hundreds of people, thus imparting her career knowledge on clients far and wide.
Pros: Melodie Power is one of the best cover letter writers around. Her experience in sales allows her to "sell" you to your potential employer. Combined with her great cover letter writing service reviews, there is no doubt you will receive a fantastic cover letter.
Cons: Melodie Power offers a custom approach to cover letter writing. Pricing is not fully listed on the site so you must call for a custom quote. It's also worth noting that Melodie is the only writer at her company.
Reviews: 4.8/5 based on 61 Google reviews, 5/5 based on 3 Yelp reviews
Turnaround: ~1-week
Cost: $150+
Contact: (502) 245-1733 or melodie@resumeandinterviewcoach.com
3. Seasoned and Growing Resume Services
Seasoned and Growing Resume Services has the necessary certifications and training to create a great cover letter. Owner and operator Chelsea became an executive director at age 26; she understands the job-hunting process and will help you land the gig of your dreams. She has certainly earned her spot as one of the best cover letter services.
Pros: Seasoned and Growing Resume Services offers a plethora of services that fit every single step of your job search. They have plenty of awesome 5-star reviews on Google that back up their writing ability.
Cons: Seasoned and Growing Resume Services has only been writing resumes and cover letters for 10 years. There are numerous cover letter services that have decades of experience. You also could end up spending a significant amount of money if you want several services.
Reviews: 5/5 based on 34 Google reviews
Turnaround: 4 business days
Cost: $50 – $75
Contact: (810) 534-7471 or chelsea@seasonedandgrowing.com
Visit Seasoned and Growing Resume Services
4. Heidi Howell Marketing
Heidi Howell Marketing has a catchy name for a resume and cover letter service. After all, who doesn't like a little alliteration? Based in the San Francisco area, Heidi Howell Marketing has made a name as one of the best cover letter services. The company's website is clean and easy to use.
Pros: Heidi Howell Marketing micro-tailors each cover letter and other application materials for the job to which you want to apply. Simply send her the job posting, complete a phone interview, and she will take care of the rest. Heidi Howell Marketing serves clients across the country and has earned many 5-star ratings on Yelp and YP.
Cons: Heidi Howell Marketing does not allow you to sign up for a service without a phone consultation. This could be a disadvantage if you don't want to speak with someone before signing up.
Reviews: 5/5 based on 11 Yelp reviews, 5/5 based on 9 YellowPages reviews
Turnaround: 5 business days
Cost: $99 – $799
Contact: (209) 597-5597 or heidi@heidihowell.com
5. Paradise Writing
EBR Consulting is a service that connects small businesses with job seekers. EBR was founded in 2015 by Krystal Yates. They serve businesses with HRM and recruitment while helping job seekers find jobs. EBR offers cover letter writing with an in-depth understanding of the Dallas job market.
Pros: EBR is on both sides of the hiring process. This gives them insider knowledge of what hiring managers want in a resume and cover letter. Career coaching services are discounted with the purchase of a resume package.
Cons: There is no option to buy the cover letter packages directly from the website. Also, there are no sample resumes and cover letters on the website.
Reviews: 4.9/5 based on 28 reviews, 4.9/5 based on 46 Thumbtack reviews
Turnaround: Not found
Cost: $95 – $250
Contact: (972) 855-8009 or info@ebrhrexperts.com
6. Thrive Consulting
Thrive Consulting is run by Debbie Marshall, an experienced career and writing coach. Her consulting company offers coaching services, customized resumes, optimized LinkedIn profiles, career assessments, and more. Whatever your job search or coaching needs are, Debbie can certainly handle it. Debbie has earned her spot as one of the best cover letter writing services.
Pros: Thrive Consulting has numerous great online reviews. Debbie gained more than 20 years of business experience before she started Thrive Consulting. She has the necessary knowledge and skills to create a grade-A professional cover letter for you.
Cons: A downside is that there is no way to order any services online. This means you have to reach out directly to Debbie for a price quote and to start the process.
Reviews: 5/5 based on 42 Google reviews, 5/5 based on 8 Facebook reviews
Turnaround: 1 – 3 business days
Cost: $125 – $195
Contact: (515) 314-2901 or dmarshall@drmthrive.com
7. TheMuse
TheMuse is a large scale career coaching company founded by Kathryn Minshew, Alexandra Cavoulacos, and Melissa McCreery in 2011. They are unique from any other service on this list because TheMuse does not actually employ any of their cover letter writers. Instead, they act as a freelance platform for vetted and approved career coaches who offer these services.
Pros: TheMuse offers more variety than most companies when it comes to cover letter writing. Since they provide a freelance network of coaches, you get to pick out your favorite cover letter writer. Browse dozens of Muse career coaches and pick your favorite.
Cons: Since this is a freelance platform for career coaches, there is going to be less quality control. Each individual coach will have a slightly different finished product. You cannot speak with your writer prior to paying for the service. They also are one of the most expensive cover letter writing services on this list.
Reviews: They vary based on the writer that you select
Turnaround: 3 – 5 business days
Cost: $99 – $279
Contact: Not stated
8. Resume & Cover Letter Help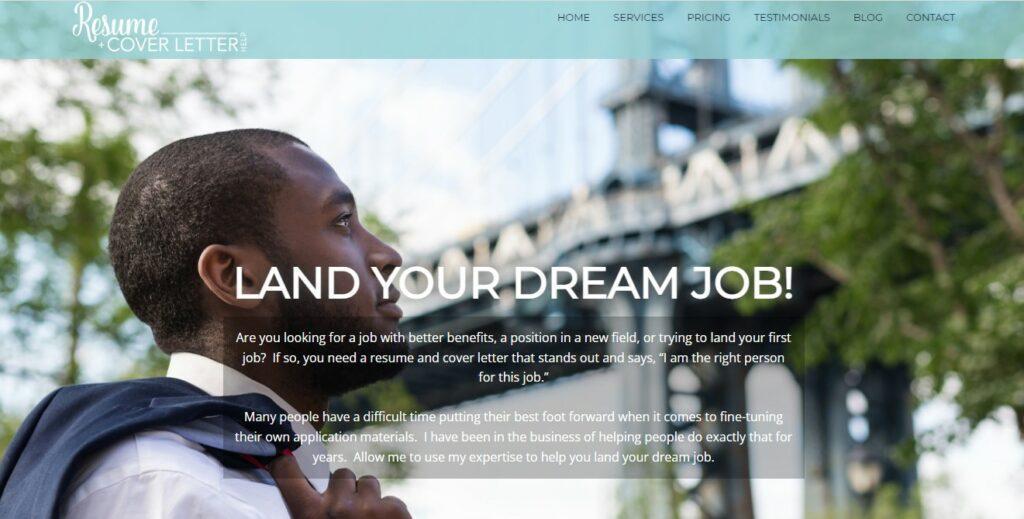 Resume & Cover Letter Help is run by the duo Erin Riley Khorram and Sarah Marsh. Erin founded the company in 2011. Sarah has a BA in English and has worked with Erin since 2017. They believe in working together with their clients to create the best cover letter. The company is located in Long Beach.
Pros: The service will provide multiple drafts of your cover letter. The service employs a second editor to review your cover letter. You can also get additional job-specific cover letters at an upcharge of $125.
Cons: The website lacks details about the cover letter revision process and doesn't include cover letter samples. Also, the service does not provide any interview or satisfaction guarantees.
Reviews: 4.5/5 based on 11 Yelp reviews
Turnaround: Not found
Cost: $275
Contact: (714) 323-6158 or erin@resumeandcoverletterhelp.com
Visit Resume & Cover Letter Help
Bonus: Top Cover Letter Winners (2021)
Cover Letter Example
We've included a cover letter sample so you can get a better idea of what makes a cover letter great.
As you can see, cover letters need to grab your attention with their content. They also need easy-to-read language that describes high-level skills.
Here is an example of a cover letter targeting a Policy Administrator role. It is from the #1 pick on our list, Find My Profession. Click on the sample below to view the full cover letter.