Suffering from a job that you don't like?
Or struggling to get a job in the first place?
No matter what career woes you are suffering from, an experienced career coach will have a solution to your problem.
Career coaches and counselors work with people from all walks of life day in day out.
With years of experience under their belt, we can safely say that they have literally seen it all.
But how can you find a competent career counselor in Pittsburgh?
We have evaluated career coaching services in The 'Burgh. Here's your list of the best of the best.
Pittsburgh Career Coach Criteria
Each of the Pittsburgh career coaching services below was reviewed taking into consideration the following:
Cost: Price of the service compared to other Pittsburgh career coaches.
Credentials: Overall experience, awards, and certifications.
Process: Effectiveness of the process from start to finish.
Customer Service: Guarantees, refund policies, and client reviews.
This list was hand-curated to serve all industries, professions, and career levels. While many of the services on this list are from Pittsburgh, these career coaches are virtually available whether you are in Pittsburgh, New Castle, Indiana, Brookville, Altoona, Oil City, or any other Pennsylvania city.
Best Career Coaching Services in Pittsburgh
1. Find My Profession
Find My Profession is a leading career coaching service focused on providing actionable job search strategies that convert into offers.
Our elite career coaching services are designed to teach you advanced job search strategies. Whether you need help finding the right jobs, networking with key decision-makers, or interviewing like a pro, we've got your back.
We have successfully landed our clients positions at companies like Apple, Amazon, EA, Oracle, GM, Facebook, DoJ, Morgan Stanley, Gap, and 2U just to name a few.
Find My Profession has 650+ 5-star reviews and offers a satisfaction guarantee. Every career coaching service offered is customized to meet your specific needs.
Pros: Each career coaching session provides a clear takeaway that brings you one step closer to landing your dream job. You will learn what it takes to job search in the most strategic way possible. Our goal is to cut your job search time in half by teaching you to search smarter, not harder.
Cons: Find My Profession is a virtual/online company. While we provide services across the globe, we don't have a physical office in Pittsburgh to meet in person.
Reviews: 5/5 based on 124 Google reviews, 5/5 based on 8 BBB reviews, 5/5 based on 35 Facebook reviews, 4.9/5 based on 304 Trustpilot reviews, 4.7/5 based on 255 Sitejabber reviews
Cost: $175 – $199 per hour
Contact: (831) 888-0967 or help@findmyprofession.com
Check out some of our 5-star reviews:
2. Litzinger Career Consulting
Litzinger Career Consulting is run by Karen Litzinger. Karen is a Master Career Specialist, Licensed Professional Counselor, and Board Certified Coach. She has over 25 years of experience in the career coaching profession. She is also a frequent and popular speaker at career and business events in Pittsburgh.
Pros: Karen specializes in career decision making, job search strategy, and business etiquette coaching. You have the option to meet with Karen in person. Both package sessions and hourly appointments are available.
Cons: Unlike most companies in the industry, Karen doesn't offer a complimentary initial consultation. The first appointment is discounted though. You will need to contact the service to get started.
Reviews: 4.8/5 based on 22 Google reviews
Cost: $175 per hour
Contact: (412) 977-4029 or karen@karenscareercoaching.com
Visit Litzinger Career Consulting
3. Coach Monique
Coach Monique has been providing coaching services in Pittsburgh for over 17 years. Run by Monique DeMonaco, the service specializes in change management. Monique is a multi-certified career coach and a Certified Emotional Intelligence (EQ) Life Coach.
Pros: Monique offers exceptional coaching programs such as rapid transformational therapy (RTT). Also, she has developed and trademarked 12 innovative tools and solutions to help her clients.
Cons: Coach Monique is more focused on life coaching and executive leadership coaching programs. So, if you want job search strategy coaching, you may have to look elsewhere.
Reviews: 5/5 based on 2 Facebook reviews, 5/5 based on 7 Thumbtack reviews, 4.6/5 based on 14 Google reviews, 3/5 based on 2 Yelp reviews
Cost: Not found
Contact: (412) 850-2899 or monique@coachmonique.com
4. Heidi Sadecky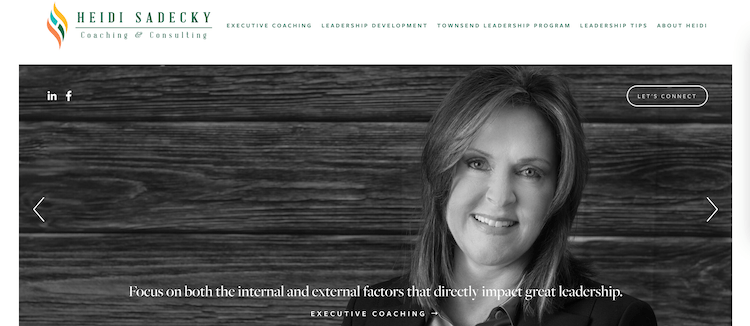 Heidi Sadecky is an experienced, multi-certified career coach. She has over 30 years of combined corporate and coaching experience. She specializes in executive coaching and leadership development coaching. Heidi also conducts retreat-style leadership programs for high-level leaders in Pittsburgh.
Pros: Heidi holds a master's degree in Organizational Leadership, International Coach Federation certification, and a Lean Six Sigma Green Belt. Pittsburgh Professional Women recently recognized Heidi with The 2021 Influential Leadership Award.
Cons: The website lacks details about the coaching packages Heidi offers. The coaching delivery process has also not been described on the website.
Reviews: 5/5 based on 17 Google reviews
Cost: Not found
Contact: (724) 747-3642 or heidi@heidisadecky.com

Visit Heidi Sadecky
5. Cynthia Corsetti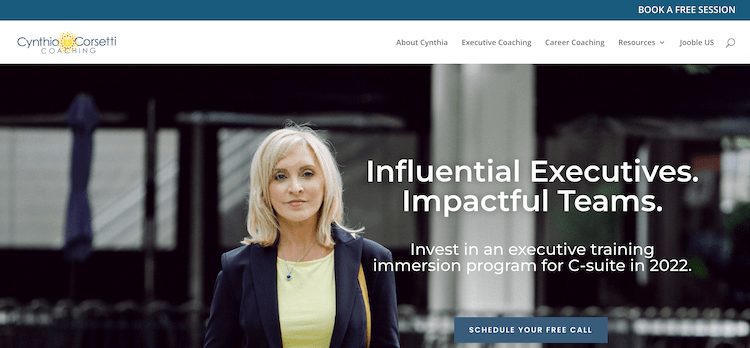 Cynthia Corsetti is an experienced multi-certified career coach in Pittsburgh. She enjoys coaching high-achievers up the corporate ladder. With over 11 years of executive coaching experience, she has helped hundreds of professionals advance their careers. She also has 20 years of experience in leadership roles.
Pros: Cynthia has helped professionals navigate corporate politics, make career transitions, and boost their bottom line. She also offers complimentary sessions to new clients for up to 50 minutes.
Cons: There is no contact information on the website. So, the only way to get more information is to schedule a complimentary session and wait for your appointment.
Reviews: 4.8/5 based on 4 Google reviews, 2.7/5 based on 12 Facebook reviews
Cost: Not found
Contact: Appointment scheduling available on website