2023 Winners: Add your badge to your marketing materials.
Dallas is a booming town with plenty of job opportunities.
With so much competition, it can be difficult to land your dream job on your own.
Hiring a professional to help with this process can significantly improve your marketability.
That's where Dallas career coaches come in.
A career coach is a lot more than a friend to hold your hand throughout a job search.
Career coaches typically come from years of recruiting or HR experience. This experience can make them extremely valuable resources for navigating a job search.
Rather than searching through hundreds of career coaching services, we've done the work for you. Below, we've compiled a shortlist of the very best career coaches in Dallas.
Best Career Coaches in
Dallas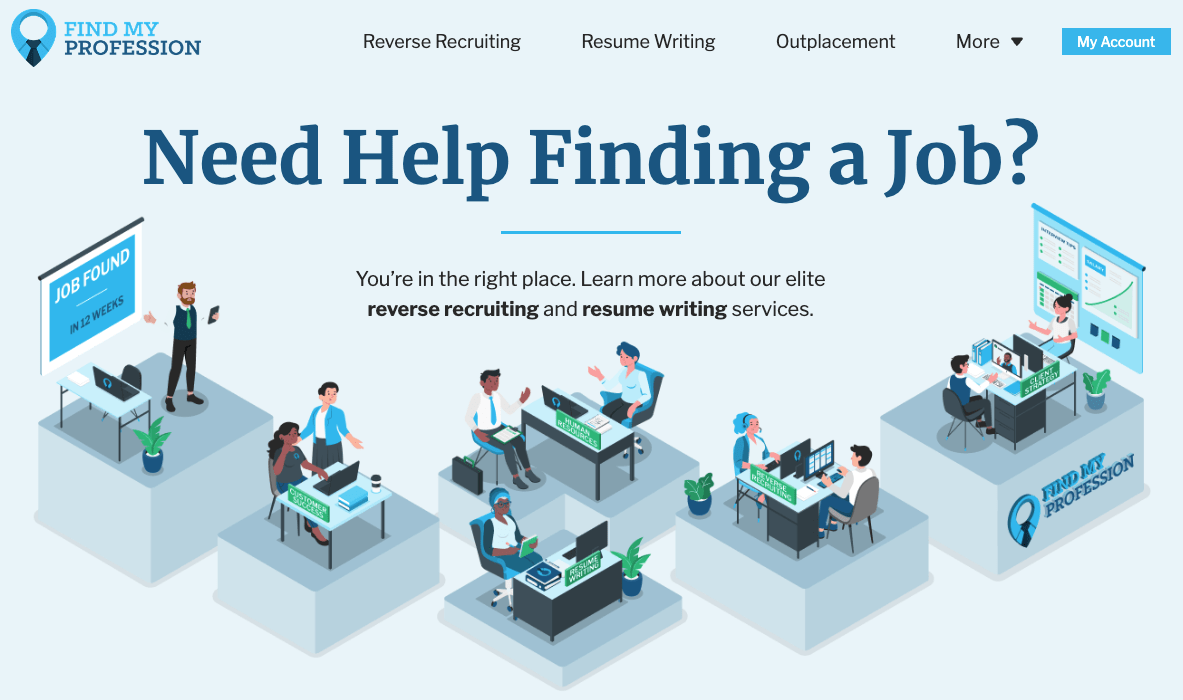 4

4
5

5
How We Choose Winners
Each of the Dallas career coaching services below was reviewed taking into consideration the following:
The cost of the service compared to other Dallas career coaches.
Overall experience, awards, and certifications.
Effectiveness of the process from start to finish.
Client reviews on third-party platforms.
This list was hand-curated to serve all industries, professions, and career levels. While many of the services on this list are from Dallas, these career coaches are virtually available whether you are in Dallas, Garland, Plano, Arlington, Waco, or Fort Worth.
Average Dallas Coaching Cost
Dallas
Career Coaching Cost
$1,282
Dallas Career Coach Reviews
Find My Profession offers a one-of-a-kind experience that goes far beyond any other career coaching service on this list.
While traditional career coaches will teach you how to find a job, Find My Profession's Reverse Recruiting service will do the work for you.
This white-glove service will search for jobs on your behalf, apply for you with a customized resume to fit the application, and network with key decision-makers to secure interviews.
The only thing they won't do is show up to the interview for you. But don't worry, this service offers interview preparation and salary negotiation advice. So you'll be fully prepared!
You can save hundreds of hours searching for jobs, filling out applications, customizing your resume, and networking. Finally, you can pay someone to find you a job. Your dedicated Reverse Recruiter will create a personalized strategy to manage all aspects of your job search. Each Reverse Recruiter works with a limited number of clients, providing you with personalized attention and care.
If you're looking for a traditional career coach to help you change career paths, this service may not be a good fit. The Reverse Recruiting service is for professionals who know what kind of job they want but don't have the time or energy to find it on their own. There is also usually a waitlist of about one month.
4.9/5 based on 394 Trustpilot reviews
4.9/5 based on 276 Sitejabber reviews
5/5 based on 147 Google reviews
5/5 based on 53 Facebook reviews
5/5 based on 8 BBB reviews
5/5 based on 4 Yelp reviews
$2,499+ per 4-week period
(831) 888-0967 or help@findmyprofession.com
Check out some of our 5-star reviews:
JC on May 30, 2022
Excellent service provided
[Reverse Recruiter] is by far the best career finder I have ever had to pleasure to work with. He truly goes above and beyond in everything he does when he works with you, and the results definitely show it. He was professional throughout the entire experience. His attention to detail, overall industry knowledge, and the way he takes care of his clients is best in class. Also, turnaround time and email responses were done very quickly. If you don't work with [Reverse Recruiter] for your career finder/job search needs, you're missing out big time! Can't thank him enough for everything he has done.
Chakib Abi-saab on May 14, 2022
Outstanding service
I had the opportunity to work with [Reverse Recruiter], and I must say the experience was excellent. The communication was great, the level of professionalism and effectiveness was very high, from identifying the right jobs to networking with the right people in LinkedIn! I highly recommend this service to anyone in a senior position who is serious about finding a new job. Take it from me, you can not do it better yourself.
Dave Curtiss on May 19, 2022
Find My Profession review
Working with [Reverse Recruiter] and Find My Profession reminds of the raptures in the film Jurassic Park. They were relentless in all aspects of my job search. I understand that your spouse or others may question the cost but it was worth every penny. ABSOLUTELY RECOMMEND!
Ife Daramola on August 30, 2021
Worth the investment
I used the Find My Profession service to rewrite my resume and to revamp my Linkedin page. I also used the Find My Profession career finder service and worked with [Reverse Recruiter] to help me apply for roles and market my profile to potential employers. [Reverse Recruiter] worked very diligently to ensure that my profile was marketed to top-level executives in my industry and his efforts eventually led to my finding the perfect role which I received a great offer and that I accepted. This is a great service and I believe it is worth the investment for those who are looking to find their next role.
Dan St Peter on July 6, 2022
FMP – landed me the job!
From the very beginning of my initial application, it was clear [Reverse Recruiter] was here to help me in the next stages of my career journey. This wasn't going to be an ordinary job search experience. Based on our enrollment conversation, [Reverse Recruiter] took the lead managing the job search process for me. She asked the right number of questions to build the search criteria specific to my interests (role, industry, location). [Reverse Recruiter] scanned the horizon weekly and staged available opportunities reducing my effort/stress and allowing focus on my personal and family obligations. Upon my giving a prospective position the green light, [Reverse Recruiter] submitted a tailored application on my behalf and followed up with the employer as necessary. Along the way, [Reverse Recruiter] freshened my resume and online profile to take advantage of today's job search criteria. She also expanded my LinkedIn presence connecting me with dozens of professionals. Above all, [Reverse Recruiter] listened carefully to my evolving needs and adjusted the job search process accordingly. It was as if [Reverse Recruiter] was personally committed to helping me find the right match (which she did!). Depending on your time and energy available, Find My Profession team members can either take full lead on the job search process or can supplement your existing plan. Don't go it alone.
Kelley White on April 12, 2022
Great service for busy…
I am so pleased with my experience with [Reverse Recruiter] at FMP. I was looking to change industries, but too busy and overwhelmed with my day-to-day to embark on the journey on my own. No only did he do the heavy lifting with applications, but was a readily available resource in coaching to ensure I nailed interviews and marketed myself in the best way possible. He was helped to give me realistic expectations without short-changing myself or my skills to get the job I wanted. Thanks to him, I was able to secure a great role at my dream company within 6 weeks!
Dan West on February 28, 2022
[Reverse Recruiter] was…
[Reverse Recruiter] was hard working and excellent and he directly led to me finding a job in 30 days! It was a pleasure to have him behind the scenes finding opportunities.
Sarah Streiffert on August 18, 2021
Excellent Service!
I started using the Career Finder service on July 16th, and a month later on August 16th, I was offered a job! I really appreciated [Reverse Recruiter's] guidance and expertise through this process. It had been 18 years since I'd had to job search, and had no idea where to start. While the price was high, I thought if this service shortened my job search by a few months, then it would be worth it. [Reverse Recruiter] was very skilled in networking, helping me find positions that were of interest, but weren't necessarily ones I would have looked for myself, applying, (and outside his job description), dealing with my emotions as I got rejections, and became frustrated trying to figure out what I was searching for. The position I landed was something that I probably wouldn't have thought to look at myself. I appreciate how fast I was able to find something that I feel like will be a great fit, and I would highly recommend [Reverse Recruiter] and this service.
Jason Treu is a tried and true career coach. After working with some of the biggest names in business, such as Mark Cuban and Steve Jobs, Jason Treu decided to start his own career coaching service. Among his many offerings, Jason has an interesting take on the popular Cards Against Humanity party game! It's called Cards Against Mundanity and is a game that can help co-workers get along better.
Jason Treu has worked with professionals at some of the best companies in America, like Google and Southwest. He has fantastic online reviews that validate his career counseling service, and he even wrote a best-selling book on building professional relationships.
Jason Treu has an application that you have to fill out if you want to work with him. That can be an annoying process. Jason Treu is also the only coach at his firm so he might not be able to take you on as a client depending on his current workload.
4.6/5 based on 9 Google reviews
$397 for 2.5-hour session and 30-minute follow up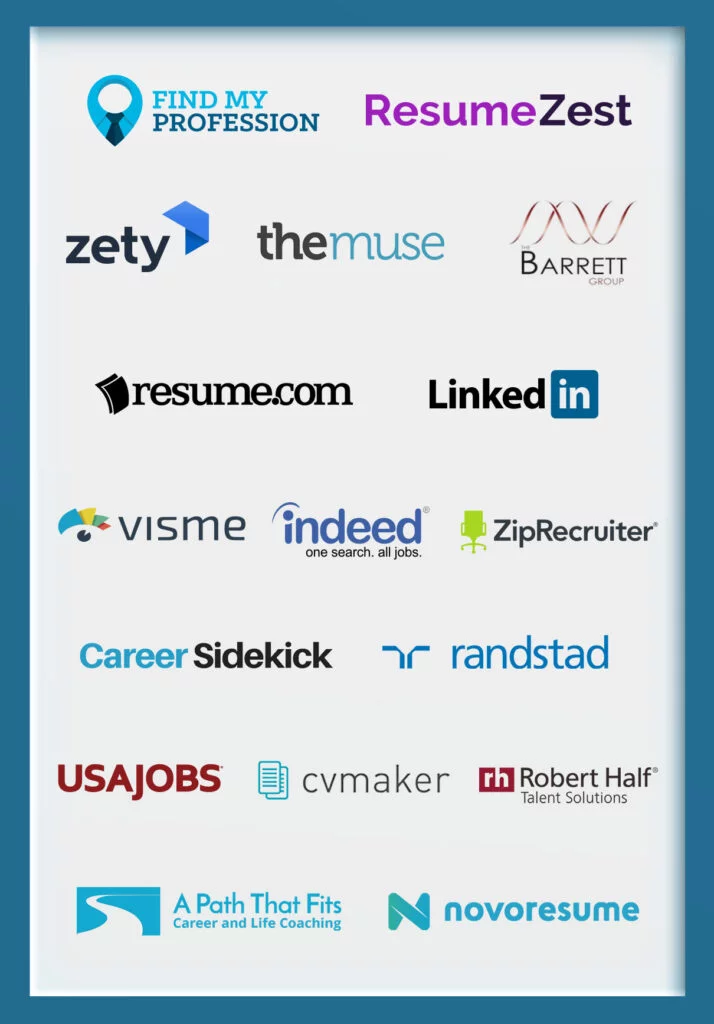 Need Help With Your Job Search?
Did you know there are companies you can hire to help with your job search? Whether you need resume help or want someone to apply to jobs for you, we've reviewed the 20 best agencies to help you find a job.
Elaine Morris has the necessary experience and expertise to succeed as your job coach, having worked with professionals from corporations like Target and Texas Instruments. Elaine personalizes every single session for the client in order to maximize your investment and ensure that you're reaching your goals. She also works with groups that are trying to improve their effectiveness and dynamics.
Elaine Morris only works with executives and organizational leaders, which is different than many career coaches who broadly work with professionals at any level. With more than 30 years of experience coaching executives in all different industries, you will certainly learn a thing or twelve from Elaine.
Elaine Morris is not a certified career coach. If credentials are important to you, you may want to choose a career coaching service that is certified by a career coaching organization. There is also not a lot of information on how her coaching services work and how she works with her clients.
5/5 based on 8 Google reviews
‭(214) 244-2592‬ or elaine@elainemorris.com
Julie Overholt operates one of the top professional career coaching services in Dallas. With plenty of coaching certifications and experience, she will be able to provide you with some solid career guidance. She also offers personal branding as a service, which can be a great tool to further your career. Julie has an extensive list of companies that she has worked with in the past, many of which are quite impressive.
Julie Overholt has been a certified professional coach since 1995. With over 25 years of experience, there are few job coaches that have been around as long as she has. Additionally, Julie Overholt has been featured in various publications for her career expertise.
You will need to contact Julie to set up your initial consultation and get pricing. It's also worth noting that Julie Overholt doesn't have as many online reviews as some of her competitors.
5/5 based on 8 Google reviews
5
In-Charge Career Consulting
In-Charge Career Consulting was founded by Meridith Ward in 2019. Meridith took her human resources and personal professional experience to mold her own business. She is also currently a staffing consultant. Meridith offers strategic career consulting and entrepreneurial business coaching. Her services are designed to equip women with the resources to take advantage of better opportunities.
In-Charge Career consulting offers both single strategy sessions and 8 to 10-week coaching programs. You can decide what works best for you. Meredith earned a Professional in Human Resources certificate from SHRM.
You will need to contact Meredith to set up your initial consultation and get pricing for the programs. This is a new company and not as established as others on our list, but we see good things so far.
5/5 based on 4 Facebook reviews
5/5 based on 3 Google reviews
$65 per 30 minutes to 10-week programs
(469) 514-3609 or info@inccareerconsulting.com
Previous Years Winners
Career Coaching Winners (2022)
Find My Profession, Jason Treu, Elaine Morris, Julie Overholt, In-Charge Career Consulting
Career Coaching Winners (2021)
Find My Profession, Jason Treu, Elaine Morris, Julie Overholt, InCharge Career Consulting