An executive career coach can make the difference in whether or not you break into the C-suite. You need a coach that can minimize your weaknesses while getting the most out of your strengths.
Our list of the most effective career coaches should help you find a coach that can take your career to new heights. You undoubtedly want to find the perfect coach that matches up to both your experience level and your industry.
An executive career coach can not only help you with your professional career, but they can also help you find and maintain a professional balance in your life.
Don't be afraid to ask for help.
Many executives are too proud to ask for help from a career coach, but there is strength in vulnerability! None of us can be great at everything, after all.
Getting outside of your comfort zone can be a humbling task.
Hiring a great coach can help you reach places you could not get to alone.
Take a look at our list of the top executive career coaches and find a coach that you connect with on both a personal and professional level.
Best Executive Career Coach Criteria
Each of the executive career coaching services below was reviewed taking into consideration the following:
Cost: Price of the service compared to other executive career coaches.
Credentials: Overall experience, awards, and certifications.
Process: Effectiveness of the process from start to finish.
Customer Service: Guarantees, refund policies, and client reviews.
This list was hand-curated to serve all industries and executive professions. Whether you are a CEO, CFO, Vice President, or Director, these career coaches will be more than qualified to meet your needs.
Best Career Coaching Services for Executives
1. Find My Profession
Find My Profession is a leading career coaching service focused on providing actionable job search strategies that convert into offers.
Our elite career coaching services are designed to teach you advanced job search strategies. Whether you need help finding the right jobs, networking with key decision-makers, or interviewing like a pro, we've got your back.
We have successfully landed our clients positions at companies like Apple, Amazon, EA, Oracle, GM, Facebook, DoJ, Morgan Stanley, Gap, and 2U just to name a few.
Find My Profession has 650+ 5-star reviews and offers a satisfaction guarantee. Every career coaching service offered is customized to meet your specific needs.
Pros: Each career coaching session provides a clear takeaway that brings you one step closer to landing your dream job. You will learn what it takes to job search in the most strategic way possible. Our goal is to cut your job search time in half by teaching you to search smarter, not harder.
Cons: Find My Profession is a virtual/online company. While we provide services across the globe, we likely will not have a physical office in your city to meet in person.
Reviews: 5/5 based on 124 Google reviews, 5/5 based on 8 BBB reviews, 5/5 based on 35 Facebook reviews, 4.9/5 based on 304 Trustpilot reviews, 4.7/5 based on 255 Sitejabber reviews
Contact: (831) 888-0967 or help@findmyprofession.com
Check out some of our 5-star reviews:
2. Lisa K. Bradley
Lisa K. Bradley has been coaching since 2002; she certainly knows a thing or two about executive coaching. She is motivated by her mission to help people and do good in the world, which is very clear on her website. Workshops and events are other services that Lisa provides and could be useful to your executive career. Lisa even trademarked the phrase "Let's Go For Extraordinary." Cool, huh?
Pros: Lisa K. Bradley has a 100% money-back guarantee for the first 30 days of her program if you do not like it. Try finding another executive job coach with that great of a policy when it comes to ongoing coaching services. Lisa will work with you and she wants to see you succeed. Coaching is not just her job; it is her life.
Cons: Lisa K. Bradley offers a wide variety of different programs compared to other executive career coaching services. It can be confusing to know which program you should sign up for and whether or not it would be the right fit.
Reviews: 5/5 based on 4 Google reviews
Cost: $395 for a single 90-minute session, programs available
Contact: (206) 937-1037 or lisa@lisakbradley.com
3. Turknett Leadership Group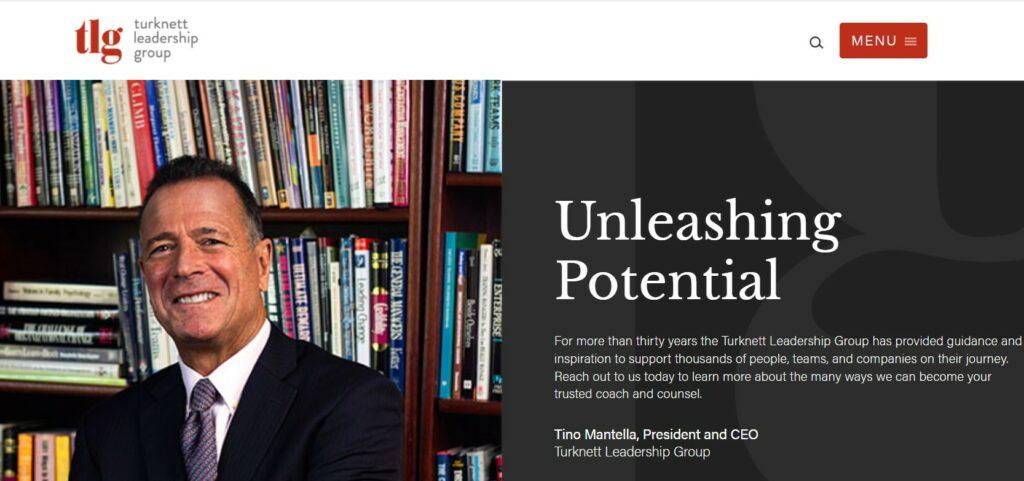 Turknett Leadership Group is certainly one of the most accomplished and experienced executive career counseling groups on this list. The firm was founded by Robert Turknett and is now run by Tino Mantella. Their team is now stacked with experienced businessmen and women as well as PhDs who can help you with whatever executive issue you are experiencing.
Pros: Turknett Leadership Group has worked with over 2,000 executives. They have seen it all when it comes to executives. You can easily get in touch with the group, as many of the top executives have their emails listed right on the website. Talk about easy access!
Cons: Turknett Leadership Group only has two reviews on Google. That could be a concern as many other professional career coaching services have numerous reviews from third-party sites. However, the firm might not prioritize online reviews or may take on such a select clientele that it's not possible to have hundreds of reviews.
Reviews: 5/5 based on 2 Google reviews
Cost: Not found
Contact: (770) 270-1723 or admin@turknett.com
Visit Turknett Leadership Group
4. Close Cohen Career Consulting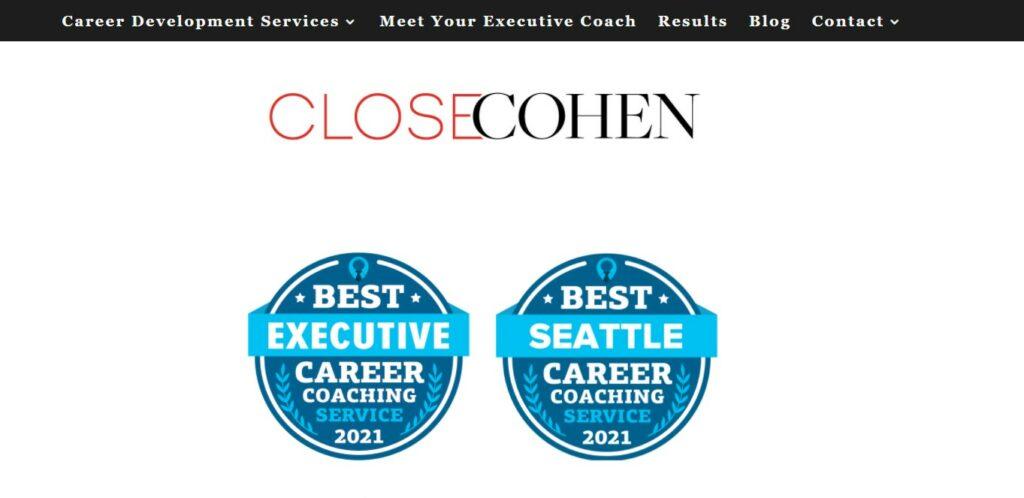 Close Cohen Career Consulting is run by Laura Close and Alisa Cohen. Unlike other executive coaches who perform more like preachers, Laura and Alisa will carefully listen to all of your needs. Close Cohen Career Consulting develops a custom goal-set as well as a campaign strategy for you and your career. One cool aspect of working with them is that you can access the entire program management system online and track your progress.
Pros: Close Cohen Career Consulting has worked with some of the biggest companies in the world, such as Facebook, Microsoft, and Starbucks. They have real stories featuring real people and companies shown right on their website – so you know nothing is manufactured. The team has worked with executives and management-level employees.
Cons: The service doesn't have a phone number listed. Waiting for a business to get back to you can be a very annoying process, especially when there is no phone number that you can call yourself.
Reviews: 5/5 based on 26 Google reviews, 5/5 based on 6 Facebook reviews, 4.5/5 based on 11 Yelp reviews
Cost: Not found
Contact: alisa@closecohen.com
Visit Close Cohen Career Consulting
5. Jason Treu
Jason Treu is a tried and true career coach. He offers individual coaching, group coaching, workshops, and a reboot and acceleration program. Legitimate executives who work at impressive companies are featured on Jason's testimonial page. Few professional career coaching services can claim to have helped the number of executives that Jason has worked with.
Pros: Jason Treu has personally appeared as a guest expert on podcasts, radio, and TV shows. Jason has worked with the best of the best when it comes to clients, including Steve Jobs and Mark Cuban. On his website, you can check out a couple of interesting case studies.
Cons: Jason Treu has a strict policy about who he works with. If you are on the track to be a once-in-a-generation talent then you have no problem. But for the rest of us plebeians, getting rejected from an executive career coaching service can certainly be a hit to your confidence.
Reviews: 4.6/5 based on 9 Google reviews
Cost: $397 for 2.5-hour session and 30-minute follow up
Contact: jason@jasontreu.com
6. ADVO Group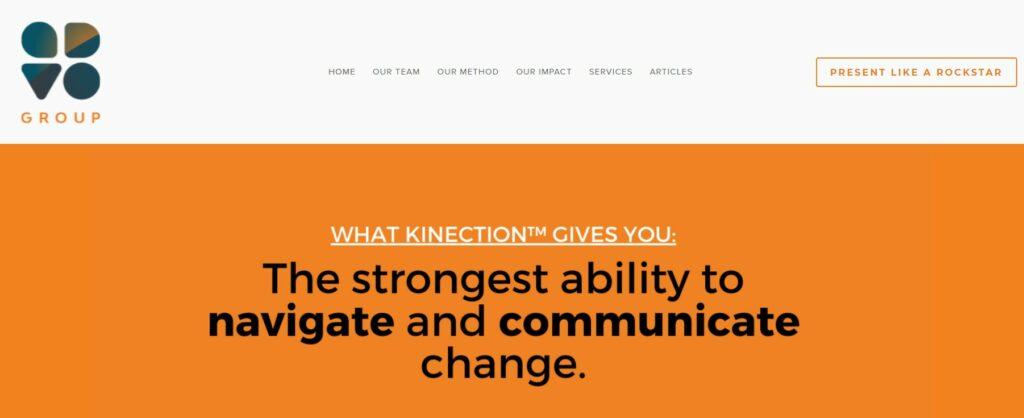 ADVO Group may have one of the most interesting stories when it comes to executive career counseling. Peter Katona and Greg Derelian met at the Yale School of Drama in 1998, but they knew acting was not their true calling. After working with a pair of brothers, they formed ADVO Group. ADVO Group has worked with some stellar organizations, such as USC and Children's Hospital Los Angeles.
Pros: ADVO Group has created its own method called Kinetic Communication. The method is based on three key principles: Purpose, Presentation, and Presence. Using these three guidelines, the team is able to guide your personal development to achieve whatever goals are set.
Cons: ADVO Group does not have the executive business experience that other executive career coaching services have. That could be an issue if there are industry-specific problems you need help with. In that case, you may want to use an executive job coach who has industry-specific experience for your position in particular.
Reviews: 5/5 based on 5 Google reviews, 5/5 based on 2 Yelp reviews
Cost: Not found
Contact: (310) 707-1198 or connect@advogroupinc.com
7. Executive Coaching Group
Executive Coaching Group is one of the oldest professional career coaching services around. Founded in 1987 by Trisha Scudder and Herma Schmitz, the firm has grown into a talented team of four coaches – with vast experience. Executive Coaching Group is certainly one of the pioneers of the executive coaching industry. Their executive coaching service is discreet and they will never share any of your information.
Pros: Executive Coaching Group has worked with clients in 11 countries. They have the necessary cultural experience to handle any situation you could think of. Their former client roster reads like a laundry list of the S&P 500; they have worked with virtually every company imaginable.
Cons: Executive Coaching Group has 6- to 12-month long programs. That can be lengthy for career counseling, as many professionals would rather have a shorter program – especially if they only desire coaching while they're searching for their next job.
Reviews: 5/5 based on 8 Google reviews
Cost: Not found
Contact: (212) 245-2871 or ecg@executivecoachgroup.com
Visit Executive Coaching Group
8. Glenn Smith Executive Coaching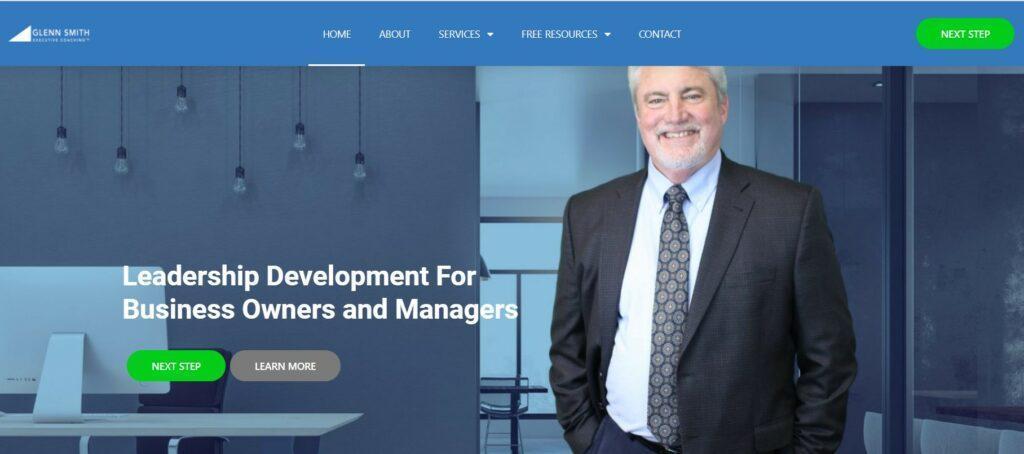 Glenn Smith Executive Coaching is a Houston-based executive career counseling service run by Glenn Smith. One interesting concept that Glenn Smith offers is the Entrepreneurial Operating System implementation. This is ideal for companies that have between 10 and 250 employees and could be useful to implement within your company. After all, you want to add value when joining a company – or being promoted – as an executive. Glenn Smith Executive Coaching could be a good choice.
Pros: Glenn Smith Executive Coaching is built on three components: goals, mindset, and behaviors. Glenn has built a successful business with over 10 years of experience implementing these strategies.
Cons: Glenn Smith Executive Coaching is a small boutique career counseling service. Although they offer services for companies, your specific organization may be looking for a large firm with more manpower.
Reviews: 5/5 based on 12 Google reviews, 5/5 based on 1 Yelp review
Cost: Not found
Contact: (281) 635-5224 or glenn@glennsmithcoaching.com
Visit Glenn Smith Executive Coaching
9. D&B Consulting
D&B Consulting was founded all the way back in 1993 by D&B, AKA Debbie Brown. With an MBA as well as a master's degree in social work, Debbie can handle and resolve any workplace issues that you are experiencing. Her insight and years of therapy work will provide you with perspective into your work and personal life. Having worked with a variety of industries, it's likely she'll be able to help you.
Pros: D&B Consulting has worked with a number of companies, non-profits, schools, and government agencies. There are few professional career coaching services that have the level and breadth of experience that Debbie offers.
Cons: D&B Consulting does not focus just on executive career coaching. They also offer normal career coaching, career transition services, and consulting. You need the best executive career coach service, and it's debatable whether a top-notch executive job coach will have the time to offer additional services that detract from their specialty.
Reviews: 5/5 based on 8 Google reviews, 5/5 based on 1 Facebook review
Cost: Not found
Contact: (404) 504-7079 or info@dandbconsulting.com
10. Career Directions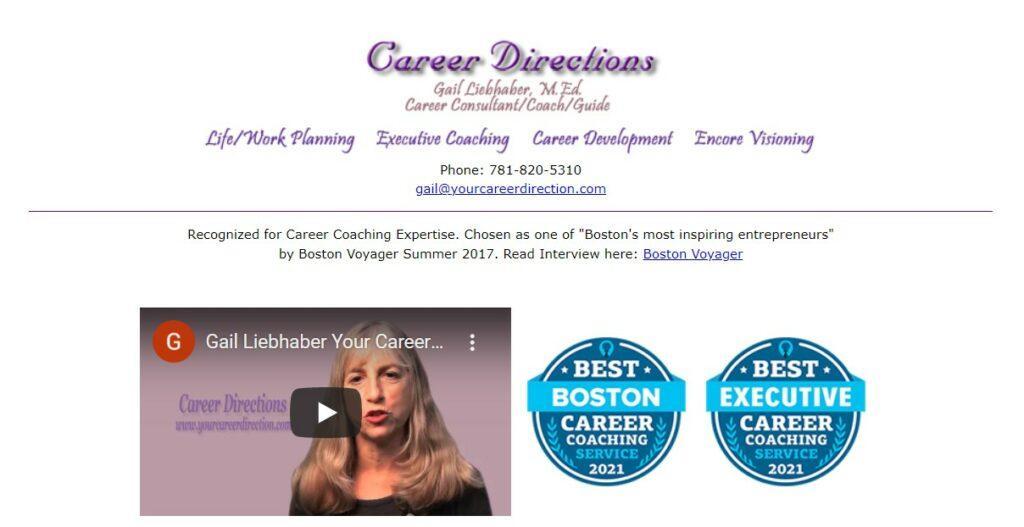 Career Directions is run by the former director of career services of two separate Harvard schools. Gail Liebhaber was the director of career services at both the Harvard Graduate School of Design as well as the Harvard Divinity School. An interesting tidbit for those of you in the nonprofit world is that Gail offers discounts to all nonprofit employees. Gail understands the variety of different goals that you want to reach in the workplace; her website lists several goals that she has helped clients reach.
Pros: Career Directions has many different offerings that you can opt for. Not to be seen negatively, Gail can be a one-stop-shop for all your executive needs. Career Directions' executive coaching program has weekly sessions, which can benefit your career if you want to continuously hone your skills.
Cons: Although diverse service offerings can be a positive thing, it can also be a downside. You may want to think about choosing an executive job coach that works exclusively with executives and/or offers fewer services.
Reviews: 5/5 based on 5 Google reviews, 5/5 based on 5 Yelp reviews, 5/5 based on 2 Facebook reviews
Cost: $160 – $270 per hour
Contact: (781) 820-5310 or gail@yourcareerdirection.com
Visit Career Directions

Bonus: Top Executive Career Coaching Winners (2021)
Find My Profession, Lisa K. Bradley, Turknett Leadership Group, Close Cohen Career Consulting, Jason Treu, ADVO Group, Executive Coaching Group, Glenn Smith Executing Coaching, D&B Consulting, Career Directions