So, you need help with your job search and you're considering hiring an agency to help bridge the gap.
You've possibly heard about Stewart Cooper & Coon's individual executive placement services and are wondering if they're worth the investment.
You've come to the right place! Today we will review Stewart, Cooper, & Coon and their managed job search services.
We have taken a deep dive into the customer reviews, cost, services offered, and staff at Stewart Cooper Coon. Our overall rating for Stewart, Cooper & Coon is 70/100.
Stewart, Cooper & Coon
Score
Our goal is to help you find the best service that will advance your career. Take a look at some of our top-rated reverse recruiting services and find the perfect fit for you!
Best
Stewart, Cooper & Coon

Alternatives



About Stewart Cooper Coon
Stewart, Cooper & Coon was founded in 1995 by Chairman and CEO Fred Coon.
SC&C is a Human Capital Strategies firm helping senior leaders, both private sector and military, find and advance their next career move to yield a sustainable and rewarding career.
SC&C's Operating Divisions include Executive Placement, Corporate Outplacement, Executive Search, Organizational Development, and Military Transition.
For the sake of this article, we will be focusing on the "Executive Placement" services that are marketed toward job seekers.
Stewart Cooper Coon Pros vs Cons
As with any company, there are pros and cons. It's up to you to determine what is a "must-have" and what things you can live without.
Pros
20+ years in the business
A+ rated with BBB
Nearly a dozen professional memberships
Military transition experience
Cons
Lots of negative customer reviews
Extremely high cost at $12,000+
They do not apply to jobs for you
No satisfaction or interview guarantees
If you are looking for a career service provider, Stewart, Cooper & Coon is a great option, but it is worth considering other alternatives to find the best fit for your needs.
One such alternative is Find My Profession, which is also rated A+ by the BBB and caters to clients at all levels, including those transitioning from military service.
However, Find My Profession differs from SC&C in that it has an average rating of 4.9/5 from over 900 previous clients, is more affordable, applies for jobs on your behalf, and prioritizes client satisfaction.
Stewart Cooper & Coon Customer Reviews

Our career experts have rated Stewart, Cooper, & Coon a 70/100. Additionally, Stewart, Cooper, & Coon has received a 4.3/5 on Google, 3.5/5 on Yelp, 2/5 on Scamero, 5/5 on BBB, and 3.4/5 on Trustpilot.
Google shows 34 reviews with an average rating of 4.3/5. Their most recent review is a 1-star review with no additional comments.
Yelp shows 30 reviews with an average rating of 3.5/5. While 9 of the reviews are 1-star, these reviews were written back in 2020 and earlier. We're hoping some changes have been made since then.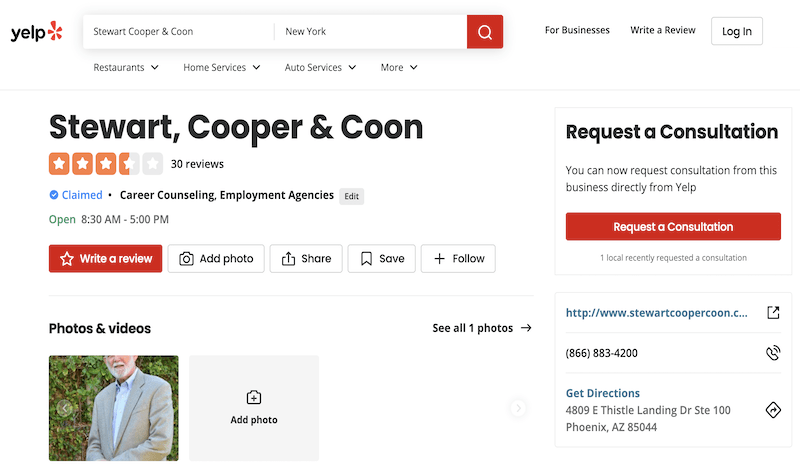 Scamero shows 19 reviews with an average rating of 2/5. Many reviewers are calling Stewart Cooper & Coon a "Scam" but from what we know, they are a legitimate company.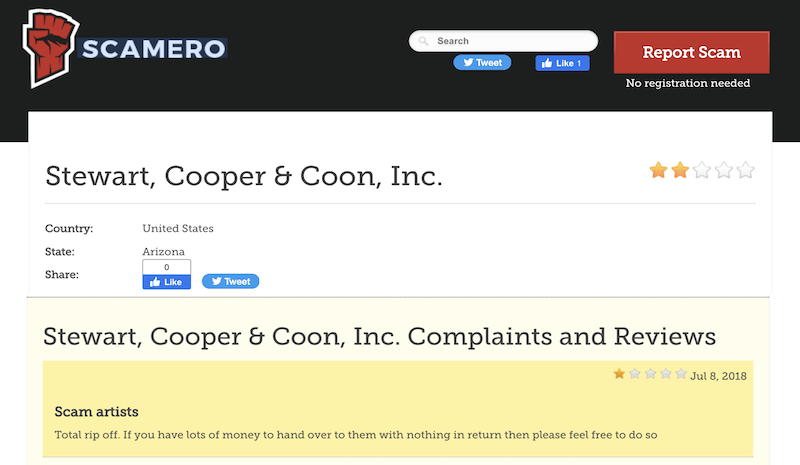 BBB shows 13 reviews with an average rating of 5/5 stars. This seems to be the primary review source for SC&C with only positive reviews from their customers.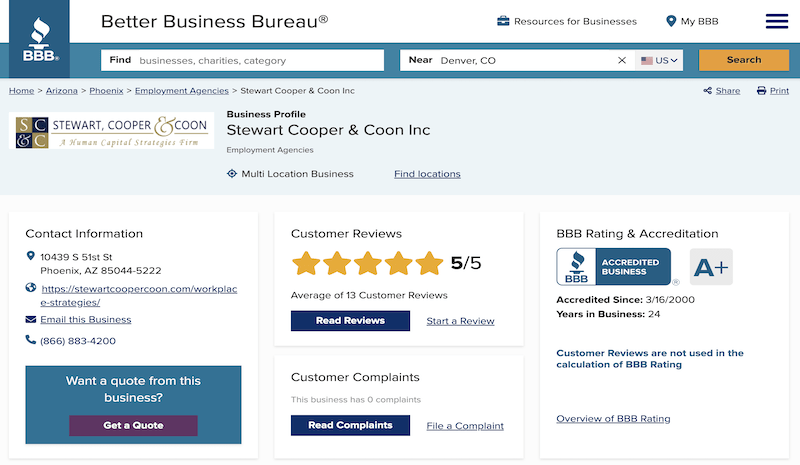 Trustpilot shows 12 reviews with an average rating of 3.4/5. We'd like to see more reviews here. Also, the most recent review was written in 2021.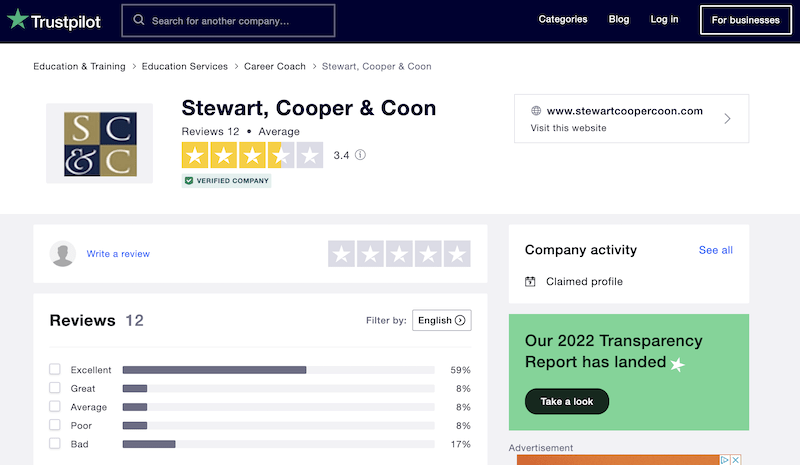 As with anything, it's important to take each review with a grain of salt. Additional research should be done beyond reading the reviews that are found online.
How Much Does Stewart Cooper Coon Cost?

Stewart, Cooper, and Coon charges more than $12,000 for their individual executive placement services. Unfortunately, prices are not transparently listed on their website and will be custom quoted. We've heard clients paying over $15,000 for SCC services.
Stewart, Cooper & Coon
Cost
$12,500
To be clear, Stewart Cooper Coon is not a recruiting or staffing agency. They are not headhunters. They work as reverse recruiters which means they work directly for the job seeker.
The benefit of reverse recruiting is that they are completely invested in your job search. The downside is that all fees are paid directly by the job seeker.
So yes, the $12,000+ price tag would be paid by you upfront (not after you get hired).
For the most accurate and up-to-date details on package pricing at Stewart, Cooper & Coon, we recommend that you visit their website directly.
Stewart, Cooper, & Coon Process
The Individual Executive Placement services from Stewart, Cooper & Coon consist of various steps designed to aid you in your job search.
ViewPoint©: When you become an SC&C client, you'll personally collaborate with Fred Coon, CEO to develop an article that will position you as an expert in your industry or function. Once the article is completed, you'll be interviewed by Fred on a short recorded video call reiterating some of the key takeaways from your article.
The purpose of ViewPoint© is to help establish you as an industry subject matter expert. Stewart, Cooper, & Coon advertises that "viewership will be in the millions" although we believe this is quite an exaggeration as most videos are only viewed in the dozens.
Career WebFolio©: Your Career WebFolio© is SC&Cs continued attempt to help you establish your personal brand. They want you to go above and beyond a resume and LinkedIn profile by helping you create a personal website and social media presence. You can view samples of the Career WebFolio© on their website, but essentially it is an online version of your resume.
Resume & LinkedIn Writing: In addition to your Career WebFolio© SC&C will help you craft an attention-grabbing resume and LinkedIn profile. You will work directly with a professional writer who will be with you every step of the way on your resume journey.
Master Interview©: Part of Stewart Cooper and Coons process is helping to prepare you for interviews. They offer a Master Interview© experience which is essentially a recorded mock interview session. You will receive recorded personal feedback with tips and suggestions to improve your interviewing skills.
All in all, SC&C attempts to provide a very comprehensive experience for their clients with a particular focus on branding and interview preparation. Where we felt they fell short was the actual securing of interviews for their clients. They will not apply to jobs for you, nor will they find interesting positions for you to review.
Stewart, Cooper, Coon Team
Stewart, Cooper, & Coons team consists of an executive and client support team, executive consultants, coach & career strategists, client branding, candidate marketing, and military transition specialists.
Executive & Client Support Team: Fred Coon – President/CEO, Michelle Settle – Chief Operating Officer, Michael Weishaar – Operations Manager, Mary Kirkpatrick – Operations Assistant, Amanda Meek, and Athena Wisniewski – Social Media.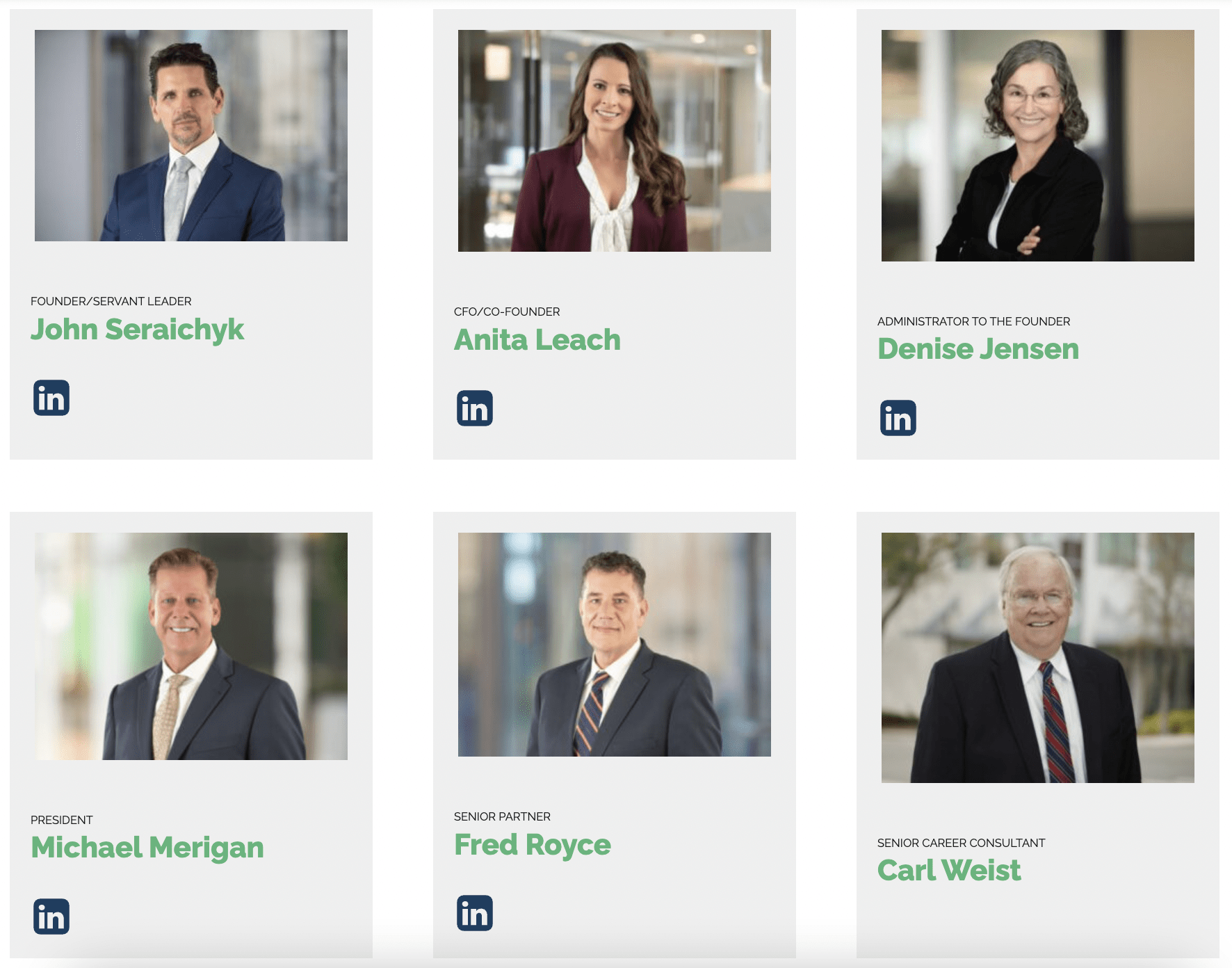 Executive Consultants: Dan Belger – Senior Career Consultant, Oliver Cornell – Senior Career Consultant, Tom Kelsay – Senior Career Consultant, Wes Kierland – Senior Career Consultant, Rodney Lamb – Senior Career Consultant, and Josh Randall – Senior Career Consultant.
Executive Coach & Career Strategists: Carol D'souza – Executive Coach, Valerie El-Jamil, Executive Coach, Kirk McCarley – Executive Coach, Sharon McCone – Executive Coach, Dominic Militello – Executive Coach, Jo Ann Moser, Executive Coach, Vincent Savino – Executive Coach, and Robert Tillman – Executive Coach.
Client Branding: Sally Gonzales – Writer, Jack Harms – Sr. Writer, and Nyrobi Wheeler – Writer.
Candidate Marketing: Shanti Brown – Candidate Marketing Specialist, Pam Longworth – Candidate Marketing Specialist, Megan Bowman – Marketing Specialist, and Brittany Kelsey – Marketing Specialist.
Military Transition: Susan M Thompson – Managing Director, Stephen Wright, Kymberli Speight, Sharon McCone – Consulting Campaign Director, and Fred Coon – CEO.
Is Stewart Cooper & Coon Worth It?
Whether or not Stewart, Cooper, & Coon is worth it is entirely up to you.
Our goal is to provide you with the most transparent and helpful information possible. But, only you know what is best for you and your career.
Here is a summary of our findings on SCC written and reviewed by certified and professional career experts:
Customer Reviews: 15/25
Cost to Value: 15/25
Time Savings: 15/25
Team Knowledge: 25/25
Total Score: 70/100
As a reminder, we highly recommend reviewing 2-3 services before making a final decision.
It's helpful to understand the different services, prices, and personal time commitment before choosing a reverse recruiting service.
If you're in need of a fully managed job search service, we suggest checking out Find My Profession. With a team of experienced reverse recruiters and a commitment to customer satisfaction, Find My Profession can help you find your dream job. And with a perfect score of 100/100, you can trust that you'll be in good hands!