Although it may sound easy at first, writing a resume as a recent graduate is not always a simple task.
Some college graduates lack professional working experience. They must find something else to make their resume stand out.
Transferable skills and appropriate keywords should be included on your resume.
Using a standard template won't get the job done against your competition.
Getting help from an expert resume writer will help you stand out.
This list of the top recent graduate resume writing services is here to help you with that.
---
Note: A recent graduate or entry-level resume is usually for professionals with less than 2 years of total experience. If you have more work experience than that, check with the services you are considering to see if you fall into a higher resume category.
---
Recent Graduate Resume Service Criteria
Each of the recent graduate resume services below was reviewed by a Certified Professional Resume Writer (CPRW) taking into consideration the following:
Cost: The cost of the service compared to other college graduate resume writers.
Turnaround: The speed at which the resume is completed.
Credentials: Overall experience, awards, and certifications.
Resume Design: The design, style, and overall look of the resume.
Customer Service: Guarantees, number of edits, and reviews.
This list was hand-curated to serve all college graduates. Whether you are from marketing, sales, manufacturing, finance, or IT, this will serve all recent graduates.
Best Resume Services for College Graduates
1. Find My Profession
Find My Profession has an elite resume writing team with experience in 85+ industries/professions. This allows us to assign you a professional writer based on your unique background and chosen career path.
We have successfully landed our clients positions at companies like Apple, Amazon, EA, Oracle, GM, Facebook, DoJ, Morgan Stanley, Gap, and 2U just to name a few.
Find My Profession has 650+ 5-star reviews and offers a 60-day interview guarantee. Every resume created is Applicant Tracking System (ATS) compatible and highly customized to meet your specific needs. We've included a sample recent graduate resume below.
Pros: We have written resumes for nearly every career. Find My Profession commits to working with each client until they are 100% satisfied. Don't worry about having a limited number of edits or a set amount of time with your writer.
Cons: Find My Profession is a virtual company. While we provide services in your city, we don't have a physical office for in-person visits. You'll communicate directly with your writer via email and phone calls.
Reviews: 5/5 based on 124 Google reviews, 5/5 based on 8 BBB reviews, 5/5 based on 35 Facebook reviews, 4.9/5 based on 304 Trustpilot reviews, 4.7/5 based on 255 Sitejabber reviews
Turnaround: 3 – 5 business days (can expedite to 2 business days)
Cost: $395+
Contact: (831) 888-0967 or help@findmyprofession.com
2. ResumeZest
ResumeZest is trusted by professionals from companies like Google, Amazon, Apple, Oracle, GE, Adobe, Uber, and Facebook. Their resume writing team has written resumes for more than 75 industries. A 60-day interview guarantee backs up every resume they write. Each resume is also ATS compliant and keyword-optimized.
Pros: ResumeZest is a very well-rounded company. They offer affordable pricing and quick turnaround times. You will work with a high-quality, certified writer and receive excellent customer service. They are also members of the Professional Association of Resume Writers and Career Coaches (PARW/CC).
Cons: ResumeZest is one of the newer companies on this list. While they do a great job and their writers have many years of experience, the company was only founded in 2020.
Reviews: 5/5 based on 9 Facebook reviews, 5/5 based on 50 Google reviews, 5/5 based on 3 Yelp reviews, 4.8/5 based on 56 Sitejabber reviews, 4.8/5 based on 52 Trustpilot reviews
Turnaround: 3 – 5 business days (can expedite to 2 business days)
Cost: $179+
Contact: (888) 530-4911 or help@resumezest.com
3. Career Thinker
Career Thinker helps college graduates as well as experienced professionals nationally. It was founded by Thomas Powner in 2011. Thomas has a team of Certified Professional Resume Writers (CPRW) to write your resume. The team members also have expertise in human resources and staffing.
Pros: Career Thinker offers unlimited edits for 15 business days after you receive the draft. Also, you will be matched with a resume writer most experienced in your career path.
Cons: A few resume samples on the website would have been a nice touch to review their work. The turnaround time is on the longer side for new grad resumes.
Reviews: 5/5 based on 2 Facebook reviews, 4.9/5 based on 60 Google reviews, 4.5/5 based on 14 Bark reviews
Turnaround: 7 – 10 business days
Cost: $429
Contact: (866) 369-9634 or questions@careerthinker.com
4. ResumeWriters

ResumeWriters is the largest network of independently contracted resume writing professionals on the internet. Founded in 1999, ResumeWriters.com has a 99% satisfaction guarantee. Their large network of writers ensures that all levels of professionals, including recent graduates, get the writers they need.
Pros: One benefit of ResumeWriters is that they offer affordable resume services in a fast turnaround time. ResumeWriters also offers an interview guarantee which says if you do not get a job interview within 2-months, they'll rewrite your resume for free.
Cons: One con with ResumeWriters is their lack of online reviews. There is very little information from verified customers sharing their experience with the service. Additionally, they have a few complaints posted on the Better Business Bureau.
Reviews: 4.6/5 based on 16 EduReviewer reviews, 3/5 stars based on 4 BBB reviews
Turnaround: 3 business days
Cost: $169.95+
Contact: (866) 356-2789 or help@resumewriters.com
5. Elan Advising
Elan Advising exists "for the making of happy, productive people." If you are one of those happy, productive people, or are aspiring to become one, Elan Advising's professional services will be up your alley. They specialize in career coaching and resume writing for recent grads and young professionals.
Pros: Elan Advising has glowing reviews based on their resume writing skills in particular. The company adopts a holistic view of your career, factoring it with life coaching services.
Cons: Elan Advising is more focused on coaching programs than one-off resume writing. So the site significantly lacks information about the resume service.
Reviews: 5/5 based on 3 Yelp reviews, 5/5 based on 7 Facebook reviews, 5/5 based on 4 Thumbtack reviews
Turnaround: 3 – 5 business days (can expedite to 24 hours)
Cost: Not found
Contact: (530) 750-9066 or elanadvising@gmail.com
6. Resume Butterfly
Resume Butterfly is run by Jessica Smith. Jessica has 15+ years of experience in career coaching. She was a director of career services for a local college. Her small team of resume writers works with people from all professions. They offer special packages for students and recent grads venturing into the workforce.
Pros: There are resume samples on the website in a helpful before-and-after format. You can also download a free job search advice e-booklet from Jessica's website.
Cons: You will need to check the availability of resume packages. Jessica is currently accepting a limited number of pre-approved clients.
Reviews: 4.8/5 based on 24 Google reviews, 3.7/5 based on 6 Facebook reviews
Turnaround: 10 – 14 days
Cost: $200+
Contact:resumebutterfly@gmail.com
7. Career Perfect
Career Perfect offers reliable resume writing services to all levels of professionals including recent graduates. The company has been in business for over 30 years with a customer satisfaction rate of 99.9%. They have experienced certified resume writers in the team. All of their writers are based in the United States.
Pros: There are many resume samples to view on the website, including two for recent grads. They will rewrite your resume for you if you don't get more interviews in 60 days. They offer free career assessments on the website.
Cons: The resume writing process does not include a phone consultation with the resume writer. All but one of the reviews for the service are from 5 or more years ago.
Reviews: 4.9/5 based on 30 Facebook reviews, 3.2/5 based on 49 Trustpilot reviews
Turnaround: 4 – 5 business days (can expedite to 24 hours)
Cost: $189.95
Contact: (877) 844-5724
8. The Resume Factory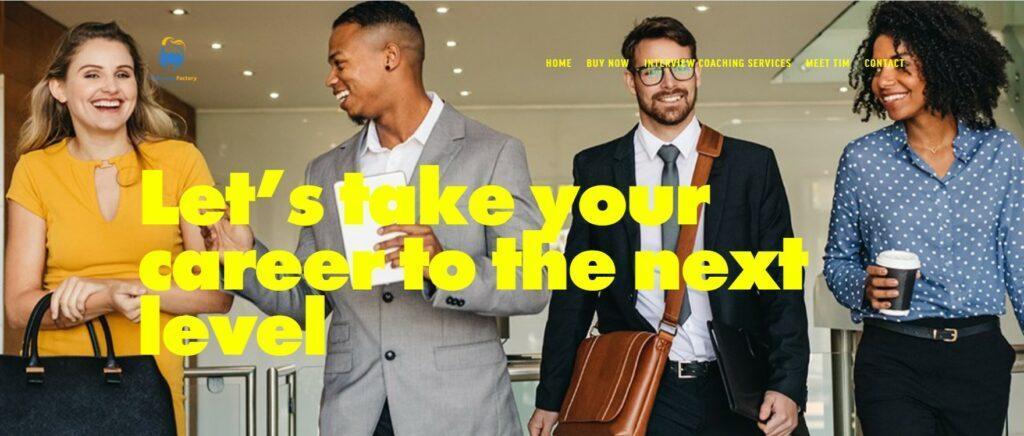 The Resume Factory wants to take the stress out of resume creation and job search preparation for job seekers worldwide. They have a resume package for recent college graduates. This Birmingham company was founded by experienced resume writer, Tim Whitehead, in 2014.
Pros: The Resume Factory understands that for recent grads, without substantial professional experience, it's essential to capitalize on the personal story to create a narrative that stands out.
Cons: The website lacks details about the resume writing process. Also, there are no details about the resume writers or any resume samples for you to review on the website.
Reviews: Not found
Turnaround: Not found
Cost: $125
Contact: Not found
9. We Build Resumes
We Build Resumes has over 20 years of resume writing experience. The company specializes in resumes for professionals in the construction, engineering and, environmental industries. They also offer resume writing for new graduates. Their recent grad resume writing service is fast and affordable.
Pros: The service offers a 100% satisfaction guarantee with all their resume packages. That means they will keep rewriting your resume as long as you are not satisfied.
Cons: The website doesn't offer any details about the individual resume writers on the team. Also, the company doesn't have any customer reviews online.
Reviews: Not found
Turnaround: 2 – 3 days
Cost: $129
Contact: (916) 677-1428 or contact@webuildresumes.com
10. College2Career
College2Career is a career service run by Mollie Smith, the "Millenial Coach". They cater to students and recent graduates who are learning the ropes and navigating the early stages of their careers. The customer reviews confirm that they equip young adults with the skills needed to succeed in the workplace.
Pros: This resume service is the most affordable on our list. Mollie has extensive experience working with new college graduates and writing resumes for them.
Cons: The resume service doesn't include any interview guarantees. Also, there are no resume samples for you to review on the website.
Reviews: 5/5 based on 24 Google reviews, 5/5 based on 18 Facebook reviews, 5/5 based on 2 Yelp reviews
Turnaround: 3 – 4 business days
Cost: $85+
Contact: (813) 434-7592

Bonus: Top Recent Graduate Resume Winners (2021)
ResumeZest, Career Thinker, ResumeWriters, Elan Advising, Resume Butterfly, Career Perfect, The Resume Factory, We Build Resumes, Craft Resumes, College2Career
New College Graduate Resume Example
We've included a new grad resume sample so you can get a better idea of what makes a college graduate resume great.
As you can see, recent grad resumes need to grab your attention with their appearance. They also need easy-to-read language that describes high-level skills.
Here is an example of a mechanical engineer resume. It is from the #1 pick on our list, Find My Profession.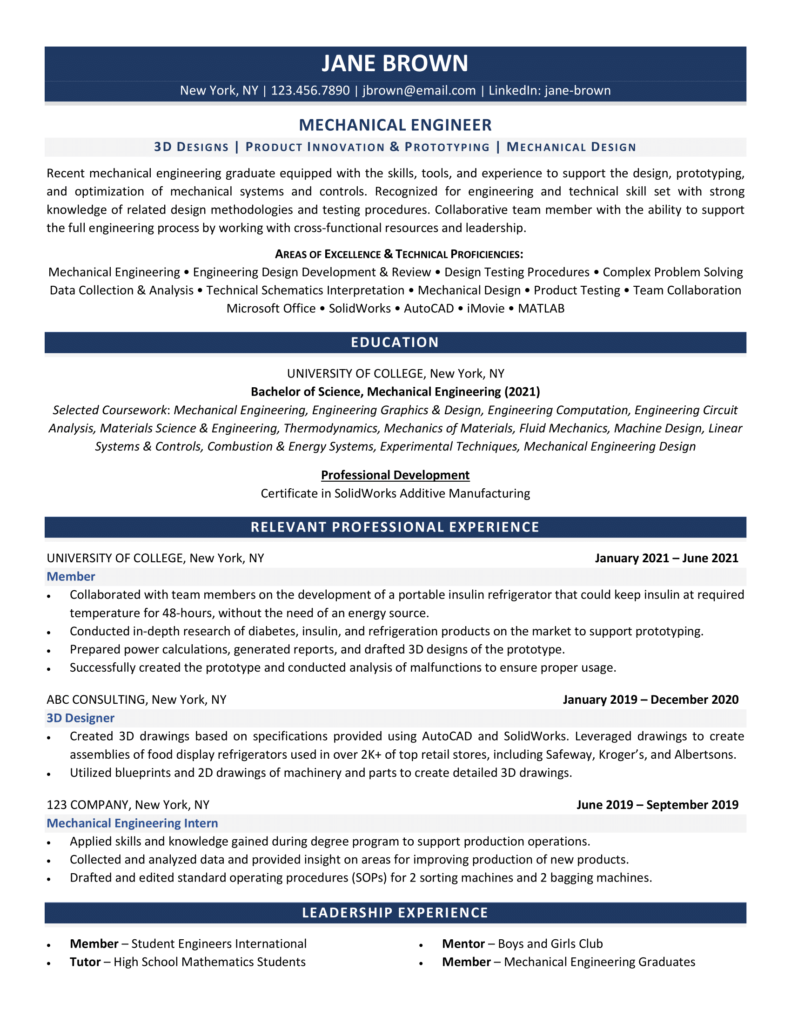 Visit Find My Profession