Germany is one of the top European nations for people who look for high-paying jobs.
The country has the largest economy in Europe and one of the lowest unemployment rates in the European Union.
There are excellent job opportunities for qualified professionals in the German job market.
However, as many things are changing globally, so is the job market in Germany. Finding a job in this country is not known to be an easy task at all.
This is why your resume/CV matters.
In order to make sure your CV stands out in Germany's challenging job market, you need a resume/CV writing service to create a winning CV.
We've done all the hard work in advance to provide this list of some of the best CV writing services in Germany.
---
Note: For the sake of this article, we will be using "resume" and "CV" interchangeably. Each of the companies below offers elite resume/cv writing services to fit any job seekers' needs.
---
Germany Resume Service Criteria
Each of the Germany resume services below was reviewed by a Certified Professional Resume Writer (CPRW) taking into consideration the following:
Cost: The cost of the service compared to other Germany resume writers.
Turnaround: The speed at which the resume is completed.
Credentials: Overall experience, awards, and certifications.
CV Design: The design, style, and overall look of the resume.
Customer Service: Guarantees, number of edits, and reviews.
This list was hand-curated to serve all industries, professions, and career levels. While many of the writers are from major cities in Germany, these services are virtually available whether you are in Berlin, Munich, Hamburg, Cologne, or any other city in Germany.
Best Resume Services in Germany

1. Find My Profession
Find My Profession is much more than a German resume and CV writing service. We are a global company whose work has been featured on sites including Forbes, Inc, Zety, Fast Company, and more.
Our elite resume/CV writing team has experience in 85+ industries/professions. This allows us to assign you a professional writer based on your unique background and experience.
We have successfully landed our clients positions at companies such as Apple, Amazon, EA, Oracle, GM, Facebook, DoJ, Morgan Stanley, Gap, and 2U…just to name a few.
Find My Profession has 650+ 5-star reviews and offers a 60-day interview guarantee. Every CV created is Applicant Tracking System (ATS) compatible and highly customized to meet your specific needs.
Pros: You will work one on one with a CV writer. Find My Profession commits to working with each client until they are 100% satisfied. This means you don't have to worry about having a limited number of edits or a set amount of time with your writer.
Cons: Find My Profession is a virtual company. While we provide services in your city, we don't have a physical office for in-person visits. You'll communicate directly with your writer via email and phone calls.
Reviews: 5/5 based on 124 Google reviews, 5/5 based on 8 BBB reviews, 5/5 based on 35 Facebook reviews, 4.9/5 based on 304 Trustpilot reviews, 4.7/5 based on 255 Sitejabber reviews
Turnaround: 3 – 5 business days (can expedite to 2 business days)
Cost: $395 – $995
Contact: (831) 888-0967 or help@findmyprofession.com
Check out some of our 5-star reviews:
Visit Find My Profession
2. ResumeZest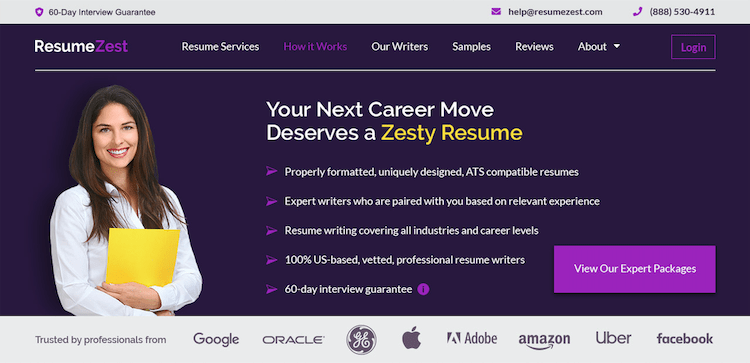 ResumeZest is trusted by professionals from companies including Google, Amazon, Apple, Oracle, GE, Adobe, Uber, and Facebook. Their resume writing team has written resumes for more than 75 industries. A 60-day interview guarantee backs up every CV they write. Each CV is also ATS compliant and keyword-optimized.
Pros: ResumeZest is a very well-rounded company. They offer affordable pricing and quick turnaround times. You will work with a high-quality, certified writer and receive excellent customer service. They are also members of the Professional Association of Resume Writers and Career Coaches (PARW/CC).
Cons: ResumeZest is one of the newer companies on this list. While they do a great job and their writers have many years of experience, the company was only founded in 2020.
Reviews: 5/5 based on 9 Facebook reviews, 5/5 based on 50 Google reviews, 5/5 based on 3 Yelp reviews, 4.8/5 based on 56 Sitejabber reviews, 4.8/5 based on 52 Trustpilot reviews
Turnaround: 3 – 5 business days (can expedite to 2 business days)
Cost: $179 – $379
Contact: (888) 530-4911 or help@resumezest.com
Visit ResumeZest

3. Die Bewerbungsschreiber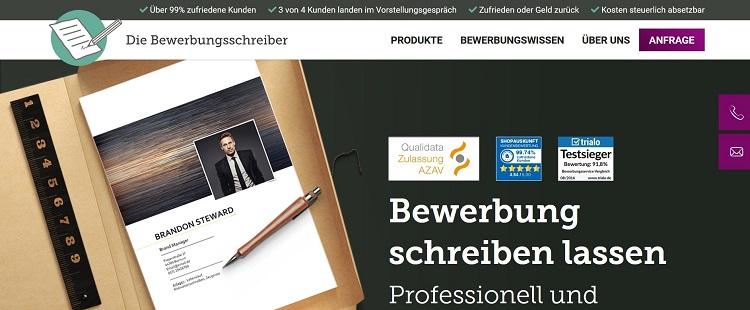 Die Bewerbungsschreiber is a writing and editing services company that specializes in creating and editing professional application documents, CVs, resumes, and cover letters. They have a team of academically trained professionals from various disciplines.
Pros: Their team of 45 writers guarantees individually-tailored career documents so you have better chances of getting noticed in the tough job market. They also offer a satisfaction guarantee and money-back guarantee.
Cons: This company has not detailed any credentials, experience, or skills about their professional CV writers on the website. They also do not offer any package deals for buying multiple services together.
Reviews: 4.9/4 based on 1,249 Google reviews
Turnaround: 4 business days (can expedite to 24 – 72 hours)
Cost: €89+
Contact: +49 234 52007280 or info@die-werbungsschreiber.de
Visit Die Bewerbungsschreiber

4. Richtiggutbewerben.de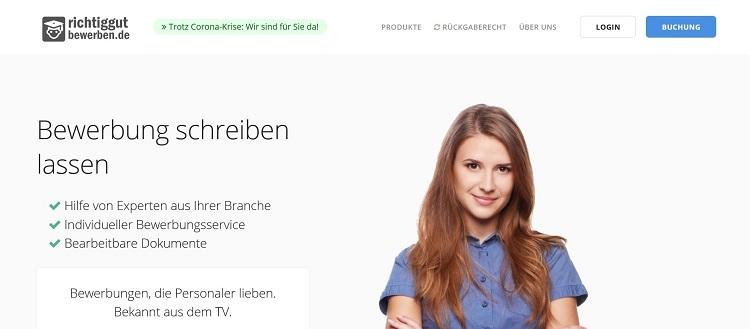 Richtiggutbewerben.de is the brainchild of Bilal Zafar, a sought-after career expert in Germany. The company was founded on the idea of making life easier for the thousands of applicants in Germany across all industries and domains. They help job seekers with job documents, including CVs and cover letters.
Pros: They have a well-rounded team of professional CV writers who are experts in their respective fields. The company has a uniform pricing structure. They are also recognized in the media throughout Germany.
Cons: The company does not offer a satisfaction or money-back guarantee. The website does not have details about their professional writers. Also, there are no CV samples to review on the website.
Reviews: 4.7/5 based on 516 Google reviews
Turnaround: 3 business days (expedite to 24 hours)
Cost: €99 – €159
Contact: +49 211 95986611 or service@echtgutbewerben.de
Visit Richtiggutbewerben.de

5. Writrox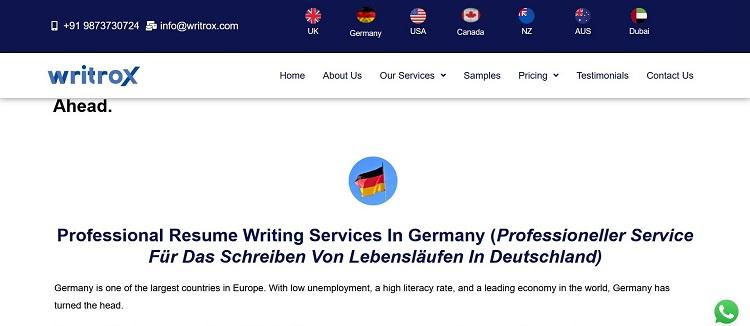 Writrox is a team of skilled professionals based out of India but that provides CV writing services globally. They are one of Germany's most recognized CV writing services that offer high-quality CV services at competitive rates. Their core expertise is visual CV writing.
Pros: Writrox provides customized CV services as per industry standards and trends. They have affordable CV writing packages and they strictly follow the German CV format and latest CV styles to create personalized CVs.
Cons: They are a team of experienced CV writers, but we could not find any specific information on any of the writers on their website. Also, the turnaround time for writing CVs is not mentioned anywhere.
Reviews: 4.9/5 based on 69 Google reviews
Turnaround: Not found
Cost: $60 – $299
Contact: +91 98737 0724 or info@writrox.com
Visit Writrox

6. Mister-CV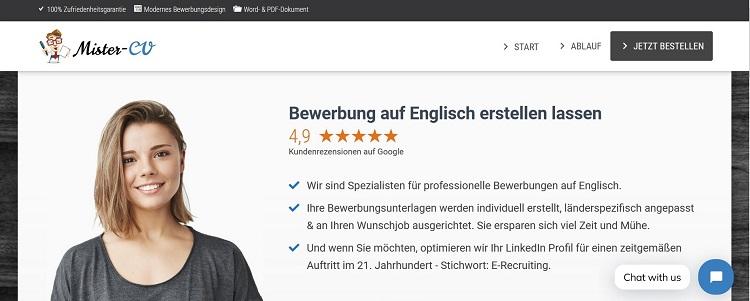 Mister-CV is a CV writing service company specialized in international applications. They design and create professional CVs in English and tailor them to your desired role. They have a simple process for CV preparation and they also offer to provide free touch-ups with all their plans.
Pros: You can request unlimited changes to your CV at no extra cost within 14 days of receiving the first draft until you're satisfied with the CV. All the documents they create are 100% ATS-optimized.
Cons: Mister-CV has limited service offerings and no CV samples to review. While they do provide email consultations, a phone call or a video chat might prove better for a more personalized experience.
Reviews: 4.9/5 based on 13 Google reviews
Turnaround: 3 – 5 business days
Cost: €99 – €199
Contact: Not found
Visit Mister-CV
7. SL Bewerbungsberatung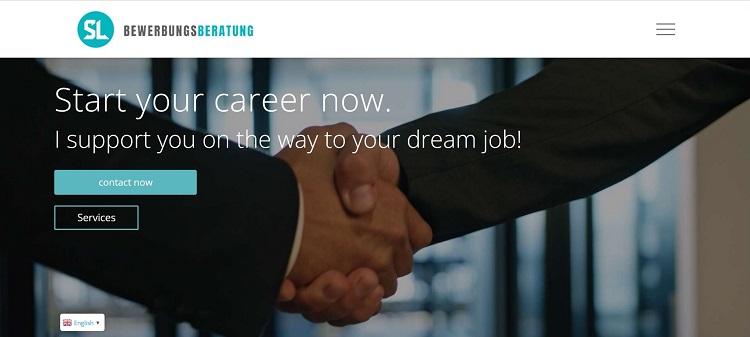 SL Bewerbungsberatung is run by Simona Luca. Simona is more than just a job application or CV expert. She is an HR professional who uses her law degree and her years of experience in human resources to create winning CVs and application documents.
Pros: Simona offers professional support and tailored coaching at the highest level to help her clients find their dream jobs. In addition to writing CVs, she also writes application letters and assists with job interview preparation.
Cons: The option of having a phone consultation could have been a bonus. We could not find any CVs samples to review. Also, there is no tangible info on Simona.
Reviews: 5/5 based on 10 Google reviews
Turnaround: 3 business days (expedite to 24 hours)
Cost: €147 – €247Contact: +49 152 2176 8561 or info@sl-bewerbungsberatung.de
Visit SL Bewerbungsberatung