Are you planning a career move?
Finding a new job can take a whole lot of time and effort. In fact, a job search can feel like a full-time job in itself!
But while many professionals are struggling to find their next job, you can fly through the process effortlessly.
How?
Use a job finder service!
In short, managed job search services help people find jobs. With career finder services, your job-hunting process becomes easier, faster, and more likely to yield the best results.
But there's one problem with this approach…
There are not a lot of these services available. And the agencies offering job search services, provide assistance at different levels.
This makes it difficult to find the right job finding service for you.
To make your life easier, we have curated a list of the best career finder services out there.

Managed Job Search Service Criteria
Each of the managed job search services below was reviewed by a career expert, taking into consideration the following:
Cost: The cost of the service compared to other managed job search services.
Credentials: Overall experience and expertise of the job search experts.
Service Offerings: The depth and extent of the job search services.
Process: Quality of the working process the job search expert will follow.
This list was hand-curated to serve all industries, professions, and career levels.
Best Managed Job Search Services
1. Find My Profession
Find My Profession offers one of the most experienced and comprehensive professionally managed job search services in the world.
In fact, we were one of the first companies to offer the Career Finder service with a dedicated team of Reverse Recruiters. We've been helping people get new jobs in 85+ industries/professions since our company's inception in 2015.
We've helped job seekers find and secure new jobs in renowned companies including Amazon, Apple, Adventist Health, and Nike…to mention a few.
Pros: We assign you a dedicated Reverse Recruiter who handles the entire job search process for you. Your Reverse Recruiter searches for jobs that match your criteria, applies to jobs you approve, builds your network to land interviews, and is available for interview prep.
Cons: Find My profession does not have a physical office for in-person consultations. You can only interact with your Reverse Recruiter through emails, chat, and video/phone calls.
Reviews: 5/5 based on 114 Google reviews, 5/5 based on 8 BBB reviews, 5/5 based on 35 Facebook reviews, 5/5 based on 4 Yelp reviews, 4.8/5 based on 227 Sitejabber reviews, 4.8/5 based on 296 Trustpilot reviews
Cost: $2,500 per 4 weeks
Contact: (831) 888-0967 or help@findmyprofession.com
Check out some of our 5-star reviews.
Visit Find My Profession
2. Stewart, Cooper & Coon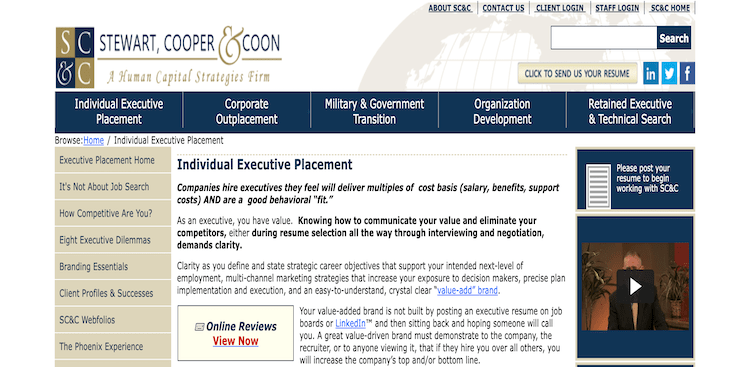 Founded in 1995, Stewart, Cooper & Coon is home to experts that have years of experience working with executives. They specialize in providing employment services to both corporations and individuals, with a mission to "have a meaningful impact" on their clients' lives.
Pros: As it is an older company, Stewart, Cooper & Coon are experienced and know the lay of the land. Also, the presence of a physical office makes in-person collaboration possible, especially if you live in Arizona.
Cons: Their website is a bit cluttered and overwhelming. And since there's no option to purchase job search packages directly from the website, you have to contact the company via phone for further details.
Reviews: 5/5 based on 25 BBB reviews, 4.3/5 based on 34 Google reviews 3.4/5 based on 12 Trustpilot reviews, 3/5 based on 27 Yelp reviews
Cost: Not found
Contact: (480) 245-5904 or ceo@stewartcoopercoon.com
Visit Stewart, Cooper, & Coon
3. Browning Associates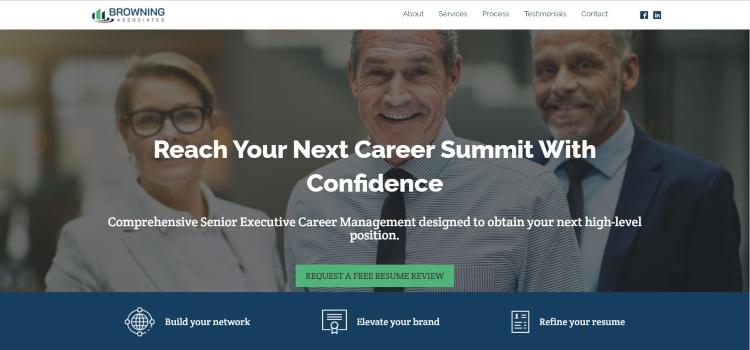 With a reputation for helping people land jobs at Google, Chevron, Verizon, and the likes, Browning Associates is not a new kid on the managed job search services block. They possess over 25 years of experience and specialize in company targeting, executive networking, and LinkedIn optimization.
Pros: Browning Associates will review your resume for free, and provide you with a personal coach who helps you implement a time-tested action plan. Also, as an assurance, they promise to work with you until you accept a new position.
Cons: There's no fixed fee for Browning Associates' services. Rather, they charge based on an evaluation of the exact work to be done. They also focus solely on finding executive jobs. Additionally, they won't be applying to jobs for you.
Reviews: 5/5 based on 34 BBB reviews, 5/5 based on 24 Bark reviews, 3.2/5 based on 1 Trustpilot review
Cost: Not Found
Contact: (401) 825-7717
Visit Browning Associates
4. ResumeSpice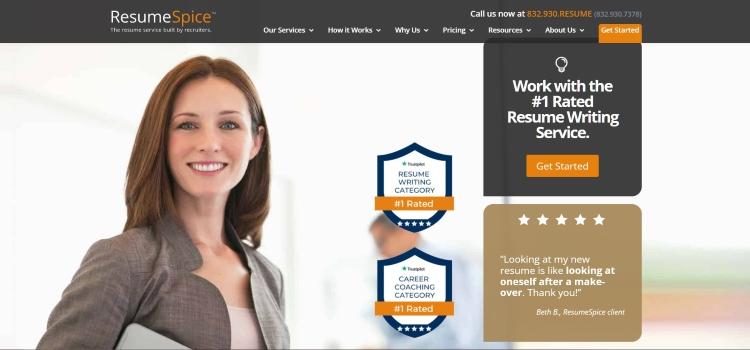 ResumeSpice was founded by Keith and Marsha Murray, and is a company based in Texas. The duo also runs one of America's top recruiting firms. They have matched thousands of job seekers with their dream jobs. The company has a team of experienced certified career consultants to help you with your job search.
Pros: The JobApply service from ResumeSpice is straightforward. Your dedicated consultant will email you personalized job recommendations and apply to 20-40 jobs of your choice per month. You will also have access to a job application dashboard.
Cons: This service specifically caters to executives and professionals at the $150K+ salary level. At the moment, they only serve applicants in the U.S. and Canada. Also, LinkedIn networking is not included in the packages.
Reviews: 5/5 based on 15 Facebook reviews, 5/5 based on 1 Yellow Pages review, 4.9/5 based on 896 Trustpilot reviews, 4.9/5 based on 86 Google reviews, 4/5 based on 5 Yelp reviews 3.8/5 based on 3 BBB reviews
Cost: $799 – $1,199 per month + $159 one-time setup fee
Contact: (832) 930-7378 or info@resumespice.com
Visit ResumeSpice
5. WeApply4U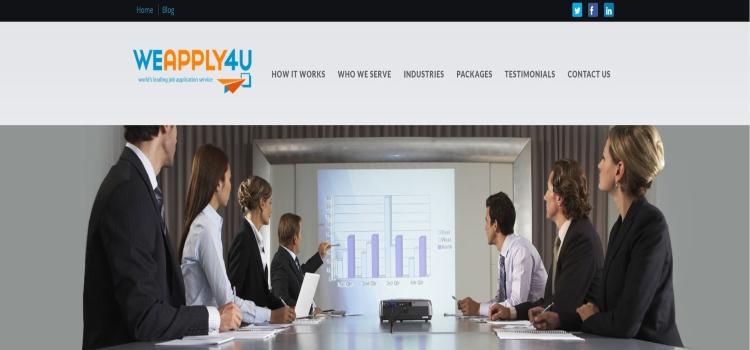 WeApply4U was founded by a marketing executive of a Fortune 500 company in 2006. The company seeks to connect job seekers with employers "struggling to find candidates." The founders have decades of sales and marketing experience, and they help job seekers via industry-specific employer databases.
Pros: WeApply4U services assist both new grads and transitioning employees. They send your resume to as many as 2,000 companies, depending on the package you choose. And to make things more interesting, their website promises a 5-month interview guarantee.
Cons: They only submit resumes for you; they do not follow up or give you post-application support. Also, all networking and communications happen between the applicant and the employers. Finally, the application process involves sending bulk applications instead of customizing each application.
Reviews: 4/5 based on 1 TrustedReviews review
Cost: $300 – $500 registration fee; additional $900 after successful results
Contact: (888) 438-9239 or contact@weapply4u.com
Visit WeApply4U
6. Agape Career Counseling Group
Agape Career Counseling Group was founded and is run by Debraca Russell, a Certified Professional Career Coach (CPCC) with experience from three different Fortune 500 companies. The company offers job search assistance services along with other career services including resume and cover letter writing.
Pros: Debraca brings a wealth of experience to the table. Her experience and expertise in human resources, recruiting, and talent acquisition is surely a plus point for the company.
Cons: Their website could use some updating, as details about the services they provide are sparse. The job search assistance service only involves sending you leads and personal contacts.
Reviews: 5/5 based on 33 Facebook reviews
Cost: $199 for one month
Contact: (813) 300-6133 or agapeccg@yahoo.com
Visit Agape Career Counseling Group
7. Careerzooom
Careerzooom's Job Management service provides you with an expert team of recruiters based in Dubai. They operate similarly to a recruitment agency and email you jobs tailored to your specifications. Upon your approval, applications are sent on your behalf and follow-ups are made, for up to 25 applications.
Pros: Careerzooom uses job boards only in selective cases. The jobs specially picked by their team are likely to be directly from employers. Your CV/resume will be revised to meet each application's requirements.
Cons: As the company is in Dubai, their main expertise involves the GCC region, which may not be a suitable option for US job seekers. The website is geared to CV writing and their career services feel like an afterthought.
Reviews: 5/5 based on 44 Bark reviews, 4.4/5 based on 12 Trustpilot reviews, 4.3/5 based on 20 Google reviews
Cost: Not stated
Contact: support@careerzooom.ae
Visit Careerzooom