Washington DC is a booming town with plenty of job opportunities.
With so much competition, it can be difficult to land your dream job on your own.
Hiring a professional to help with this process can significantly improve your marketability.
That's where DC career coaches come in.
A career coach is a lot more than a friend to hold your hand throughout a job search.
Career coaches typically come from years of recruiting or HR experience. This experience can make them extremely valuable resources for navigating a job search.
Rather than searching through hundreds of career coaching services, we've done the work for you. Below, we've compiled a shortlist of the very best career coaches in Washington DC.
Washington DC Career Coach Criteria
Each of the Washington DC career coaching services below was reviewed taking into consideration the following:
Cost: Price of the service compared to other Washington DC career coaches.
Credentials: Overall experience, awards, and certifications.
Process: Effectiveness of the process from start to finish.
Customer Service: Guarantees, refund policies, and client reviews.
This list was hand-curated to serve all industries, professions, and career levels. While many of the services on this list are from Washington DC, these career coaches are virtually available whether you are in DC, Alexandria, Bethesda, Rockville, Arlington, or Baltimore.
Best Career Coaching Services in Washington DC
1. Find My Profession
Find My Profession offers a one-of-a-kind experience that goes far beyond any other Washington DC career coaching service on this list.
While traditional career coaches will teach you how to find a job, Find My Profession's Career Finder service will do the work for you.
This white-glove service will search for jobs on your behalf, apply for you with a customized resume to fit the application, and network with key decision-makers to secure interviews.
The only thing they won't do is show up to the interview for you. But don't worry, this service includes interview preparation to make sure you'll crush any interviews they land you.
Pros: You can save hundreds of hours searching for jobs, filling out applications, customizing your resume, and networking. Finally, you can pay someone to find you a job. Your dedicated Reverse Recruiter will create a personalized strategy to manage all aspects of your job search. Each Reverse Recruiter only works with four clients at a time, providing you with personalized attention and care.
Cons: If you're looking for a traditional career coach to help you change career paths, this service may not be a good fit. The Career Finder service is for professionals who know what kind of job they want but don't have the time or energy to find it on their own. There is also usually a waitlist of about one month.
Reviews: 5/5 based on 124 Google reviews, 5/5 based on 8 BBB reviews, 5/5 based on 35 Facebook reviews, 4.9/5 based on 304 Trustpilot reviews, 4.7/5 based on 255 Sitejabber reviews
Cost: $2,500 per 4-week period
Contact: (831) 888-0967 or help@findmyprofession.com
Check out some of our 5-star reviews.
Visit Find My Profession
2. Storm Breaker Coaching & Consulting
Storm Breaker Coaching & Consulting has earned its spot on the list of the best DC career coaches. Saleheh Vahaji decided to first seek out coaching after she suffered a near-death experience. She was greatly helped by the coach that she worked with after her traumatic experience and wanted to assist others in the same way.
Pros: Storm Breaker Coaching & Consulting has several great online reviews praising their coaching services. Saleheh has more than 20 years of experience working in different industries in the DC area and is also an adjunct professor at George Mason University.
Cons: Storm Breaker Coaching & Consulting does not have any certified career coach training. That is certainly something to consider when choosing someone to coach your career. Additionally, Saleheh is also the only coach that works at Storm Breaker Coaching & Consulting.
Reviews: 5/5 based on 5 Google reviews, 5/5 based on 1 Yelp review
Cost: Not found
Contact: (202) 716-9980 or saleheh@stormbreakerconsulting.com
Visit Storm Breaker Coaching & Consulting
3. YES Career Coaching & Resume Writing Services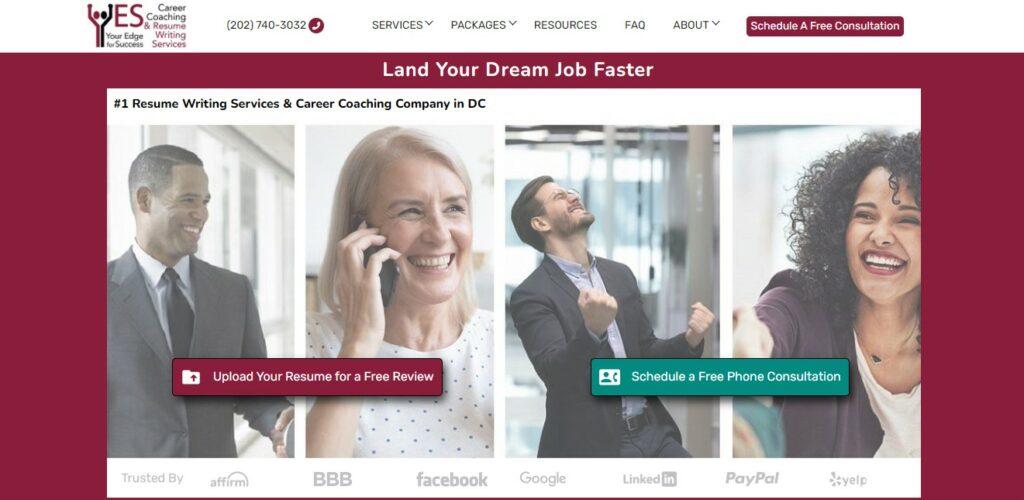 YES is a local company specialized in career change in the private sector and helping professionals transition in or out of the federal government and the military. The company's coaches are experts in helping you make a career transition or land a more senior position in your own field.
Pros: YES is very familiar with the federal hiring practices and the local job market, including the major employers in the Washington DC area. They have a very structured process for outreach and a highly effective and proprietary interview preparation technique.
Cons: YES is a small firm with only few, albeit seasoned, certified coaches so it can take couple of weeks before you have your first session. Their approach is more suited for mid-level and senior professionals, rather than those recently graduated. While the structured process is personalized and effective, it is best suited to more disciplined professionals.
Reviews: 5/5 based on 5 BBB reviews, 5/5 based on 17 Facebook reviews, 4.9/5 based on 206 Google reviews, 4.5/5 based on 44 Yelp reviews
Cost: $95 per 1/2 hour
Contact: (202) 740-3032 or csm@yeswriting.com
Visit YES Career Coaching & Resume Writing Services
4. Parachute Coaching
Parachute Coaching is a coaching practice founded by Lauren Laitin focused on leadership, confidence, and career transition. Lauren was inspired to become a coach while she was practicing law; she worked with a coach and found it to be an invaluable experience. Parachute Coaching serves professionals across industry and at varying levels of seniority. With over 500 leaders in their client list, Parachute Coaching delivers tremendous experience and expertise.
Pros: Parachute Coaching works with impressive corporate clients, such as Lyft and GE. The first consultation is free, so you can see if Lauren is a good job coach for your needs. Their high-touch coaching process will surely grow your career.
Cons: As a boutique coaching practice, Parachute Coaching often has a waitlist. They focus on clients with 5+ years of professional experience, so it's not a fit for recent college graduates. You will need to call for individual coaching pricing.
Reviews: 5/5 based on 5 Facebook reviews, 4/5 based on 7 Yelp reviews
Cost: $99+ per program
Contact: info@parachutecoaching.com
5. Excelleration Coaching
Excelleration Coaching was founded by a lawyer named Anna Rappaport with quite an interesting background. Anna has an incredible amount of experience working in different areas of the world such as Thailand, Japan, and Turkey. She has 19 years of experience coaching attorneys and 11 years of experience mentoring and training other coaches.
Pros: Excelleration Coaching has an excellent plan of attack to improve your career. There are few professional career coaching services that have the experience Anna has. In addition to her work as Excelleration Coaching, Anna has developed multiple career programs and sits as a board member for multiple organizations.
Cons: Excelleration Coaching is focused almost entirely on law professionals. You may want to find a career counseling service that focuses on professionals from other industries if you aren't in the field of law. However, if you are in fact a lawyer then this career coach may very well be a perfect match.
Reviews: 5/5 based on 27 Google reviews, 5/5 based on 1 Yelp review
Cost: Not found
Contact: (202) 900-9161 or admin@excellerationcoaching.com

Bonus: Top Washington Career Coaching Winners (2021)
Find My Profession, Storm Breaking Coaching & Consulting, Back Bay Leadership, Parachute Coaching, Excelleration Coaching