2022 Winners: Add your badge to your marketing materials.
Living "Indy" most populated city of Indiana sure comes with a lot of perks.
However, it also means that there are plenty of people trying to do the same thing as you are.
In other words, the competition is tough as nails.
This means that landing your dream job can be quite a challenge. The same goes for that coveted promotion you've been eyeing.
You may even end up in a toxic work environment, or find yourself struggling and failing to balance your work-life.
But let's look at the upside…
Living in the Circle City doesn't mean your career path can't be straight and simple.
You just need expert guidance from a professional career coach.
That's why we have compiled this list of the best career coaching services in Indianapolis, Indiana.
Best Coaching Services in
Indianapolis


4

4
5

5
6

6
7

7
8

8
9

9
See more services
See less services
How We Choose Winners
Each of the Indianapolis career coaching services below was reviewed taking into consideration the following:

Cost
The cost of the service compared to other Indianapolis career coaches.

Credentials
Overall experience, awards, and certifications.

Process
Effectiveness of the process from start to finish.

Reviews
Client reviews on third-party platforms.
This list was hand-curated to serve all industries, professions, and career levels. While many of the writers on this list are from Indianapolis, these services are also virtually available.
That means you can avail of them whether you are in Carmel, Plainfield, Brownsburg, Speedway, Lawrence, Greenwood, Beech Grove, or any other Indiana city.
Average Indianapolis Coaching Cost
Indianapolis
Career Coaching Cost
Average Career Coaching Cost
$1300
Career Coaching Cost Range
Indianapolis Career Coach Reviews
Find My Profession offers a one-of-a-kind experience that goes far beyond any other Indianapolis career coaching service on this list.
While traditional career coaches will teach you how to find a job, Find My Profession's Career Finder service will do the work for you.
This white-glove service will search for jobs on your behalf, apply for you with a customized resume to fit the application, and network with key decision-makers to secure interviews.
The only thing they won't do is show up to the interview for you. But don't worry, this service includes interview preparation to make sure you'll crush any interviews they land you.
PROS
Finally, you can pay someone to find you a job. Your dedicated Reverse Recruiter will create a personalized strategy to manage all aspects of your job search. Save hundreds of hours searching for jobs, filling out applications, customizing your resume, and networking. Each Reverse Recruiter only works with four clients at a time, providing you with personalized attention and care.
CONS
If you're looking for a traditional career coach to help you change career paths, this service may not be a good fit. The Career Finder service is for professionals who know what kind of job they want but don't have the time or energy to find it on their own. There is also usually a waitlist of about one month.
REVIEWS
5/5 based on 124 Google reviews
5/5 based on 35 Facebook reviews
5/5 based on 8 BBB reviews
4.9/5 based on 304 Trustpilot reviews
4.7/5 based on 255 Sitejabber reviews
COST
$2,500 per 4-week period
CONTACT
(831) 888-0967 or help@findmyprofession.com
Check out some of our 5-star reviews:
C.A. on May 14, 2022
Experience Was Excellent
I had the opportunity to work with Melissa, and I must say the experience was excellent. The communication was great, the level of professionalism and effectiveness was very high, from identifying the right jobs to networking with the right people in LinkedIn! I highly recommend this service to anyone in a senior position who is serious about finding a new job. Take it from me, you can not do it better yourself.
B.E. on April 1, 2020
MISSION ACCOMPLISHED!
The huge value of Find My Profession is having an expert job hunter searching and applying for jobs for you while you go on with your busy life. These guys are sophisticated, experienced and well-connected. If you are in no hurry, love the idea of spending hours a day on your computer searching through job databases, and fielding endless inane correspondence from recruiters, by all means *don't* hire Find My Profession and do the work yourself. If not, hire these guys.
K. W. on April 12, 2022
Secured A Great Role!
I am so pleased with my experience with Steven Lowell at FMP. I was looking to change industries, but too busy and overwhelmed with my day-to-day to embark on the journey on my own. Not only did he do the heavy lifting with applications, but was a readily available resource in coaching to ensure I nailed interviews and marketed myself in the best way possible. He has helped to give me realistic expectations without short-changing myself or my skills to get the job I wanted. Thanks to him, I was able to secure a great role at my dream company within 6 weeks!
F. C. on January 13, 2022
Exceeded My Expectations
I cannot say enough great things about working with Melissa C. She far exceeded my expectations. On top of job search interactions, she expanded my network, not focusing on quantity, but by quality as well. She delivered both. Thank you Melissa.
J.C. on May 30, 2022
Excellent Service
David is by far the best reverse recruiter I have ever had the pleasure to work with. He truly goes above and beyond in everything he does when he works with you, and the results definitely show it. He was professional throughout the entire experience. His attention to detail, overall industry knowledge, and the way he takes care of his clients is best in class. Also, turnaround time and email responses were done very quickly. If you don't work with David for your job search needs, you're missing out big time!
S.S. on August 18, 2021
Highly Recommend
It had been 18 years since I'd had to job search, and had no idea where to start. Steven was very skilled in networking, helping me find positions that were of interest, but weren't necessarily ones I would have looked for myself, applying, (and outside his job description) dealing with my emotions as I got rejections, and became frustrated trying to figure out what I was searching for. I appreciate how fast I was able to find something that I feel like will be a great fit, and I would highly recommend Steven and this service.
Visit Find My Profession
Lauren Miller Coaching is owned and run by Lauren Miller, a career and leadership coach with a Master's Degree in Higher Education & Student Development. Before creating the company in 2020, Lauren had experience helping students in their job search at Butler University and Purdue University.
PROS
Although Lauren Miller Coaching offers standalone career and job search packages, you can opt for an all-inclusive package that combines the two. They also provide a free guidebook that'll give you some hints for your career journey, even without a dedicated career coach.
CONS
Although Lauren is an experienced career coach, her website doesn't mention her possessing any industry certifications. Also, their website does not provide the pricing of their career coaching services for working professionals.
REVIEWS
5/5 based on 16 Google reviews
COST
$297+ per program
CONTACT
(317) 395-33-23 or lauren@laurencartermiller.com
Visit Lauren Carter Miller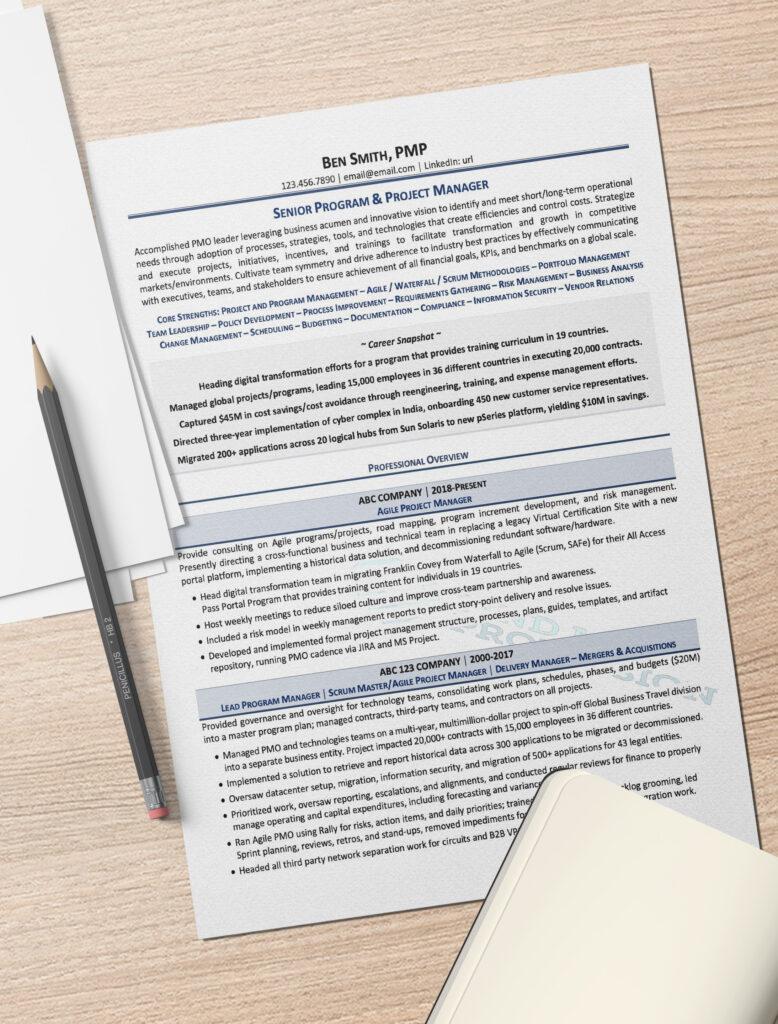 Is Your Resume Perfect?
Have you updated your resume lately? Most career coaches are not professional resume writers. Check out our list of the best Indianapolis resume writers.
Fanelli Pathways, LLC is the brainchild of Bill Fanelli, who created the company in 2015, after a series of experiences in diverse fields. Bill is versed in various developmental assessment techniques including the Strong Interest Inventory, and the Hogan Development Assessments.
PROS
Bill has been setting people on the right career paths for over 20 years. He also has 18+ years of leadership and organizational development experience. Additionally, Fanelli Pathways' career coaching packages can be utilized virtually from any location in the world.
CONS
Fanelli Pathways does not have a la carte option, which means you can't schedule for a single session of career coaching. In addition, they do not have a lot of online reviews, so it's hard to determine the quality of their career coaching service.
REVIEWS
5/5 based on 3 Google reviews
COST
$275 – $525 per package
CONTACT
(317) 443-6276
Visit Fanelli Pathways
D'Angelo 360 offers a unique combination of health and fitness services along with career coaching. Their career coaching service is handled by Matt D'Angelo. Matt has experience in education as a career advisor and offers career coaching services to professionals of all levels, from high schoolers to the higher-ups.
PROS
Their career coaching service includes a 30-page report based on a unique High­lands Abil­i­ty Bat­tery test. Also, the company has a Certified Highlands Consultant certification, meaning they're experts at helping people discover their natural abilities.
CONS
The coach at D'Angelo 360 does not appear to have any career coaching-specific certifications. In addition, all of the career coaching packages on their website are not accompanied by their pricing details.
REVIEWS
5/5 based on 20 Google reviews
5/5 based on 1 Bark review
COST
~$100+ per hour
CONTACT
(631) 553-6756 or info@dangelo360.com
Visit D'Angelo 360
Stefanie Krievins & Co is a change management coaching company created by Stefanie Krievins. Stefanie is certified as a career coach by the Erickson Coaching International (ICE). Established in 2014, her company specializes in team training, resilience coaching, executive coaching, and training in public speaking.
PROS
The details and qualifications of all their career coaches can be found on their website. This makes it easy to know more about your assigned career coach. Also, all of their career coaches are industry certified.
CONS
Their career coaching services are reserved for only mid-level managers and above. Also, they do not have many online reviews, so it's hard to determine what previous clients might have to say about the quality of their services.
REVIEWS
5/5 based on 9 Google reviews
COST
~$200+ per hour
CONTACT
(317) 268-8490
Visit Stefanie Krievins
Career Cafe has been providing coaching services in Carmel, Indiana, since 2009. Operated by Tim Dugger, the company specializes in career coaching and teaching professionals how to market themselves. Tim has a degree in Marketing and a minor in Industrial Psychology.
PROS
Tim is a previous "headhunter" who has experience on the other side of the hiring table. So, you get a career coach who knows what recruiters are looking for. Also, they have a physical office, which makes traditional face-to-face communication possible if that's important for you in coaching services.
CONS
While Tim's experience as a career coach is evident on the website, there are no mentions of him possessing any career coaching certifications. Also, the Career Cafe website clearly says that they do not offer any guarantees.
REVIEWS
5/5 based on 16 Google reviews
COST
~$200+ per hour
CONTACT
(317) 804-4068
Visit Career Cafe
7
Joyfully Career Strategy and Confidence Coaching
Joyfully Career Strategy and Confidence Coaching is run by Adenike Makinde. Adenike was a career coach for over five years before she created her own career coaching company in 2017. She possesses a Master's in Education. Adenike coaches above-40 career professionals in 6-week, 12-week, or 6-month programs.
PROS
Adenike is a Professional Association of Resume Writers and Career Coaches (PARWCC) certified coach. She also developed a special Purpose to Position system, which she uses to help people find work that excites them.
CONS
They don't have many online reviews, so it'll be hard to determine the quality of their career coaching services. Also, their coaching services are for clients that are 40+ years young, so she will not be the right fit for everyone.
REVIEWS
5/5 based on 4 Google reviews
5/5 based on 4 Facebook reviews
COST
~$100+ per hour
CONTACT
(317) 316-8960 or adenike@adenikemakinde.com
Visit Joyfully Career
8
Targeted Career Solutions
Targeted Career Solutions is run by Suzanne Boatright, a certified Myers Briggs MBTI Practitioner and a Predictive Index Analyst. Suzanne has over 25 years of experience in the business and career counseling profession. She started the company in 2015 and has helped hundreds of clients achieve career excellence.
PROS
Information about their career coaching packages are very comprehensive. They also offer à la carte single coaching sessions. Also, the details of all their career coaches can be found on their website.
CONS
They do not have a lot of online reviews available for you to check before deciding to purchase their services. Also, their career coaching services are not backed by any form of guarantee.
REVIEWS
5/5 based on 1 Yelp review
4.9/5 based on 9 Google reviews
COST
$100 per session to $300+ per package
CONTACT
(317) 677-3977 or suzanne@targetedcareersolutions.com
Visit Targeted Career
9
Next Level Career Services
Next Level Career Services has helped clients secure choice positions at top companies like Microsoft, Amazon, Pepsi, and the like. The company was created by Ebony Joyce in 2017. Ebony has 10+ years of recruiting experience. She offers career clarity, corporate consulting, and career acceleration.
PROS
Their career coaching service is in the form of a group teaching where you can interact and connect with professionals from diverse fields. This is unique, compared to other services on this list. They also offer private coaching, so you have the freedom to choose what coaching style you want.
CONS
Aside from the fact that they have the smallest number of online reviews on this list, their career coaching service is on a first come, first served basis. They have limited slots and will not accept you if there are no available spots. It also means this service may not be right for urgent situations.
REVIEWS
3/5 based on 1 Google review
COST
~$100+ per hour
CONTACT
(877) 357-4022 or info@nextlevelcareer.co
Visit Next Level Career