It's our belief that it has never been harder to find a job than it is today.
What used to work, no longer works. And what works… well… is known by few.
Because of the increasingly difficult job market, career coaching has begun to rapidly increase in popularity.
But what exactly is a career coach? And how can they help? And who is the best?
Best Career Coach Criteria
Each of the career coaching services below was reviewed taking into consideration the following:
Cost: Price of the service compared to other career coaches.
Credentials: Overall experience, awards, and certifications.
Process: Effectiveness of the process from start to finish.
Customer Service: Guarantees, refund policies, and client reviews.
This list was hand-curated to serve all industries, professions, and career levels. We chose a broad range of services to meet anyone's needs.
1. Find My Profession
Find My Profession offers a one-of-a-kind experience that goes far beyond any other U.S. career coaching service on this list.
While traditional career coaches will teach you how to find a job, Find My Profession's Career Finder service will do the work for you.
This white-glove service will search for jobs on your behalf, apply for you with a customized resume to fit the application, and network with key decision-makers to secure interviews.
The only thing they won't do is show up to the interview for you. But don't worry, this service includes interview preparation to make sure you'll crush any interviews they land you.
Pros: You can save hundreds of hours searching for jobs, filling out applications, customizing your resume, and networking. Finally, you can pay someone to find you a job. Your dedicated Reverse Recruiter will create a personalized strategy to manage all aspects of your job search. Each Reverse Recruiter only works with four clients at a time, providing you with personalized attention and care.
Cons: If you're looking for a traditional career coach to help you change career paths, this service may not be a good fit. The Career Finder service is for professionals who know what kind of job they want but don't have the time or energy to find it on their own. There is also usually a waitlist of about one month.
Reviews: 5/5 based on 124 Google reviews, 5/5 based on 8 BBB reviews, 5/5 based on 35 Facebook reviews, 4.9/5 based on 304 Trustpilot reviews, 4.7/5 based on 255 Sitejabber reviews
Cost: $2,500 per 4-week period
Contact: (831) 888-0967 or help@findmyprofession.com
Check out some of our 5-star reviews:
Visit Find My Profession
2. A Path That Fits
A Path That Fits has helped 1000+ people over the last 15 years. All of their career and life coaches are seasoned experts with at least 10 years of experience. While working with them, you get to choose your preferred coach. Their clients are typically looking for their true calling or reinvent their work.
Pros: They offer group sessions as well as one on one coaching. Their one on one coaching option actually combines one on one coaching with all the benefits of their group coaching. You can meet your coach in person in San Francisco or virtually. The company uses a mindfulness-based approach to bring clarity and concrete action to your career to get results.
Cons: The money-back guarantee applies to the group coaching sessions only. Also, there is no option to buy non-packaged sessions from the website.
Reviews: 5/5 based on 132 Yelp reviews, 5/5 based on 50 Google reviews
Cost: $1195 – $3500 per program
Contact: (415) 741-3797 or connect@apaththatfits.com
3. Jody Michael Associates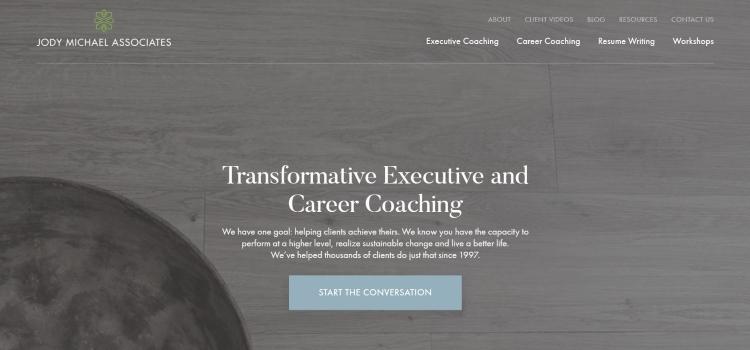 Jody Michael Associates was created by Jody Michael in 1996. The company's career coaching services are for individuals from all levels of experience, with clientele that includes C-level executives, senior managers, and even students. Although based in Chicago, they currently have offices in five locations.
Pros: You can meet your career coach in-person, on-site, or schedule consultations via calls. All their career coaches are Professional Certified Coaches (PCC). To top it off, comprehensive information about their career coaches can be found on their website.
Cons: Compared to some other services on our list, Jody Michael Associates does not have many career coaches on their team. Also, the prices for their career coaching packages cannot be found on their website. You'd have to schedule a consultation with the company to get a quote.
Reviews: 5/5 based on 4 Facebook reviews, 4.9/5 based on 62 Yelp reviews, 4.8/5 based on 113 TrustPilot reviews
Cost: Not found
Contact: (773) 275-5566
Visit Jody Michael Associates
4. Ama La Vida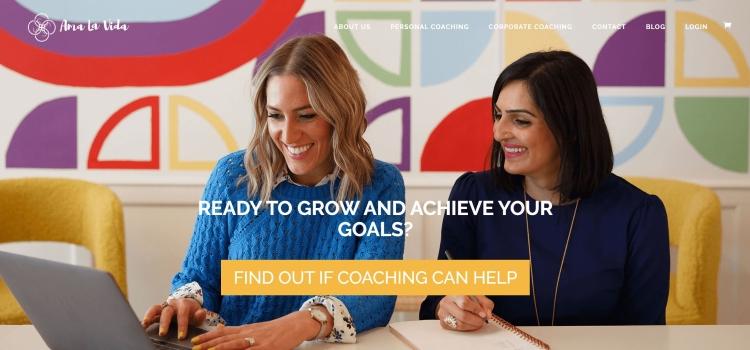 Ama La Vida was created in 2016 by Nicole Wood and Foram Sheth. Based in Chicago, Illinois, Ama La Vida is an online career coaching company that offers its services remotely. They have coached more than 1,000 career professionals, and have been featured with Business Insider and more.
Pros: The team at Ama La Vida consider your career needs and goals, and assign you a coach accordingly. That said, you do have the choice to change your coach if you're not satisfied with the one to whom you were assigned.
Cons: You cannot buy career coaching services packages directly from their website. Also, you do not have the option of booking a single career coaching session.
Reviews: 5/5 based on 29 Yelp reviews, 5/5 based on 25 Google reviews, 3/5 based on 2 Facebook reviews
Cost: $379 – $729 per month (or $4,608 – $7,908 annually)
Contact: (312) 279-9982 or contact@alvcoaching.com
Visit Ama La Vida
5. Allison Task Career & Life Coaching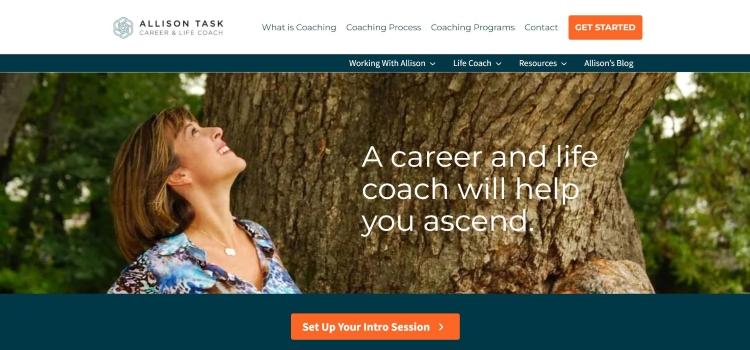 Allison Task Career & Life Coaching, a coaching-focused company, was founded by Allison Task in 2005. Allison possesses the International Coaching Federation's professional certified coach certification. Although based in New Jersey, the company renders services remotely.
Pros: Allison Task Career & Life Coaching offers comprehensive services, and they create a tailored solution for any career problem. You can meet your career coach in-office, outside the office, or virtually.
Cons: Their service delivery begins with an intro session of $395 to assess your needs. This payment is standalone and separate from their career coaching costs.
Reviews: 5/5 based on 52 Google reviews, 5/5 based on 4 Facebook reviews, 5/5 based on 1 Yelp review.
Cost: $800 – $975 per month
Contact: (917) 627-5289 or allison@allisontask.com
Visit Allison Task Career & Life Coaching
6. ResumeSpice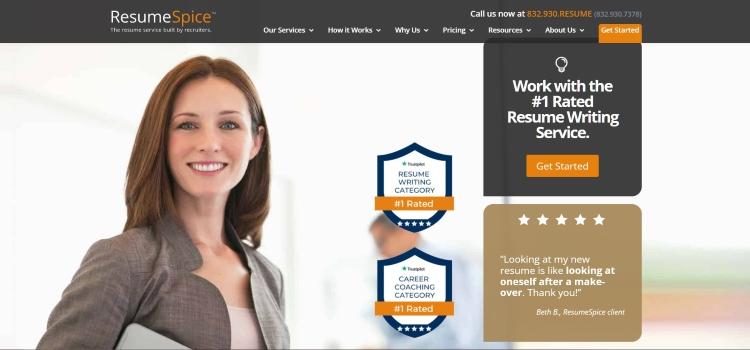 ResumeSpice, created by Marsha Murray and Keith Wolf in 2016, is a resume writing company with a specialty in career coaching. As recruiters who have in-depth knowledge and experience in the field, these experts use their wealth of inside knowledge to help professionals advance their careers.
Pros: The career coaches at ResumeSpice have been coaching career professionals for at least 10 years. Also, you can research your assigned career coach on the ResumeSpice website.
Cons: ResumeSpice only has three predesigned service packages. This likely means that you may not be able to get a customized service plan and quote.
Reviews: 5/5 based on 15 Facebook reviews, 4.9/5 based on 1,028 Trustpilot reviews, 4.9/5 based on 87 Google reviews, 4/5 based on 5 Yelp reviews, 3.7/5 based on 3 BBB reviews.
Cost: $139 – $179 per session
Contact: (832) 930-7378 or info@resumespice.com
Visit ResumeSpice
7. Be Productive Coaching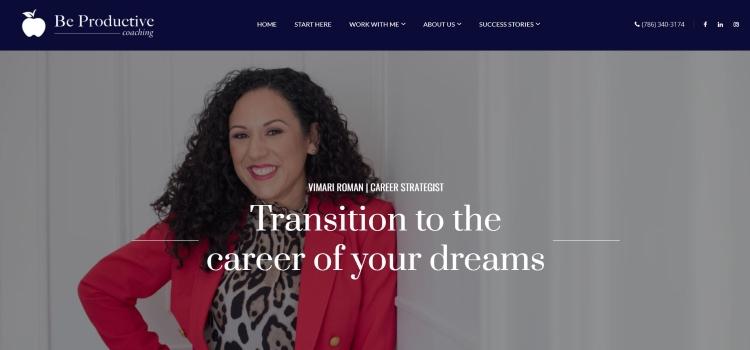 Be Productive Coaching is a career coaching service created by Vimari Roman in 2013. Vimari is a recipient of the Global Certificate in Leadership Coaching. Her company is not just a regular coaching service; they offer a wide range of services including mental fitness, professional branding, career strategy, and more.
Pros: All of their packages include resume, cover letter and LinkedIn profile revamps. Their career coaching service can be accessed online, regardless of your location. You also get access to a career coach with 20+ years of experience.
Cons: All indications on their website point to the fact that they only have one career coach. This limits your options of choosing the right coach for you. Also, you don't get a lot of customization options for their service plans.
Reviews: 5/5 based on 35 Google reviews, 5/5 based on 1 Yelp review, 5/5 based on 1 Facebook review
Cost: $1900 – $5000 per program
Contact: (786) 340-3174 or vimari@beproductivecoaching.com
Visit Be Productive Coaching
8. The Muse
The Muse offers a traditional approach to career coaching with packages for just about any situation and career level. One thing we love about The Muse is that they give you the power to pick your own career coach. The Muse coaches come in three levels: Mentor (least experience), Coach (middle-tier), and Master Coach (most experience). This feature is helpful because it allows you to find a career coach in your budget.
Pros: The Muse offers a great variety of vetted career coaches and pricing options that can fit any budget. You can filter your search by services offered, specialties, and price.
Cons: While having options is typically a good thing, it can be hard to know who the best coach will be for your situation. The Muse does not assign the coach for you, so you'll need to decide who to hire yourself.
Reviews: Each coach has their own reviews. Select a career coach to see their individual reviews.
Cost: $139 – $599 per hour
Contact: Contact form on website
9. LinkedIn Services Marketplace
LinkedIn Services Marketplace is a great career coaching solution for a variety of reasons. LinkedIn Services Marketplace, formerly LinkedIn ProFinder, essentially compiles all of the freelance career coaches into one central location. More often than not the career coaches on Services Marketplace will be individuals and entrepreneurs rather than businesses and corporations. The Marketplace gives you the power to search through hundreds of local career coaches and interview the ones you are interested in.
Pros: LinkedIn Services Marketplace will no doubt provide the most flexibility for your career coaching needs. You can filter career coaches by their hourly rates, certifications, past experiences, etc. You won't have to select from a handful of predesigned packages, you can essentially create your own career coaching package based on your unique needs.
Cons: Because Services Marketplace is a freelance market, you have to do all the work when it comes to vetting your career coach. Each individual career coach may have different return policies, standards, and procedures. If you aren't 100% certain of what you are looking for, this may not be the best option for you.
Reviews: Each coach has their own reviews. Select a career coach to see their individual reviews.
Cost: $100 – $500+ per hour
Contact: Not found
Visit LinkedIn Services Marketplace
10. Coaching 4 Good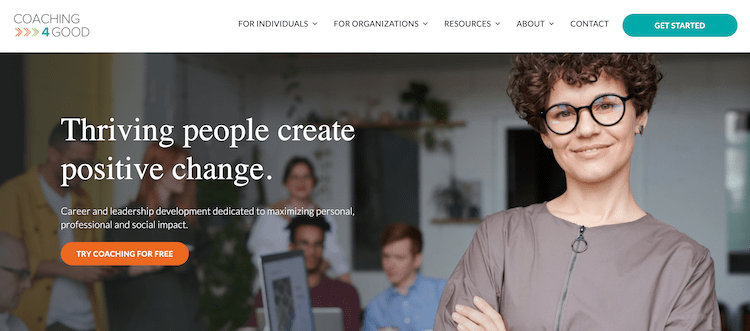 Coaching 4 Good (formerly known as Wolfgang Career Coaching) is not just a career coaching website. They offer a range of services which include executive and leadership coaching, LinkedIn profile writing, career transition, job search, career counseling, interview preparation, and more. No matter where you are in your career, Coaching 4 Good is here to help.
Pros: Coaching 4 Good offers a broad array of services. Whether you are a recent graduate who isn't sure where to begin your career or an executive seeking leadership coaching, Coaching 4 Good has a service designed for you. They also offer a free initial consultation to better understand your needs.
Cons: While you can research your coach directly from the website, Coaching 4 Good doesn't have as many available coaches as The Muse or LinkedIn Services Marketplace does.
Reviews: 4.5/5 based on 39 Yelp reviews
Cost: $205 – $300 per hour
Contact: (512) 850-4425 or info@coaching4good.com
Visit Coaching 4 Good
Bonus: Top America Career Coaching Winners (2021)
Find My Profession, The Muse, Coaching 4 Good, A Path That Fits, LinkedIn ProFinder (now LinkedIn Services Marketplace)
While most people are familiar with career coaching, we thought we'd take a shot at describing exactly what is a career coach.
A career coach is someone with advanced knowledge of career-related subjects (ie: career discovery, career planning, resume writing, job search, networking, interviewing, salary negotiation, executive leadership) and whose job is to give people advice on changing or improving their careers.
Some other terms used to describe career coaches include career counselors, career advisors, and career mentors.
In today's market, there are a handful of different reasons why you might hire a career coach:
You are changing careers/industries and you need guidance from an expert to determine which direction you should take your career.
You recently graduated and you aren't sure how to begin your career.
You'd prefer a better job, promotion, etc., and simply don't have the time or know-how to navigate your own job search.
Whether you are hiring a career coach due to a lack of direction or hiring a career coach due to a lack of time, seeking professional assistance can be a smart decision.
The advantage of career coaching compared to the DIY approach is that your career coach should have experience navigating the waters that you are unfamiliar with.
Hiring a career coach can save you time by utilizing a pro who has already been successful working with others in similar situations.
If you still aren't sure who you should hire, start by asking yourself a few questions.
These questions will help you find a career coach:
Is cost a concern? If you are on a set budget, filter out all of the companies on this list that exceed your budget.
Is there something specific I want help with? If you know exactly what you are looking for, it becomes easier to find the best career coach. Think about exactly what area you need help with, and find a coach who specializes in this area.
Do I want someone who is there for emotional support? Or do I want someone who will actually teach me how to get results?
Wherever you are in your career, we are confident that one of the five companies on this list can help. We purposefully selected a broad range of career coaching companies that could accommodate just about any price range, niche needs, or timeframe.
What kinds of services do career coaches offer?
Career coaches can offer a wide array of services. Some career coaches like Find My Profession can guide you through all aspects of career transition, job searching, networking, and interviewing, while other career coaches may just provide emotional support and encouragement.
How much does a career coach cost?
Career coaches in the US can range drastically in cost. On average, you can expect to pay ~$150 per hour spent with your career coach. Junior career coaches cost ~$75 per hour. Professional career coaches cost ~$200 per hour. Executive career coaches charge as much as ~$500 per hour. When hiring a career coach you are not just paying for the phone consultation. A good career coach will spend time before and after your call to provide additional value.
Is it worth getting a career coach?
It depends. If you are currently looking for a new job, or plan to change careers, it's very likely that a career coach can help. A career coach is worth hiring if you have questions that you need credible answers to, or you are struggling to land job offers on your own.
What is a career coach certification?
Some career coaches have certifications that solidify their coaching expertise. Depending on what you are hiring a career coach for, some certifications may be more useful than others. If you are hiring a career coach to write your resume, you may want to check for resume certifications such as the CPRW, or ACRW. If you are looking for general career coaching certifications, look for the CPCC or CCP. For an interview coach, consider looking for CEIC or CEIP certifications.
How can I find a career coach near me?
While finding a local career coach is not usually necessary (most coaches offer virtual coaching), there are a handful of ways to identify quality career coaches near you. Simply go to Google and type in "career coaches near me" or "career coaches city name" to find a list of local coaches.